The Passion Profit Cycle of Success
Prior to starting our own firms, we business-owner architects experienced an "entrepreneurial seizure", as Michael Gerber so accurately described in his book, The E-Myth Revisited: Why Most Small Businesses Don't Work and What to Do About It. It's the precise moment when a passionate employee commits to starting her own firm. Frustrated by the process (or lack of process) established by her employer, she decides that she can do better.
Do you remember that moment?
The passion required to overcome the fear and uncertainty of launching a start-up business is a very powerful emotion. It's what takes us from "business-owner architect" to Entrepreneur Architect. It's what gets us out of bed every morning and keeps us going years later.
Passion for what we do though, will only take us so far. To become a great firm, a truly great business success, we must also have a passion for profit.
I know… "Profit?"
To some, profit is a dirty word, but the reality is that without profit, your passion for being an architect will very quickly evaporate. It is the passion for profit that allows us to grow our firms and continue to build successful practices.
Much like winning a game, earning profit feels great. Not just emotionally, but physically. Neuroscientist and clinical psychologist Ian Robertson writes about the the neuroscience of success in his book, The Winner Effect. Earning a profit (winning in business) physically alters our brain chemistry and increases the production of dopamine. It sharpens our focus and desire for continued success. Earning profit literally causes us to become passionate about earning more profit.
The lack of profit alters our brain chemistry as well. Running a firm without profit is frustrating and frightening. We become depressed, disinterested and our passion for the profession fades. During good times and bad, the dangers threatening our firms not only come from outside pressures but literally from inside our heads.
Six Ways To Earn More Profit As A Small Firm Architect
So what can we do?
Here are six approaches to earning more profit as a small firm architect:
1. Cut your expenses.
Look at your books. (You do keep a record of your earnings and expenses, right?) Review your expenses and eliminate any unnecessary or wasteful spending. You may be surprised by how much of your earnings are used for supplies and services you don't really need. The quickest way to earn more profit is to spend less on expenses. Make a list of all your expenses and cut the bottom 10% right out of your budget.
2. Eliminate debt.
When times are tough, it is so easy to get snared in the trap of business debt. Credit cards and lines of credit shift from "safety net" to reliable source of "income". Before you know it, you're maxed out, paying massive amounts on interest and working with no net at all. Make a plan to reduce and eventually eliminate your debt. Develop a plan to save a percentage of your revenue and start working with retained earnings to pay for required expenses.
3. Increase payroll.
Huh!? Increase payroll to earn more profit? Yes. Healthy businesses must grow. You can't do it all yourself. With the right team in place, you can take on bigger and better projects. Expenses will be distributed among more income sources and you will earn more profit. Be careful though, hiring the wrong people may cost you much more than you'll be paying them.
4. Raise your fees.
Competition has increased among architects and some prospective clients are selecting firms based on cost. Many architects have cut their fees to the point where profit is impossible. Remember, without profit our firms will fail. Higher fees will not only keep your firm running strong, but will indicate the true value you bring to a client.
5. Expand your services.
Architects must think beyond the traditional design studio business model. Back is 2007, with the last economic storm heading our way, my firm expanded services to include Interior Design and Construction Management Services. This change in offerings allowed us to increase potential revenue with every project. Fees, once paid to outside designers and contractors, are now earned by our firm on select projects. Not only has potential profit resulting from each project increased significantly, but we have more control over the final quality of our projects resulting in happier clients.
6. Understand your numbers.
We are architects, not number crunchers. We didn't get into this profession to play with financial spreadsheets. But we also chose to start our own firm. We gave into the "entrepreneurial seizure" and now we are running a small business with clients and employees and never-ending monthly expenses. The five steps above are great ways to increase your profit, but unless you know your numbers and can actually plan for a profitable year, the chances of running a successful firm without fear and uncertainty are very, very low. Start with your Chart of Accounts, then develop a Profit Plan and Annual Budget for 2019. Track your Profit or Loss on a monthly basis and develop Key Financial Performance Indicators that will indicate the health of your business in real time.
Without passion there will be no profit and without profit you will soon lose your passion. To be a successful Entrepreneur Architect we must have both. It is the Passion Profit Cycle that builds great firms and allows us to continue to do what we love most; practice architecture.
Question: Are you passionate about being an architect? Are you passionate about profit?
You should be… You need to be.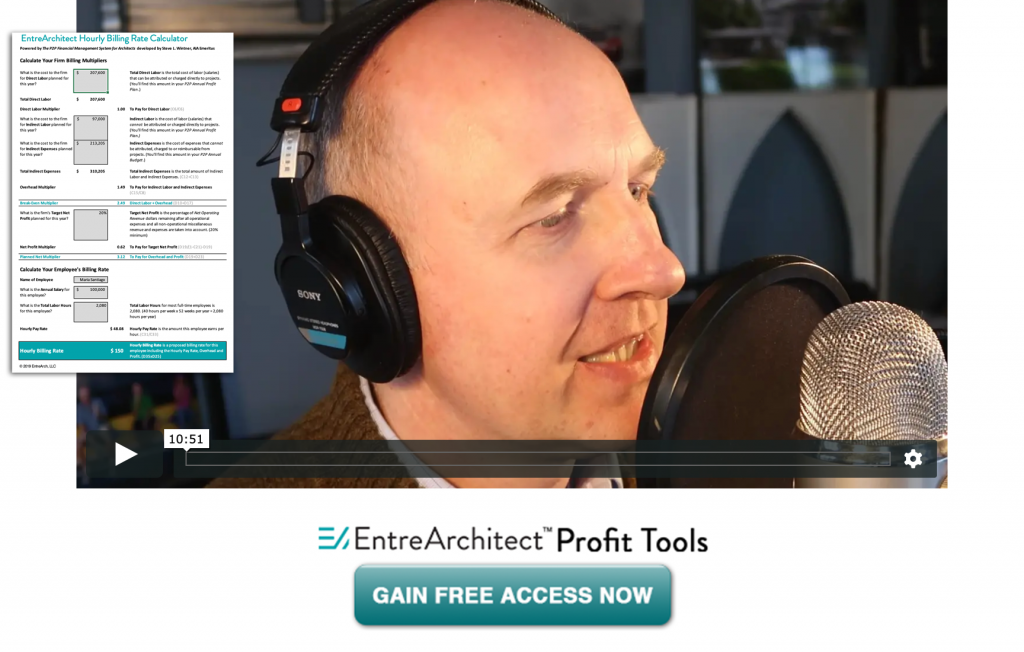 ---
Photo Credit: Shutterstock / Oliver Le Moal