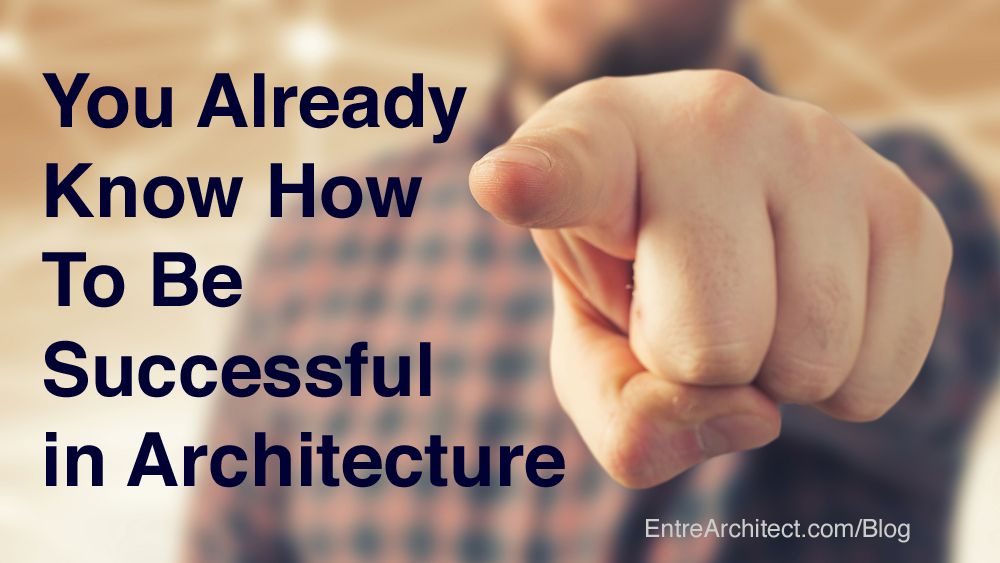 You already know how to be successful.
You've read all the books. You follow the blogs. You listen to the podcasts. You are subscribed to all the most informative and inspirational newsletters.
You have the information. You know how to succeed.
So, why are you not crushing it? Why are you struggling to pay the bills each month? Why are you not spending more time doing the things you love doing?
The formula to business success is simple. I've been writing about it for years.
How To Be Successful in Architecture
Here are the 8 steps to success in architecture:
Develop a Life Plan

What do you want your life to look like?
What needs to be done in each area of your life to live the life you want?
How are you going to get there?

Develop a Business Plan

How can you build a business to support your Life Plan?
What are your Vision, Mission, Goals and Actions Plans?
What do you need to do and by when do you need to get it done?

Develop a Productivity Strategy

What work can be automated?
What work can be delegated?
How are you going to focus on the things that will move you forward each week?

Develop a Financial Strategy

How much do you need to make in order to grow your business?
How much do you need to charge for your services in order to earn that much?
How are you going to track the flow of money in and out of your business?

Develop a Marketing Strategy

How are you going to get noticed?
How are you going to attract the projects you want and need?
How are you going to fill your Sales Pipeline?

Develop a Sales Strategy

How are you going to convert prospects to projects?
What are the steps you need to take to go from getting noticed to getting to work?
What are the things you need to stop doing?

Develop a Production Strategy

How are you going to get that work done in an efficient and affective manner?
Who is going to do the work?
When will it be done?

Revisit the Plan

Your life will change.
Your business will change.
What needs to be revised in your plans to stay on track for success?
You know this… Don't you?
So, what's missing?
What's Holding You Back from Living The Life You Want?
There are two things holding most small firm architects back from finding the success they desire.
Discipline and accountability.
If you know what needs to be done and you're not doing it, then you need to be more disciplined. And the best way to stay disciplined, when most of us architects are not wired to be such, is to put yourself in a position of accountability.
Find an accountability partner, a mentor or a group of peers with whom you can share the goals and action plans you set in your business plan. Track your progress and review it with your accountability partner once per week.
Do you really want to find success from your small firm? Then get disciplined on doing the things that will make you successful.
Success is simple. Discipline is not. Establish a system of accountability and find the success you're seeking.
Question: Do you actively participate with an accountability partner, mentor or peer group? How has this impacted your success in architecture?
Head over to The EntreArchitect Community on Facebook and share your thoughts.
---
Photo Credit: Shutterstock / Sergey Nivens