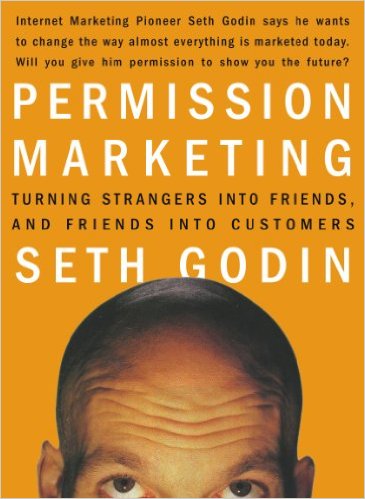 Everything I have learned about succeeding in business as a small firm architect has come to me in two ways; either through trial and error (with lots and lots of error) or through the many dozens of business and "self-help" books that I've read over my many years as an architect. Like you, I was not taught the rules of small business, branding, sales, marketing or leadership. I needed to educate myself.
This week I'm sharing my bookshelf with you; one hundred twenty five business books for entrepreneur architects. The following is a list of most of my collection, in no particular order, with my Amazon Associate affiliate links included for your convenience. Enjoy…
My 125 Business Books for Entrepreneur Architects
Permission Marketing: Turning Strangers Into Friends And Friends Into Customers
by Seth Godin
The man Business Week calls "the ultimate entrepreneur for the Information Age" explains "Permission Marketing" — the groundbreaking concept that enables marketers to shape their message so that consumers will willingly accept it.
Whether it is the TV commercial that breaks into our favorite program, or the telemarketing phone call that disrupts a family dinner, traditional advertising is based on the hope of snatching our attention away… [read more]
Tribes: We Need You To Lead Us
by Seth Godin
The New York Times, BusinessWeek, and Wall Street Journal Bestseller that redefined what it means to be a leader. Since it was first published almost a decade ago, Seth Godin's visionary book has helped tens of thousands of leaders turn a scattering of followers into a loyal tribe. If… [read more]
Unleashing the Ideavirus: Stop Marketing AT People! Turn Your Ideas into Epidemics by Helping Your Customers Do the Marketing Thing For You
by Seth Godin
The book that sparked a marketing revolution. "This is a subversive book. It says that the marketer is not–and ought not to be–at the center of successful marketing. The customer should be. Are you ready for that?" –From the Foreword by Malcolm Gladwell, author of The Tipping Point. [read more]
Linchpin: Are You Indispensible?
by Seth Godin
This life-changing manifesto shows how you have the potential to make a huge difference wherever you are. Few authors have had the kind of lasting impact and global reach that Seth Godin has had. In a series of now-classic books that have been translated into 36… [read more]
Pour Your Heart Into It: How Starbucks Built a Company One Cup at a Time
by Howard Schultz
The success of Starbucks Coffee Company is one of the most amazing business stories in decades. What started as a single store on Seattle's waterfront has grown into a company with over sixteen hundred stores worldwide and a new one opening every single business day. Just as remarkable as this incredible growth is the fact that Starbucks has managed to maintain its renowned commitment to product… [read more]
The 22 Immutable Laws of Branding: How to Build a Product or Service into a World-Class Brand
by Al and Laura Ries
This marketing classic has been expanded to include new commentary, new illustrations, and a bonus book: The 11 Immutable Laws of Internet Branding. Smart and accessible, The 22 Immutable Laws of Branding is the definitive text on branding, pairing anecdotes about some of the best brands in the world, like Rolex, Volvo, and Heineken, with the signature savvy of marketing gurus Al and Laura Ries. Combining The 22 Immutable Laws of Branding and The 11 Immutable Laws of Internet Branding… [read more]
Who Moved My Cheese?: An A-Mazing Way to Deal with Change in Your Work and in Your Life
by Spenser Johnson
Who Moved My Cheese? is an amusing and enlightening story of four characters who live in a maze and look for cheese to nourish them and make them happy. Cheese is a metaphor for what you want to have in life – whether it is a good job, a loving relationship, money or a possession, health or spirital peace of mind. And the maze is where you look for what you want – the organisation you work in, or the family or community you live in. This profound book from bestselling author, Spencer Johnson, will show you how to anticipate change, adapt to change quickly, enjoy change and be ready to change quickly again and again. Discover the secret… [read more]
Selling the Invisible: A Field Guide to Modern Marketing
by Harry Beckwith
Selling the Invisible is a succinct and often entertaining look at the unique characteristics of services and their prospects, and how any service, from a home-based consultancy to a multinational brokerage, can turn more prospects into clients and keep them. Selling the Invisible covers service marketing from start to finish. Filled with wonderful insights and written in a roll-up-your-sleeves, jargon-free, accessible style, such as… [read more]
The Invisible Touch: The Four Keys to Modern Marketing
by Harry Beckwith
This guide shows how markets work and how prospective clients think. It delivers business wisdom aimed at keeping clients by utilising the keys to modern marketing – price, brand, packaging and relationships. [read more]
Architect + Entrepreneur: A Field Guide to Building, Branding and Marketing Your Startup Design Business
by Eric Reinholdt
Part narrative, part business book; Architect + Entrepreneur is filled with contemporary, relevant, fresh tips and advice, from a seasoned professional architect building a new business. The guide advocates novel strategies and tools that merge entrepreneurship with the practice of architecture and interior design. [read more]
Architect + Entrepreneur: A How-to Guide for Innovating Practice: Tactics, Strategies and Case Studies in Passive Income
by Eric Reinholdt
Should the practice of architecture be constrained to one set model: a singular creative process between architect and client? Practice is evolving; the current tired models serve only a select few – wealthy individuals, big corporations, and big government. [read more]
The Unofficial Guide to Houzz.com: Create a Profile That Resonates with Clients and Outranks Your Competition
by Eric Reinholdt
Marketing for architects and designers has changed significantly with the advent of Houzz.com. With its curated collection of high quality photographs and editorial content, Houzz.com is equal parts social media and marketing and it deserves a place in every construction professional's business marketing plan. [read more]
The Marketing Imagination
by Theodore Levitt
Since its publication in 1983, The Marketing Imagination has been widely praised as the classic, all-inclusive "Levitt on Marketing" Now Theodore Levitt – renowned as the Harvard Business School's "guru of marketing" – has newly expanded his original work to recap the developing globalization debate and to respond to his critics. He has also added his famed McKinsey Award-winning essay "Marketing Myopia" and included detailed accounts of how to maximize the product life cycle… [read more]
The Anatomy of Buzz Revisited: Real-Life Lessons in Word-of-Mouth Marketing
by Emanuel Rosen
A new edition of the definitive handbook on word-of-mouth marketing, completely revised and updated for today's online world. With two-thirds new material and scores of current examples from today's most successful companies, The Anatomy of Buzz Revisited takes readers inside the world of word-of-mouth marketing and explains how and why it works. Based on over one hundred new interviews with thought leaders, marketing executives, researchers, and consumers, The Anatomy of Buzz Revisited shows how to… [read more]
The Tipping Point: How Little Things Can Make a Big Difference
by Malcolm Gladwell
The tipping point is that magic moment when an idea, trend, or social behavior crosses a threshold, tips, and spreads like wildfire. Just as a single sick person can start an epidemic of the flu, so too can a small but precisely targeted push cause a fashion trend, the popularity of a new product, or a drop in the crime rate. This widely acclaimed bestseller, in which Malcolm Gladwell explores and brilliantly… [read more]
The Art of Innovation: Lessons in Creativity from IDEO, America's Leading Design Firm
by Tom Kelley
IDEO, the widely admired, award-winning design and development firm that brought the world the Apple mouse, Polaroid's I-Zone instant camera, the Palm V, and hundreds of other cutting-edge products and services, reveals its secrets for fostering a culture and process of continuous innovation. There isn't a business in America that doesn't want to be more creative in its thinking, products, and processes. At many companies, being first with a concept and first to market are critical just to survive. In The Art of Innovation, Tom Kelley, general manager of the Silicon Valley based design firm IDEO, takes readers behind the scenes of this wildly imaginative and energized company to reveal the strategies and secrets it uses to turn out hit after hit. [read more]
Financial Management for Design Professionals: The Path to Profitability
by Steve L. Wintner
You don't need to be a financial wizard to ensure the future success of your design firm! An accessible guide to financial management, Financial Management for Design Professionals is written for design firm principals who are responsible for their firm's finances but have little or no financial management education or experience. For mid-career design professionals looking to advance their careers, the book is an indispensable reference and training guide. Using a simple, step-by-step format, this book shows design professionals how to… [read more]
Leadership Jazz: The Essential Elements of a Great Leader
by Max De Pree
Since it was first published to wide acclaim in 1992, the bestselling Leadership Jazz has firmly placed itself among the great business classics. Former President Bill Clinton called it "astonishing," and the late Peter Drucker advised, "Read this slowly. This book is wisdom in action." Now updated for first time in well over a decade, this powerful book reveals why today, more than ever, leadership is more an art than a science. Today's best leaders, De Pree says, are attuned to the needs and ideas of their followers, and even step aside at times to be followers themselves. Filled with insightful stories from De Pree's experience as the chairman of Herman Miller and from people he's met along the way, Leadership Jazz reveals how to… [read more]
The Secret
by Rhonda Byrne
In 2006, a groundbreaking feature-length film revealed the great mystery of the universe—The Secret—and, later that year, Rhonda Byrne followed with a book that became a worldwide bestseller. Fragments of a Great Secret have been found in the oral traditions, in literature, in religions and philosophies throughout the centuries. For the first time, all the pieces of The Secret come together in an incredible revelation that will be life-transforming for all who experience it. [read more]
The Four Agreements: A Practical Guide to Personal Freedom
by Don Miguel Ruiz and Janet Mills
In The Four Agreements, don Miguel Ruiz reveals the source of self-limiting beliefs that rob us of joy and create needless suffering. Based on ancient Toltec wisdom, The Four Agreements offer a powerful code of conduct that can rapidly transform our lives to a new experience of freedom, true happiness, and love. [read more]
Anything You Want: 40 Lessons for a New Kind of Entrepreneur
by Derek Sivers
You can follow the beaten path and call yourself an entrepreneur or you can blaze your own trail and really be one. When Derek Sivers started CD Baby, he wasn't planning on building a major business. He was a successful independent musician who just wanted to sell his CDs online. When no one would help him do it, he set out on his own and built an online store from scratch. He started in 1998 by helping his friends sell their CDs. In 2000, he hired his first employee. Eight years later, he sold CD Baby for $22 million. [read more]
The Starbucks Experience: 5 Principles for Turning Ordinary Into Extraordinary
by Joseph Michelli
Wake up and smell the success! You already know the Starbucks story. Since 1992, its stock has risen a staggering 5,000 percent! The genius of Starbucks success lies in its ability to create personalized customer experiences, stimulate business growth, generate profits, energize employees, and secure customer loyalty-all at the same time. [read more]
The Purpose Driven Life: What on Earth Am I Here For?
by Rick Warren
This book has transformed millions of lives. Are you ready for a change? Since its release, The Purpose Driven Life has been translated into eighty-five different languages and has become the "Bestselling non-fiction hardback book in history" according to Publisher's Weekly, all because of the Christ-centered approach the book takes to answering life's most fundamental question: What on earth am I here for? [read more]
How I Raised Myself From Failure to Success In Selling
by Frank Bettger
A business classic endorsed by Dale Carnegie, How I Raised Myself from Failure to Success in Selling is for anyone whose job it is to sell. Whether you are selling houses or mutual funds, advertisements or ideas—or anything else—this book is for you. When Frank Bettger was twenty-nine he was a failed insurance salesman. By the time he was forty he owned a country estate and could have retired. What are the selling secrets that turned Bettger's life around from defeat to unparalleled success and fame as one of the highest paid salesmen in America? [read more]
Drive: The Surprising Truth About What Motivates Us
by Daniel H. Pink
Forget everything you thought you knew about how to motivate people—at work, at school, at home. It's wrong. As Daniel H. Pink (author of To Sell Is Human: The Surprising Truth About Motivating Others) explains in his paradigm-shattering book Drive, the secret to high performance and satisfaction in today's world is the deeply human need to direct our own lives, to learn and create new things, and to do better… [read more]
Made to Stick: Why Some Ideas Survive and Others Die
by Chip and Dan Heath
Mark Twain once observed, "A lie can get halfway around the world before the truth can even get its boots on." His observation rings true: Urban legends, conspiracy theories, and bogus public-health scares circulate effortlessly. Meanwhile, people with important ideas–business people, teachers, politicians, journalists, and others– struggle to make their ideas "stick." Why do some ideas thrive while others die? And how do we improve the chances of worthy ideas? In Made to Stick, accomplished educators and idea collectors Chip and Dan Heath tackle head-on these vexing questions. Inside, the brothers Heath reveal the anatomy of ideas that stick and explain ways to make ideas stickier… [read more]
The E-Myth Architect: Why Most Architectural Firms Don't Work and What To Do About It
by Michael Gerber and Norbert C. Lemermeyer
Combining the wisdom of renowned business development expert Michael E. Gerber and the architectural expertise of Norbert C. Lemermeyer, The E-Myth Architect equips you to: Liberate yourself from the predictable and often overwhelming tyranny of unprofitable, unproductive, and time-consuming routines Transform yourself from a successful architectural technician (architect) into a successful architect-manager-entrepreneur Rethink your practice, shifting from tactical thinking (working in your firm) to strategic thinking (working on your firm) Stop trading time for dollars Manage those processes through which people get things done, which becomes your Management System for everything you do Implement innovative systems to… [read more]
The Go-Giver: A Little Story About a Powerful Business Idea
by Bob Berg
"Most people just laugh when they hear that the secret to success is giving. . . . Then again, most people are nowhere near as successful as they wish they were." The Go-Giver tells the story of an ambitious young man named Joe who yearns for success. Joe is a true go-getter, though sometimes he feels as if the harder and faster he works, the further away his goals seem to be. Desperate to land a key sale at the end of a bad quarter, he seeks advice from the enigmatic Pindar, a legendary consultant referred to by his many devotees sim­ply as the Chairman. [read more]
Zag: The Number One Strategy of High Performance Brands
by Marty Neumeier
"When everybody zigs, zag," says Marty Neumeier in this fresh view of brand strategy. ZAG follows the ultra-clear "whiteboard overview" style of the author's first book, THE BRAND GAP, but drills deeper into the question of how brands can harness the power of differentiation. The author argues that in an extremely cluttered marketplace, traditional differentiation is no longer enough—today companies need "radical differentiation" to create lasting value for their shareholders and customers. In an entertaining 3-hour read you'll learn… [read more]
The Brand Gap: How to Bridge the Distance Between Business Strategy and Design
by Marty Neumeier
The Brand Gap is the first book to present a unified theory of brand-building.  Whereas most books on branding are weighted toward either a strategic or creative approach, this book shows how both ways of thinking can unite to produce a "charismatic brand"—a brand that customers feel is essential to their lives. In an entertaining two-hour read you'll learn… [read more]
The E-Myth Revisited: Why Most Small Businesses Don't Work and What to Do About It
by Michael E. Gerber
An instant classic, this revised and updated edition of the phenomenal bestseller dispels the myths about starting your own business. Small business consultant and author Michael E. Gerber, with sharp insight gained from years of experience, points out how common assumptions, expectations, and even technical expertise can get in the way of running a successful business… [read more]
Rich Dad Poor Dad: What The Rich Teach Their Kids About Money – That The Poor and Middle Class Do Not!
by Robert Kiyosaki
In Rich Dad Poor Dad, the #1 Personal Finance book of all time, Robert Kiyosaki shares the story of his two dad: his real father, whom he calls his 'poor dad,' and the father of his best friend, the man who became his mentor and his 'rich dad.' One man was well educated and an employee all his life, the other's education was "street smarts" over traditional classroom education and he took the path of… [read more]
The Pumpkin Plan: A Simple Strategy to Grow a Remarkable Business in Any Field
by Mike Michalowicz
Each year Americans start one million new businesses, nearly 80 percent of which fail within the first five years. Under such pressure to stay alive—let alone grow—it's easy for entrepreneurs to get caught up in a never-ending cycle of "sell it—do it, sell it—do it" that leaves them exhausted, frustrated, and unable to get ahead no matter how hard they try. [read more]
The Spirit to Serve: Marriott's Way
by J. W. Marriott
In the bestselling tradition of The HP Way, The Spirit to Serve describes how one of the most successful hoteliers of the twentieth century built Marriott International from a respectable $50-million-a-year enterprise into the mammoth $9-billion multinational giant of today. Told in the words of J. W. Marriott, Jr., The Spirit to Serve distills years of hard-earned wisdom and experience into twelve timeless lessons that managers at any level can implement in their own business lives. [read more]
The Power of Nice: How to Conquer the Business World With Kindness
by Linda Kaplan Thaler
Linda Kaplan Thaler and Robin Koval have moved to the top of the advertising industry by following a simple but powerful philosophy: it pays to be nice. Where so many companies encourage a dog eat dog mentality, the Kaplan Thaler Group has succeeded through chocolate and flowers. In THE POWER OF NICE, through their own experiences and the stories of other people and businesses, they demonstrate… [read more]
Outliers: The Story of Success
by Malcolm Gladwell
There is a story that is usually told about extremely successful people, a story that focuses on intelligence and ambition. Gladwell argues that the true story of success is very different, and that if we want to understand how some people thrive, we should spend more time looking around them-at such things as their family, their birthplace, or even their birth date. And in revealing that hidden logic, Gladwell presents a fascinating and provocative blueprint for making the most of human potential. [read more]
The Dip: A Little Book That Teaches You When to Quit (and When to Stick)
by Seth Godin
In this iconic bestseller, popular business blogger and bestselling author Seth Godin proves that winners are really just the best quitters. Godin shows that winners quit fast, quit often, and quit without guilt—until they commit to beating the right Dip. Every new project (or job, or hobby, or company) starts out fun…then gets really hard, and not much fun at all. You might be in a Dip—a temporary setback that will get better if you keep pushing. But maybe it's really a Cul-de-Sac—a total dead end. What really sets superstars apart is the ability to tell the two apart. [read more]
Don't Think Pink: What Really Makes Women Buy — and How to Increase Your Share of This Crucial Market
by Lisa Johnson
"Don't Think Pink" will help marketers see their brands through a woman's eyes, unlocking the secrets to developing products, services and marketing strategies that truly resonate with female buyers. "Don't Think Pink" reveals: how generational history, culture, life stages, and daily realities influence a woman's buying mind; how the manner in which women buy is more critical than what's being sold; how… [read more]
Love is the Killer App: How to Win Business and Influence Friends
by Tim Sanders
Are you wondering what the next killer app will be? Do you want to know how you can maintain and add to your value during these rapidly changing times? Are you wondering how the word love can even be used in the context of business? Instead of wondering, read this book and find out how to become a lovecat—a nice, smart person who succeeds in business and in life. How do you become a lovecat? By sharing your intangibles. [read more]
What To Do When It's Your Turn (and it's Always Your Turn)
by Seth Godin
I think we're wasting the chance of a lifetime. This is an urgent call to do the work we're hiding from, a manifesto about living with things that might not work and embracing tension when doing your art. [read more]
UnMarketing: Everything Has Changed and Nothing is Different
by Scott and Alison Stratten
In 2009, Scott Stratten and Alison Stratten wrote the bestselling UnMarketing: Stop Marketing, Start Engaging and began a journey that would take them around the world sharing their message of engagement with corporations, entrepreneurs, and students.They are now back with this second edition, because Everything has Changed and Nothing is Different, with all the brilliance of the first edition, plus new content and commentary to reflect the rapidly changing landscape we all live, buy, and work in today. [read more]
The Referral Engine: Teaching Your Business to Market Itself
by John Jantsch
The small business guru behind Duct Tape Marketing shares his most valuable lesson: how to get your customers to do your best marketing for you. The power of glitzy advertising and elaborate marketing campaigns is on the wane; word- of-mouth referrals are what drive business today. People trust the recommendation of a friend, family member, colleague, or even stranger with similar tastes over anything thrust at them by a faceless company. [read more]
E-Myth Mastery: The Seven Essential Disciplines for Building a World Class Company
by Michael E. Gerber
The bestselling author of phenomenally successful and continually vital The E-Myth Revisited presents the next big step in entrepreneurial management and leadership with E-Myth Mastery. A practical, real-world program that is implemented real-time into your business, Gerber begins by engaging the reader in understanding why the entrepreneur is so critical to the success of any enterprise, no matter how small or large it may be, and why the mindset of an entrepreneur is so integral to the operating reality of the organization, of the small business, and the enterprise. He then covers seven essential skills… [read more]
Leadership Is An Art
by Max De Pree
Leadership Is An Art has long been a must-read not only within the business community but also in professions ranging from academia to medical practices, to the political arena. First published in 1989, the book has sold more than 800,000 copies in hardcover and paperback. This revised edition brings Max De Pree's timeless words and practical philosophy to a new generation of readers. [read more]
The Carpenter: A Story About the Greatest Success Strategies of All
by Jon Gordon
Bestselling author Jon Gordon returns with his most inspiring book yet—filled with powerful lessons and the greatest success strategies of all. Michael wakes up in the hospital with a bandage on his head and fear in his heart. The stress of building a growing business, with his wife Sarah, caused him to collapse while on a morning jog. When Michael finds out the man who saved his life is a Carpenter he visits him and quickly learns that he is more than just a Carpenter; he is also a builder of lives, careers, people, and teams. [read more]
The Slight Edge: Turning Simple Disciplines into Massive Success and Happiness
by Jeff Olson
The Slight Edge is a way of thinking, a way of processing information that enables you to make the daily choices that will lead you to the success and happiness you desire. Learn why some people make dream after dream come true, while others just continue dreaming and spend their lives building dreams for someone else. It's not just another self-help motivation tool of methods you must learn in order to travel the path to success. It shows you how to create powerful results from the simple daily activities of your life, by using tools that are already within you. [read more]
The Art of Work: A Proven Path to Discovering What You Were Meant to Do
by Jeff Goins
Jeff Goins, a brilliant new voice counting Seth Godin and Jon Acuff among his fans, explains how to abandon the status quo and live a life that matters with true passion and purpose. The path to your life's work is difficult and risky, even scary, which is why few finish the journey. This is a book about discovering your life's work, that treasure of immeasurable worth we all long for. It's about the task you were born to do. As Jeff Goins explains, the search begins with passion but does not end there. Only when our interests connect with the needs of the world do we begin living for a larger purpose. [read more]
Find The Lost Dollars
by June Jewell
Where is money hiding in your A&E firm? June Jewell has written the ultimate guide to finding extra profits in your A&E firm. She describes the challenges faced by most firms, shares her wealth of knowledge about best practices for firm business management, and then delivers the goods with a 6-step process that is guaranteed to find lost dollars in any firm. In Find the Lost Dollars: 6 Steps to Increase Profits in Architecture, Engineering and Environmental Firms, you will learn to get the most from people, processes and technology to gain a competitive edge and increase your firm's profitability. [read more]
slide:ology: The Art and Science of Creating Great Presentations
by Nancy Duarte
No matter where you are on the organizational ladder, the odds are high that you've delivered a high-stakes presentation to your peers, your boss, your customers, or the general public. Presentation software is one of the few tools that requires professionals to think visually on an almost daily basis. But unlike verbal skills, effective visual expression is not easy, natural, or actively taught in schools or business training programs. slide:ology fills that void. Written by Nancy Duarte, President and CEO of Duarte Design, the firm that created the presentation for Al Gore's Oscar-winning film, An Inconvenient Truth, this book is full of practical approaches to visual story development that can be applied by anyone. [read more]
Ask: The Counterintuitive Online Formula to Discover Exactly What Your Customers Want to Buy… Create a Mass of Raving Fans… and Take Any Business To The Next Level
by Ryan Levesque
The "mind-reading" system that is revolutionizing online business. Do you know how to find out what people really want to buy? (Not what you think they want, not what they say they want, but what they really want?) The secret is asking the right questions – and the right questions are not what you might expect. Ask is based on the compelling premise that you should NEVER have to guess what your prospects and customers are thinking. The Ask Formula revealed in this book has been used to help build multi-million dollar businesses in 23 different industries, generating over $100 million dollars in sales in the process. [read more]
Leading The Life You Want: Skills for Integrating Work and Life
by Stewart D. Friedman
"For nearly thirty years, my life's work has been to help people like you find ways to bring the often warring aspects of life into greater harmony." — Stew Friedman, from Leading the Life You Want You're busy trying to lead a "full" life. But does it really feel full—or are you stretched too thin? Enter Stew Friedman, Wharton professor, adviser to leaders across the globe, and passionate advocate of replacing the misguided metaphor of "work/life balance" with something more realistic and sustainable. If you're seeking "balance" you'll never achieve it, argues Friedman. [read more]
Making Ideas Happen: Overcoming the Obstacles Between Vision and Reality
by Scott Belsky
Edison famously said that genius is 1 percent inspiration, 99 percent perspiration. Ideas for new businesses, solutions to the world's problems, and artistic breakthroughs are common, but great execution is rare. According to Scott Belsky, the capacity to make ideas happen can be developed by anyone willing to develop their organizational habits and leadership capability. That's why he founded Behance, a company that helps creative people and teams across industries develop these skills. [read more]
StrengthsFinder 2.0
by Tom Rath
Do you have the opportunity to do what you do best every day? Chances are, you don't. All too often, our natural talents go untapped. From the cradle to the cubicle, we devote more time to fixing our shortcomings than to developing our strengths. To help people uncover their talents, Gallup introduced the first version of its online assessment, StrengthsFinder, in the 2001 management book Now, Discover Your Strengths. The book spent more than five years on the bestseller lists and ignited a global conversation, while StrengthsFinder helped millions to discover their top five talents. [read more]
Small Business for Dummies
by Eric Tyson
Want to start the small business of your dreams? Want to breathe new life into the one you already have? Small Business For Dummies provides authoritative guidance on every aspect of starting and growing your business, from financing and budgeting to marketing, management and beyond. This completely practical, no-nonsense guide gives you expert advice on everything from generating ideas and locating start-up money to hiring the right people, balancing the books, and planning for growth. [read more]
Call of the Mall: The Author of Why We Buy on the Geography of Shopping
by Paco Underhill
The author of the international bestseller Why We Buy—praised by The New York Times as "a book that gives this underrated skill the respect it deserves"—now takes us to the mall, a place every American has experienced and has an opinion about. Paco Underhill, the Margaret Mead of shopping and author of the huge international bestseller Why We Buy, now takes us to the mall, a place every American has experienced and has an opinion about. The result is a bright, ironic, funny, and shrewd portrait of the mall—America's gift to personal consumption, its most powerful icon of global commercial muscle, the once new and now aging national town square, the place where we convene in our leisure time. [read more]
Why We Buy: The Science of Shopping
by Paco Underhill
Revolutionary retail guru Paco Underhill is back with a completely revised edition of his classic, witty bestselling book on our ever-evolving consumer culture—full of fresh observations and important lessons from the cutting edge of retail such as Internet behemoths Amazon and iTunes as well as the globalization of retail in the world's emerging markets. [read more]
Lovemarks: The Future Beyond Brands
by Kevin Roberts
Tom Peters, one of the most influential business thinkers of all time, described the first edition of Lovemarks: the future beyond brands as "brilliant." He also announced it as the "Best Business Book" published in the first five years of this century. Now translated into fourteen languages, with more than 150,000 copies in print, Lovemarks is back in a revised edition featuring a new chapter on the peculiarly human experience of shopping. The new chapter, "Diamonds in the Mine," is an insightful collection of ideas for producers and consumers, for owners of small stores and operators of superstores. So forget making lists! Shopping, says Kevin Roberts, is an emotional event. [read more]
Free Prize Inside: How to Make a Purple Cow
by Seth Godin
We live in an era of too much noise, too much clutter, too many choices, and too much spam. And as Seth Godin's 200,000-copy bestseller Purple Cow taught the business world, the old ways of marketing simply don't work anymore. The best way to sell anything these days is through word of mouth and the only real way to get word of mouth is to create something remarkable. Free Prize Inside, the sequel to Purple Cow, explains how to do just that. It's jammed with practical ideas you can use right now to make your product or service remarkable, so that it will virtually sell itself. [read more]
The Secrets of Word-of Mouth Marketing: How To Trigger Exponential Sales Through Runaway Word of Mouth
by George Silverman
"In our hype-infested society, honest and positive word of mouth can multiply sales explosively. But for those who think it happens by chance (as most marketers do), this book will be an eye-opener. The surprising truth is that word of mouth can be implemented as strategically as any other form of marketing–and at significantly lower cost! This is especially good news for any seller of products or services who must maximize every marketing dollar. Central to this book is the innovative Decision Matrix, which helps readers identify who their potential buyers are and what messages those prospects need to hear from friends, coworkers, and trusted advisors. [read more]
Finance for Nonfinancial Managers
by Gene Siciliano
An introduction to financial reports – with new tactics for budgeting and pinpointing key financial areas. Financial decisions impact virtually every area of your company. As a manager, it's up to you to understand how and why. Finance for Nonfinancial Managers helps you understand the information in essential financial reports and then shows you how to use that understanding to make informed, intelligent decisions. It provides a solid working knowledge of:
Basic Financial Reports–All about balance sheets, income statements, cash flow statements, and more
Cost Accounting–Methods to assess which products or services are most profitable to your firm
Operational Planning and Budgeting–Ways to use financial knowledge to strengthen your company [read more]
A New Brand World: Eight Principles for Achieving Brand Leadership in the Twenty-First Century
by Scott Bedbury
What does it really take to succeed in business today? In A New Brand World, Scott Bedbury, who helped make Nike and Starbucks two of the most successful brands of recent years, explains this often mysterious process by setting out the principles that helped these companies become leaders in their respective industries. With illuminating anecdotes from his own in-the-trenches experiences and dozens of case studies of other winning—and failed—branding efforts (including Harley-Davidson, Guinness, The Gap, and Disney), Bedbury offers practical, battle-tested advice for keeping any business at the top of its game. [read more]
How Customers Think: Essential Insights into the Mind of the Market
by Gerald Zaltman
How to unlock the hidden 95 per cent of the customer's mind that traditional marketing methods have never reached. This title provides practical synthesis of the cognitive sciences. Drawing heavily on psychology, neuroscience, sociology, and linguistics, Zaltman combines academic rigor with real-world results to offer highly accessible insights, based on his years of research and consulting work with large clients like Coca-Cola and Procter & Gamble. An all-new tool kit: Zaltman provides research tools – metaphor elicitation, response latency, and implicit association techniques, to name a few – that will be all-new to marketers and demonstrates how innovators can use these tools to get clues from the subconscious when developing new products and finding new solutions, long before competitors do. [read more]
Purple Cow: Transform Your Business by Being Remarkable
by Seth Godin
Few authors have had the kind of lasting impact and global reach that Seth Godin has had. In a series of now-classic books that have been translated into 36 languages and reached millions of readers around the world, he has taught generations of readers how to make remarkable products and spread powerful ideas. In Purple Cow, first published in 2003 and revised and expanded in 2009, Godin launched a movement to make truly remarkable products that are worth marketing in the first place. Through stories about companies like Starbucks, JetBlue, Krispy Kreme, and Apple, coupled with his signature provocative style, he inspires readers to rethink what their marketing is really saying about their product. [read more]
The Architect's Guide to Small Firm Management: Making Chaos Work for Your Small Firm
by Rena M. Klein
The definitive guide to management success for sole practitioners and leaders of small design firms. Owning and operating a small architectural design firm can be challenging, with tight project deadlines, on-the-fly meetings, rush proposals, and fluctuating workloads as part of the firm's day-to-day activities. To help small firm owners cope with the chaos and prepare for the unexpected, here is The Architect's Guide to Small Firm Management, a no-nonsense guide to repurposing daily demands into workable, goal-directed solutions. Crucial topics such as self-aware leadership, people management, technology, financial health, scenario planning, sustainable practice, and future trends are examined using real-life case studies and business model paradigms. This definitive text explores the whole system experience of a small firm practice to deliver organizational strategies proven to keep a firm's creative mission on a steady, productive path. [read more]
You, Inc.: The Art of Selling Yourself
by Harry Beckwith
In You, Inc., Beckwith provides practical tips, anecdotes and insights based on his 30 years of marketing and selling his advertising services. Beckwith learned early on in his career that no matter what product you're selling, the most important component of the product is you.In YOU, INC.: A Field Guide to Selling Yourself, Beckwith relates tantalizing tidbits and real stories of how to harness your enthusiasm with an ability to impress your key accounts.Written in his traditional homespun style, Beckwith offers doses of humour and pithy knowledge to anyone who wants to seal the deal and thrive in business. [read more]
Word of Mouth Marketing: How Smart Companies Get People Talking
by Andy Sernovitz
Master word of mouth marketing with this fun, practical, hands-on guide. With straightforward advice and humor, word of mouth expert Andy Sernovitz will show you how the world's most respected and profitable companies get their best customers for free through the power of word of mouth. Learn the five essential steps that make word of mouth work and everything you need to get started. Understand how easy it is to work with social media, viral marketing, evangelists, and buzz. Start using simple techniques that start conversations… [read more]
Experiential Marketing: How to Get Customers to Sense, Feel, Think, Act, Relate
by Brend H. Schmitt
Engaging, enlightening, provocative, and sensational are the words people use to describe compelling experiences and these words also describe this extraordinary book by Bernd Schmitt. Moving beyond traditional "features-and-benefits" marketing, Schmitt presents a revolutionary approach to marketing for the branding and information age. Schmitt shows how managers can create holistic experiences for their customers through brands that provide sensory, affective, and creative associations as well as lifestyle marketing and social identity campaigns. In this masterful handbook of tools and techniques, Schmitt presents a battery of business cases to show how cutting-edge companies use "experience providers" such as visual identity, communication, product presence, Web sites, and service to create different types of customer experiences. [read more]
The Customer Comes Second: Put Your People First and Watch 'em Kick Butt
by Hal Rosenbluth
Tom Peters says "Hal Rosenbluth's story is one of the great unsung business success sagas — and in this fully revised and updated 10th anniversary edition of The Customer Comes Second, Rosenbluth and his co-author Diane McFerrin Peters offer proof that his leadership style is one for the new millennium. The secret of his success, and that of his company, Rosenbluth International is simple: Hal Rosenbluth concentrates on his employees first, and his customers second. This is a formula that has worked for more than two decades, and has transformed his company from a small family business into a global industry leader… [read more]
Emotional Branding: The New Paradigm for Connecting Brands to People
by Marc Gobe
Emotional Branding is the best selling revolutionary business book that has created a movement in branding circles by shifting the focus from products to people. The "10 Commandments of Emotional Branding" have become a new benchmark for marketing and creative professionals, emotional branding has become a coined term by many top industry experts to express the new dynamic that exists now between brands and people. The emergence of social media, consumer empowerment and interaction were all clearly predicted in this book 10 years ago around the new concept of a consumer democracy. In this updated edition, Marc Gobé covers how social media helped elect Barack Obama to the White House, how the idea behind Twitter is transforming our civilization, and why new generations are re-inventing business… [read more]
Differentiate or Die: Survival in Our Era of Killer Competition
by Jack Trout
A newly revised and expanded edition of the revolutionary business classic, Differentiate or Die, Second Edition shows you how to differentiate your products, services, and business in order to dominate the competition. Veteran marketing guru Jack Trout uses real-world examples and his own unique insight to show you how to bind customers to your products for long-term success and loyalty. This edition includes new case studies, new research, and updated examples from around the world. [read more]
Trading Up: Why Consumers Want New Luxury Goods — and How Companies Create Them
by Michael J. Silverstein
Trading up isn't just for the wealthy anymore. These days no one is shocked when an administrative assistant buys silk pajamas at Victoria's Secret. Or a young professional buys only Kendall-Jackson premium wines. Or a construction worker splurges on a $3,000 set of Callaway golf clubs. In dozens of categories, these new luxury brands now sell at huge premiums over conventional goods, and in much larger volumes than traditional old luxury goods. Trading Up has become the definitive book about this growing trend. [read more]
Good To Great: Why Some Companies Make the Leap… And Others Don't
by Jim Collins
Built to Last, the defining management study of the nineties, showed how great companies triumph over time and how long-term sustained performance can be engineered into the DNA of an enterprise from the very beginning. But what about the company that is not born with great DNA? How can good companies, mediocre companies, even bad companies achieve enduring greatness? For years, this question preyed on the mind of Jim Collins. Are there companies that defy gravity and convert long-term mediocrity or worse into long-term superiority? And if so, what are the universal distinguishing characteristics that cause a company to go from good to great? [read more]
Professional Practice 101: Business Strategies and Case Studies in Architecture
by Andrew Pressman
Shed fresh light on the many issues involved in the operation of an architectural practice — from how a firm is structured to how it manages projects and secures new business — with the latest edition of Professional Practice 101. Case studies, new to the this edition, augment each chapter as does a wealth of material including coverage of:
Project management
Time management
Group dynamics and teamwork
Project delivery
Communication and leadership skills
Design and information technology
Marketing
Legal and licensing issues
Financial management
Risk management and professional liability insurance
Client and contractor relations [read more]
Big Brands Big Trouble: Lessons Learned the Hard Way
by Jack Trout
One of the most respected marketing gurus in the world shows why some of today's biggest brands are having trouble and how to avoid repeating their mistakes. It wasn't long ago that Levi-Strauss, Xerox, Crest, AT&T, Firestone, and Digital Equipment dominated their respective markets. What happened to undermine their standings and of those of other superbrands? Are their declines simply the inevitable consequence of change and the birth of new competition? In this important predecessor to the classic Differentiate or Die, "the king of positioning," Jack Trout answers that question with a resounding "No!" [read more]
The Infinite Asset: Managing Brands to Build New Value
by Sam Hill
Introduces a 3-D mapping tool – the brand portfolio molecule – that lets managers visualize elements of a brand and how they interact to create new value. This book argues that a company's brand portfolio must reflect how the target customer actually views the brand. [read more]
The 4-Hour Workweek: Escape 9 – 5, Live Anywhere and Join the New Rich
by Tim Ferriss
The New York Times bestselling author of The 4-Hour Body shows readers how to live more and work less, now with more than 100 pages of new, cutting-edge content. Forget the old concept of retirement and the rest of the deferred-life plan–there is no need to wait and every reason not to, especially in unpredictable economic times. Whether your dream is escaping the rat race, experiencing high-end world travel, or earning a monthly five-figure income with zero management, The 4-Hour Workweek is the blueprint. [read more]
Rework
by Jason Fried
Most business books give you the same old advice: Write a business plan, study the competition, seek investors, yadda yadda. If you're looking for a book like that, put this one back on the shelf. Rework shows you a better, faster, easier way to succeed in business. Read it and you'll know why plans are actually harmful, why you don't need outside investors, and why you're better off ignoring the competition. The truth is, you need less than you think. You don't need to be a workaholic. You don't need to staff up. You don't need to waste time on paperwork or meetings. You don't even need an office. Those are all just excuses. [read more]
The Lean Startup: How Today's Entrepreneurs Use Continuous Innovation to Create Radically Successful Businesses
by Eric Ries
Most startups fail. But many of those failures are preventable.  The Lean Startup is a new approach being adopted across the globe, changing the way companies are built and new products are launched. Eric Ries defines a startup as an organization dedicated to creating something new under conditions of extreme uncertainty. This is just as true for one person in a garage or a group of seasoned professionals in a Fortune 500 boardroom. What they have in common is a mission to penetrate that fog of uncertainty to discover a successful path to a sustainable business. [read more]
Crush It!: Why NOW Is the Time to Cash In on Your Passion
by Gary Vaynerchuk
In Crush It!, online marketing trailblazer Gary Vaynerchuk tells business owners what they need to do to boost their sales using the internet—just as he has done to build his family's wine store from a $4 million business to a $60 million one. Crush It! will show readers how to find their passion, then step by step how to turn it into a flourishing, monetized business. [read more]
David and Goliath: Underdogs, Misfits and the Art of Battling Giants
by Malcolm Gladwell
Three thousand years ago on a battlefield in ancient Palestine, a shepherd boy felled a mighty warrior with nothing more than a pebble and a sling-and ever since, the names of David and Goliath have stood for battles between underdogs and giants. David's victory was improbable and miraculous. He shouldn't have won. Or should he? In David and Goliath, Malcolm Gladwell challenges how we think about obstacles and disadvantages, offering a new interpretation of what it means to be discriminated against, suffer from a disability, lose a parent, attend a mediocre school, or endure any number of other apparent setbacks. [read more]
The $100 Startup: Reinvent the Way You Make a Living, Do What You love, and Create a New Future
by Chris Guillebeau
In The $100 Startup, Chris Guillebeau shows you how to lead of life of adventure, meaning and purpose – and earn a good living. Still in his early thirties, Chris is on the verge of completing a tour of every country on earth – he's already visited more than 175 nations – and yet he's never held a "real job" or earned a regular paycheck.  Rather, he has a special genius for turning ideas into income, and he uses what he earns both to support his life of adventure and to give back. There are many others like Chris – those who've found ways to opt out of traditional employment and create the time and income to pursue what they find meaningful. [read more]
The War of Art: Break Through the Blocks and Win Your Inner Creative Battles
by Steven Pressfield
Think of The War of Art as tough love… for yourself. Since 2002, The War of Art has inspired people around the world to defeat "Resistance"; to recognize and knock down dream-blocking barriers and to silence the naysayers within us.Resistance kicks everyone's butt, and the desire to defeat it is equally as universal. The War of Art identifies the enemy that every one of us must face, outlines a battle plan to conquer this internal foe, then pinpoints just how to achieve the greatest success.Though it was written for writers, it has been embraced by business entrepreneurs, actors, dancers, painters, photographers, filmmakers, military service members and thousands of others around the world. [read more]
Thou Shall Prosper: Ten Commandments for Making Money
by Daniel Lapin
A practical approach to creating wealth-based on the established principles of ancient Jewish wisdom-made accessible to people of all backgrounds. The ups and downs of the economy prove Rabbi Daniel Lapin's famous principle that the more things change, the more we need to depend upon the things that never change. There's no better source for both practical and spiritual financial wisdom than the time-tested knowledge found in the ancient Jewish faith and its culture. In the Second Edition of Thou Shall Prosper, Lapin offers a practical approach to creating wealth based on the established principles of ancient Jewish wisdom. [read more]
EntreLeadership: 20 Years of Practical Business Wisdom from the Trenches
by Dave Ramsey
http://amzn.to/2j7SPU0
Mastery
by Robert Greene
Each one of us has within us the potential to be a Master. Learn the secrets of the field you have chosen, submit to a rigorous apprenticeship, absorb the hidden knowledge possessed by those with years of experience, surge past competitors to surpass them in brilliance, and explode established patterns from within. Study the behaviors of Albert Einstein, Charles Darwin, Leonardo da Vinci and the nine contemporary Masters interviewed for this book. The bestseller author of The 48 Laws of Power, The Art of Seduction, and The 33 Strategies of War, Robert Greene has spent a lifetime studying the laws of power. Now, he shares the secret path to greatness. With this seminal text as a guide, readers will learn how to unlock the passion within and become masters. [read more]
Never Eat Alone: And Other Secrets to Success, One Relationship at a Time
by Keith Ferrazzi
Do you want to get ahead in life? Climb the ladder to personal success? The secret, master networker Keith Ferrazzi claims, is in reaching out to other people. As Ferrazzi discovered in early life, what distinguishes highly successful people from everyone else is the way they use the power of relationships—so that everyone wins. In Never Eat Alone, Ferrazzi lays out the specific steps—and inner mindset—he uses to reach out to connect with the thousands of colleagues, friends, and associates on his contacts list, people he has helped and who have helped him. And in the time since Never Eat Alone was published in 2005, the rise of social media and new, collaborative management styles have only made Ferrazzi's advice more essential for anyone hoping to get ahead in business. [read more]
Start With Why: How Great Leaders Inspire Everyone to Take Action
by Simon Sinek
In 2009, Simon Sinek started a movement to help people become more inspired at work, and in turn inspire their colleagues and customers. Since then, millions have been touched by the power of his ideas, including more than 28 million who've watched his TED Talk based on Start with Why — the third most popular TED video of all time. [read more]
The Success Principles: How to Get from Where You Are to Where You Want to Be
by Jack Canfield
Get ready to transform yourself for success with #1 New York Times bestselling author Jack Canfield! Since its publication a decade ago, Jack Canfield's practical and inspiring guide has become a classic that has helped hundreds of thousands of people achieve success. This fully revised and updated edition of The Success Principles™ features one hundred pages of additional material, including a new section that offers a comprehensive guide to "Success in the Digital Age." In this special 10th Anniversary Edition of his 500,000-copy bestseller, Canfield—the cocreator of the phenomenal bestselling Chicken Soup for the Soul® series—turns to the principles he's studied, taught, and lived for more than forty years in this practical and inspiring guide that will help any aspiring person get from where they are to where they want to be. [read more]
Procrastinate On Purpose: 5 Permissions to Multiply Your Time
by Rory Vaden
Rory Vaden (Take the Stairs) brings his high-energy approach and can-do spirit to the most nagging problem in our professional lives: stalled productivity. Whether we're overworked, organizationally challenged, or have a motivation issue that's holding us back, millions of us are struggling to get things done. In this simple yet powerful new book, Procrastinate on Purpose, Vaden presents the five permissions that set us free to do our best work – on time and without wasting energy battling stress and anxiety. [read more]
10% Happier: How I Tamed the Voice in My Head, Reduced Stress Without Losing My Edge, and Found Self-Help That Actually Works — A True Story
by Dan Harris
Nightline anchor Dan Harris embarks on an unexpected, hilarious, and deeply skeptical odyssey through the strange worlds of spirituality and self-help, and discovers a way to get happier that is truly achievable. After having a nationally televised panic attack on Good Morning America, Dan Harris knew he had to make some changes. A lifelong nonbeliever, he found himself on a bizarre adventure, involving a disgraced pastor, a mysterious self-help guru, and a gaggle of brain scientists. Eventually, Harris realized that the source of his problems was the very thing he always thought was his greatest asset: the incessant, insatiable voice in his head, which had both propelled him through the ranks of a hyper-competitive business and also led him to make the profoundly stupid decisions that provoked his on-air freak-out. [read more]
Mindset: The New Psychology of Success
by Carol Dweck
World-renowned Stanford University psychologist Carol Dweck, in decades of research on achievement and success, has discovered a truly groundbreaking idea–the power of our mindset. Dweck explains why it's not just our abilities and talent that bring us success–but whether we approach them with a fixed or growth mindset. She makes clear why praising intelligence and ability doesn't foster self-esteem and lead to accomplishment, but may actually jeopardize success. With the right mindset, we can motivate our kids and help them to raise their grades, as well as reach our own goals–personal and professional. Dweck reveals what all great parents, teachers, CEOs, and athletes already know: how a simple idea about the brain can create a love of learning and a resilience that is the basis of great accomplishment in every area. [read more]
Love Does: Discover a Secretly Incredible Life in an Ordinary World
by Bob Goff
As a college student he spent 16 days in the Pacific Ocean with five guys and a crate of canned meat. As a father he took his kids on a world tour to eat ice cream with heads of state. He made friends in Uganda, and they liked him so much he became the Ugandan consul. He pursued his wife for three years before she agreed to date him. His grades weren't good enough to get into law school, so he sat on a bench outside the Dean's office for seven days until they finally let him enroll. Bob Goff has become something of a legend, and his friends consider him the world's best-kept secret. Those same friends have long insisted he write a book. What follows are paradigm shifts, musings, and stories from one of the world's most delightfully engaging and winsome people. What fuels his impact? Love. But it's not the kind of love that stops at thoughts and feelings. Bob's love takes action. Bob believes Love Does. [read more]
Think and Grow Rich: The Power of Attraction
by Napoleon Hill
Think and Grow Rich is a motivational personal development and self-help book written by Napoleon Hill and inspired by a suggestion from Scottish-American businessman Andrew Carnegie. While the title implies that this book deals only with how to get rich, the author explains that the philosophy taught in the book can be used to help people succeed in all lines of work and to do or be almost anything they want. [read more]
Creativity Inc.: Overcoming the Unseen Forces That Stand in the Way of True Inspiration
by Ed Catmull
From Ed Catmull, co-founder (with Steve Jobs and John Lasseter) of Pixar Animation Studios, the Academy Award–winning studio behind Inside Out and Toy Story, comes an incisive book about creativity in business and leadership—sure to appeal to readers of Daniel Pink, Tom Peters, and Chip and Dan Heath. Fast Company raves that Creativity, Inc. "just might be the most thoughtful management book ever." Creativity, Inc. is a book for managers who want to lead their employees to new heights, a manual for anyone who strives for originality, and the first-ever, all-access trip into the nerve center of Pixar Animation—into the meetings, postmortems, and "Braintrust" sessions where some of the most successful films in history are made. It is, at heart, a book about how to build a creative culture—but it is also, as Pixar co-founder and president Ed Catmull writes, "an expression of the ideas that I believe make the best in us possible." [read more]
Steve Jobs
by Walter Isaacson
Based on more than forty interviews with Jobs conducted over two years—as well as interviews with more than a hundred family members, friends, adversaries, competitors, and colleagues—Walter Isaacson has written a riveting story of the roller-coaster life and searingly intense personality of a creative entrepreneur whose passion for perfection and ferocious drive revolutionized six industries: personal computers, animated movies, music, phones, tablet computing, and digital publishing. At a time when America is seeking ways to sustain its innovative edge, and when societies around the world are trying to build digital-age economies, Jobs stands as the ultimate icon of inventiveness and applied imagination. He knew that the best way to create value in the twenty-first century was to connect creativity with technology. He built a company where leaps of the imagination were combined with remarkable feats of engineering. [read more]
Presence: Brining Your Boldest Self to Your Biggest Challenges
by Amy Cuddy
Have you ever left a nerve-racking challenge and immediately wished for a do over? Maybe after a job interview, a performance, or a difficult conversation? The very moments that require us to be genuine and commanding can instead cause us to feel phony and powerless. Too often we approach our lives' biggest hurdles with dread, execute them with anxiety, and leave them with regret. By accessing our personal power, we can achieve "presence," the state in which we stop worrying about the impression we're making on others and instead adjust the impression we've been making on ourselves. As Harvard professor Amy Cuddy's revolutionary book reveals, we don't need to embark on a grand spiritual quest or complete an inner transformation to harness the power of presence. Instead, we need to nudge ourselves, moment by moment, by tweaking our body language, behavior, and mind-set in our day-to-day lives. [read more]
How To Win Friends and Influence People
by Dale Carnegie
Dale Carnegie says You can make someone want to do what you want them to do by seeing the situation from the other person's point of view and "arousing in the other person an eager want." You learn how to make people like you, win people over to your way of thinking, and change people without causing offense or arousing resentment. For instance, "let the other person feel that the idea is his or hers," and "talk about your own mistakes before criticizing the other person." This book is all about building relationships. With good relationships; personal and business success are easy. [read more]
The Seven Habits of Highly Effective People: Powerful Lessons in Personal Change
by Stephen R. Covey
Considered one of the most inspiring books ever written, The 7 Habits of Highly Effective People has guided generations of readers for the last 25 years. Presidents and CEOs have kept it by their bedsides, students have underlined and studied passages from it, educators and parents have drawn from it, and individuals of all ages and occupations have used its step-by-step pathway to adapt to change and to take advantage of the opportunities that change creates. [read more]
First Things First
by Stephen R. Covey
I'm getting more done in less time, but where are the rich relationships, the inner peace, the balance, the confidence that I'm doing what matters most and doing it well? Does this nagging question haunt you, even when you feel you are being your most efficient? If so, First Things First can help you understand why so often our first things aren't first. Rather than offering you another clock, First Things First provides you with a compass, because where you're headed is more important than how fast you're going. [read more]
The Alchemist
by Paulo Coelho
Combining magic, mysticism, wisdom and wonder into an inspiring tale of self-discovery, The Alchemist has become a modern classic, selling millions of copies around the world and transforming the lives of countless readers across generations. Paulo Coelho's masterpiece tells the mystical story of Santiago, an Andalusian shepherd boy who yearns to travel in search of a worldly treasure. His quest will lead him to riches far different—and far more satisfying—than he ever imagined. Santiago's journey teaches us about the essential wisdom of listening to our hearts, of recognizing opportunity and learning to read the omens strewn along life's path, and, most importantly, to follow our dreams. [read more]
Will It Fly?: How To Test Your Next Business Idea So You Don't Waste Your Time and Money
by Pat Flynn
Stop rushing into businesses born from half-baked ideas, misguided theories, and other forms of self-delusion. A lack of proper validation kills more businesses than anything else. As Joel Barker says, "Speed is only useful if you're running in the right direction." Will It Fly? will help you make sure you are clear for takeoff. It answers questions like:
-Does your business idea have merit?
-Will it succeed in the market you're trying to serve, or will it just be a waste of time and resources?
-Is it a good idea for you?
-In other words, will it fly? [read more]
Scaling Up: How a Few Companies Make It… and Why the Rest Don't (Rockefeller Habits 2.0)
by Verne Harnish
It's been over a decade since Verne Harnish's best-selling book Mastering the Rockefeller Habits was first released. Scaling Up: How a Few Companies Make It…and Why the Rest Don't is the first major revision of this business classic. In Scaling Up, Harnish and his team share practical tools and techniques for building an industry-dominating business. These approaches have been honed from over three decades of advising tens of thousands of CEOs and executives and helping them navigate the increasing complexities (and weight) that come with scaling up a venture. This book is written so everyone — from frontline employees to senior executives — can get aligned in contributing to the growth of a firm. There's no reason to do it alone, yet many top leaders feel like they are the ones dragging the rest of the organization up the S-curve of growth. The goal of this book is to help you turn what feels like an anchor into wind at your back [read more]
Profit First: A Simple System to Transform Any Business From a Cash-Eating Monster to a Money Making Machine
by Mike Michalowicz
You are about to discover the profoundly simple yet shockingly effective accounting plug-in that will transform your business from a cash eating monster into a money making machine. In Profit First, Mike Michalowicz, author of The Pumpkin Plan & The Toilet Paper Entrepreneur, explains why the GAAP accounting method is contrary to human nature, trapping entrepreneurs in the panic-driven cycle of operating check-to-check and reveals why this new method is the easiest and smartest way to ensure your business becomes wildly (and permanently) profitable from your very next deposit forward. [read more]
Surge: Time the Marketplace, Ride the Wave of Consumer Demand, and Become Your Industry's Big Kahuna
by Mike Michalowicz
To achieve the ultimate in entrepreneurial breakthrough success requires an uncanny ability to spot the next big wave of consumer demand – but how do you do that? For most small business owners, the true cash cows seem to be reserved for lucky people who were in the right place at the right time. In his newest book, Surge, prolific small business author Mike Michalowicz shares the 5-step process for identifying trends in your marketplace. After reading his from-the-trenches stories and no-nonsense approach you ll realize you don t need to wait for a lucky break. You can make it yourself. [read more]
The Obstacle Is The Way: The Timeless Art of Turning Trials into Triumph
by Ryan Holiday
Its many fans include a former governor and movie star (Arnold Schwarzenegger), a hip hop icon (LL Cool J), an Irish tennis pro (James McGee), an NBC sportscaster (Michele Tafoya), and the coaches and players of winning teams like the New England Patriots, Seattle Seahawks, Chicago Cubs, and University of Texas men's basketball team. The book draws its inspiration from stoicism, the ancient Greek philosophy of enduring pain or adversity with perseverance and resilience. Stoics focus on the things they can control, let go of everything else, and turn every new obstacle into an opportunity to get better, stronger, tougher. As Marcus Aurelius put it nearly 2000 years ago: "The impediment to action advances action. What stands in the way becomes the way." [read more]
Total Money Makeover: A Proven Plan for Financial Fitness
by Dave Ramsey
Build up your money muscles with America's favorite finance coach. Okay, folks, do you want to turn those fat and flabby expenses into a well-toned budget? Do you want to transform your sad and skinny little bank account into a bulked-up cash machine? Then get with the program, people. There's one sure way to whip your finances into shape, and that's with The Total Money Makeover: Classic Edition. By now, you've heard all the nutty get-rich-quick schemes, the fiscal diet fads that leave you with a lot of kooky ideas but not a penny in your pocket. Hey, if you're tired of the lies and sick of the false promises, take a look at this—it's the simplest, most straightforward game plan for completely making over your money habits. And it's based on results, not pie-in-the-sky fantasies. [read more]
ARE Hacks: Learn How to Pass the Architect Registration Exam
by Evan Troxel
You've already done the hard part—you got your degree in architecture. Now it's time to get your license so you can level-up in your career by becoming an architect. But your excuses are holding you back. You have a busy life, you're working long hours building your career, and on top of that you might even have a family. Everything is competing for your time and attention and you don't have any more to give. How do you dedicate yourself to something that takes so much time and effort to accomplish? The answer isn't simply more coffee. [read more]
The In-Between: Embracing the Tension Between Now and the Next Big Thing
by Jeff Goins
We're an "instant gratification" generation—but most change happens gradually. Many of us spend our lives searching and longing for something more than what is in front of us. Whether it's traveling abroad or chasing cheap (or expensive) thrills, we're all looking for the medicine to satisfy our restlessness. And so often we're looking in the wrong place. The In-Between is a call to accept the importance that waiting plays in our lives. Can we embrace the extraordinary nature of the ordinary and enjoy the daily mundane—what lies in between the "major" moments? Learning to live in this tension, to be content in these moments of waiting, may be our greatest struggle—and our greatest opportunity to grow. [read more]
Work The System: The Simple Mechanics of Making More and Working Less
by Sam Carpenter
Work the System: The Simple Mechanics of Making More and Working Less was originally self published in soft cover by the author in April 2008 and had modest distribution as it was sold only via the author s website. "Work" was picked up by Greenleaf Book Group in the Fall of 2008, thoroughly re-edited, and released to book stores in hard cover May 1, 2009. So you can live your life, Work the System: The Simple Mechanics of Making More and Working Less will guide you in streamlining the interlaced systems that drive every aspect of your work. The key is to dramatically increase the efficiency of the business you own or the department you manage, while standing "outside and slightly elevated" from the processes. While providing exact direction for creating a culture of "system improvement," the author interlaces his own story of moving from 100-hour workweeks to 2-hour workweeks, while multiplying his monthly income by a factor of 20. Through all this he was the single parent of two children. [read more]
Small Groups with Purpose: How to Create Healthy Communities
by Steve Gladen
Over the past fifteen years, small groups have become a vital way to build community in large churches. Nowhere has this been more apparent than at Saddleback Church. Now Steve Gladen, pastor of small groups at Saddleback, shares the secrets of that ministry's incredible success in creating small groups with purpose. This practical book walks church leaders through the questions they need to answer to develop their own intentional small group strategy. Built around the most commonly asked questions, Small Groups with Purpose outlines the step-by-step process of creating a successful small group ministry. Because it is built upon principles and not methods, this plan can be implemented in any size church. Each chapter ends with a list of questions for readers to answer to help them assess their current situation and their desires for the future. Personal stories, Scripture, and examples ground the discussion and show the system in action. [read more]
Essentialism: The Disciplined Pursuit of Less
by Greg McKeown
Have you ever felt the urge to declutter your work life? Do you often find yourself stretched too thin? Do you simultaneously feel overworked and underutilized? Are you frequently busy but not productive? Do you feel like your time is constantly being hijacked by other people's agendas? If you answered yes to any of these, the way out is the Way of the Essentialist. The Way of the Essentialist isn't about getting more done in less time. It's about getting only the right things done.  It is not  a time management strategy, or a productivity technique. It is a systematic discipline for discerning what is absolutely essential, then eliminating everything that is not, so we can make the highest possible contribution towards the things that really matter. [read more]
The ONE Thing: The Surprisingly Simple Truth Behind Extraordinary Results
by Gary Keller and Jay Papasan
The ONE Thing has made more than 350 appearances on national bestseller lists, including #1 Wall Street Journal, NewYork Times, and USA Today. It won 12 book awards, has been translated into 27 languages, chosen as one of the Top 5 Business Books of 2013 by Hudson's Booksellers and one of Top 30 Business Books of 2013 by Executive Book Summaries. Voted one of Top 100 Business Books of All Time on Goodreads. People are using this simple, powerful concept to focus on what matters most in their personal and work lives. Companies are helping their employees be more productive with study groups, training, and coaching. Sales teams are boosting sales. Churches are conducting classes and recommending for their members. By focusing their energy on one thing at a time people are living more rewarding lives by building their careers, strengthening their finances, losing weight and getting in shape, deepening their faith, and nurturing stronger marriages and personal relationships. [read more]
Virtual Freedom: How to Work with Virtual Staff to Buy More Time, Become More Productive, and Build Your Dream Business
by Chris C. Ducker
Entrepreneurs often suffer from "superhero syndrome"—the misconception that to be successful, they must do everything themselves. Not only are they the boss, but also the salesperson, HR manager, copywriter, operations manager, online marketing guru, and so much more. It's no wonder why so many people give up the dream of starting a business—it's just too much for one person to handle. But outsourcing expert and "Virtual CEO," Chris Ducker knows how you can get the help you need with resources you can afford. Small business owners, consultants, and online entrepreneurs don't have to go it alone when they discover the power of building teams of virtual employees to help run, support, and grow their businesses. [read more]
The Catalyst Leader: 8 Essentials for Becoming a Change Maker
by Brad Lomenick
We need great leaders.  More than ever we need authentic, collaborative, inspiring men and women of integrity at the helm of society- and too often our leaders fall short.  Some focus on personal success, alienating those they lead.  Others shift their principles when it is convenient. There is a better way.  You can energize and inspire the people around you.  You can equip a team of principled collaborators to answer God's calling.  You can be a catalyst leader. In The Catalyst Leader, Brad Lomenick describes the skills and principles that define a true change maker.  This book offers eight key essentials by which a leader can influence others and make a difference, laying out the path to the keys for becoming an effective leader. [read more]
APE: Author, Publisher, Entrepreneur: How to Publish a Book
by Guy Kawasaki and Shawn Welch
In 2011 the publisher of one of my books, Enchantment, could not fill an order for 500 ebook copies of the book. Because of this experience, I self-published my next book, What the Plus!, and learned first-hand that self-publishing is a complex, confusing, and idiosyncratic process. As Steve Jobs said, "There must be a better way." With Shawn Welch, a tech wizard, I wrote APE to help people take control of their writing careers. APE's thesis is powerful yet simple: filling the roles of Author, Publisher and Entrepreneur yields results that rival traditional publishing. We call this "artisanal publishing"–that is, when writers who love their craft control the publishing process and produce high-quality books. APE is 300 pages of step-by-step, tactical advice and practical inspiration. If you want a hype-filled, get-rich-quick book, you should look elsewhere. On the other hand, if you want a comprehensive and realistic guide to self-publishing, APE is the answer. [read more]
No Brand is an Island: The Ultimate Guide to the Relationships That Will Skyrocket Your Brand
by Robert D. Smith
It's all on you. That's how it feels, right? Whether you're trying to be an author, speaker, or any kind of entrepreneur, you feel like there aren't enough hours in the day to do all the things you need to get done. Newsflash: You'll never get all the things you need to get done if you're spending half of your time focusing on things other people should be doing for you. This means that…
If you're a writer, you should be writing.
If you're a speaker, you should be speaking and working on material.
If you're a musician, you should be practicing, performing, writing, etc. [read more]
Platform: Get Noticed in a Noisy World
by Michael Hyatt
Michael Hyatt, one of the top business bloggers in the world, provides down-to-earth guidance for building and expanding a powerful platform. To be successful in the market today, you must possess two strategic assets: a compelling product and a meaningful platform. In this step-by-step guide, Michael Hyatt, former CEO and current Chairman of Thomas Nelson Publishers, takes readers behind the scenes, into the new world of social media success. He shows you what best-selling authors, public speakers, entrepreneurs, musicians, and other creatives are doing differently to win customers in today's crowded marketplace. Hyatt speaks from experience. He writes one of the top 800 blogs in the world and has more than 100,000 followers on Twitter. His large and growing platform serves as the foundation for his successful writing, speaking, and consulting practice. [read more]
Jab, Jab, Jab, Right Hook: How to Tell Your Story in a Noisy Social World
by Gary Vaynerchuk
New York Times bestselling author and social media expert Gary Vaynerchuk shares hard-won advice on how to connect with customers and beat the competition. A mash-up of the best elements of Crush It! and The Thank You Economy with a fresh spin, Jab, Jab, Jab, Right Hook is a blueprint to social media marketing strategies that really works. When managers and marketers outline their social media strategies, they plan for the "right hook"—their next sale or campaign that's going to knock out the competition. Even companies committed to jabbing—patiently engaging with customers to build the relationships crucial to successful social media campaigns—want to land the punch that will take down their opponent or their customer's resistance in one blow. Right hooks convert traffic to sales and easily show results. Except when they don't. [read more]
The Virtual Assistant Solution: Come Up for Air, Offload the Work You Hate, and Focus on What You Do Best
by Michael Hyatt
If you're like the average business person, your workload is overwhelming you. There are only twenty-four hours in a day, but you keep losing time to email, billing, scheduling, transcription, and more administrative details than you can manage. You're drowning. And you're wasting your time. Why spend hours on tasks outside your strengths? If you want to be less stressed and more productive, you need help, and The Virtual Assistant Solution shows you how to skip the hassle of recruiting, hiring, and training a traditional assistant and get the flexible, customized help you need today. Whether you're an author, coach, consultant, corporate executive, creative, doctor, entrepreneur, nonprofit leader, lawyer, pastor, or professor, a virtual assistant can finally give you the relief you're looking for and give you the freedom to focus on only what you can do. [read more]
Let Go
by Pat Flynn
Let Go is Pat Flynn's touching memoir about overcoming adversity through a commitment to pursuing your own path. Pat's story chronicles the extreme highs and lows he faced as an ambitious and hardworking architect. When his luck was down, Pat turned away from the expected path and built his own through perseverance, investment in self, and a devotion to helping others. Along the way, Pat managed to not only achieve financial success but more importantly discovered what matters most: passion and purpose. In Let Go, Pat reveals the inside story of his transformation into one of today's most beloved thought leaders in the areas of Internet business, online marketing, and lifestyle entrepreneurialism. He shares the challenges and feelings he faced as he pieced together what has become a thriving online enterprise. [read more]
Question: What's on YOUR shelf?