This week's post is written by David M. Sanders, AIA a residential architect based in Capistrano Beach, California. David has generously shared his own system for preparing the ultimate set of construction documents.
You may learn more about David and his firm at his website. Send him an email and say thanks for sharing such valuable information.
Many of us here at Entrepreneur Architect have taken the excellent advice of our host and begun to strengthen our marketing plans. For myself, it has indeed made a notable difference and I have to thank Mark for the valuable insights he has shared.
Getting more conversions is great, and important, but what about the other end of the equation? We're all fairly adept at providing good design for our clients and successfully presenting to them. Most of us do that effectively by various means, whether it be Richardsonian esquisse, Wrightian colored pencil renderings, or crisp photo-real renderings of our computer models. After that, we move into production, and this is where I see a lot of practitioners burn up time (and thus money) by reinventing the wheel on every project. I'd like to share my methods with the group in the interest of making us all stronger in a critical skill; Construction Document production.
Since my early years in the profession, I've always had a bit of OCD about organization and have been quickly put in charge of the drafting standard at firms I've worked at. After three decades, I feel like I've arrived at an ideal system, which is an adapted compilation of two known standards: The AIA's 'ConDoc' system and the 'NCS' (National Cad Standard).
ConDoc was invented several years ago and is a familiar system to commercial practitioners. There's a handy two-page synopsis available at this link: http://www.aia.org/aiaucmp/groups/secure/documents/pdf/aiap016662.pdf.
The NCS is a more comprehensive scheme that gets into the real nitty-gritty of the documentation process and is commonly utilized for governmental projects. You can view its several modules at this link: http://www.nationalcadstandard.org/ncs5/content.php. Both links are worth a look to gain an understanding of the respective philosophies.
The trick was to figure out a simplified system for use on projects of residential scale that is flexible enough to adapt to anything from a room addition to a large, luxury home. Following are the techniques I've settled on that have given me maximum 'bang for the minute' of drafting time.
Step 1: Your Master Specification
The first step is to develop a solid, categorized master specification. Mine is assembled in a Word document, and is laid out as a narrow column that fits a half-width of my standard NCS sheet module. It's categorized in the simple six-digit CSI (Construction Specification Institute) format. You can download CSI's MasterFormat list at this link: http://www.csinet.org/numbersandtitles. Some sections utilize an additional two-digit modifier at the end of the six-digit number, which I typically modify by simply changing the third number set to the next in sequence from the one above it; that way, all the section numbers are simply six digits, and fit better on the drawing sheets. I make a copy of this master specification for each project, and place it in the project's folder. While working on the CD's, I have the specification file open so that I can quickly refer to its table of contents while generating annotation on the drawing sheets, and I'm also editing it to suit the project at hand. If you prefer to use the OmniClass system of specification categorization, it works just as well. I'm an old man, and have the six-digit MasterFormat system practically memorized, so I've stuck with it.
Step 2: Your Drawing Index
Step two is to setup the drawing index in the CSI Uniform Drawing System (UDS). Sheets are assigned alphanumeric numbers based on construction discipline and sheet order. This methodology is incredibly handy when you need to add or subtract sheets from your drawing sets, as doing so doesn't screw up any sheet references embedded in the drawings, such as section and detail sheet references.
Step 3: Your Keynote System
The third step is to devise a consistent keynoting system. On large-format drawings, always use keynotes; no exceptions. If I catch someone making verbal annotations on a plan, elevation or section, they'll quickly get a scale across the knuckles. It's vitally important to be consistent in your annotation technique. The only place 'contextual' notes are used is in detail drawings (where keynotes are not as effective for the contractors).
Step 4: Scheduling
Fourth is scheduling. Doors, windows, room finish, equipment, plumbing fixtures, appliances, electrical devices and lighting are always scheduled. This does two things: It allows you to fully specify components to any degree you wish, and it creates a quick-to-reference list for any participant in the project. When you need to obtain quotes for these scheduled items, you can simply send a link to the drawing set to your suppliers, and direct them to the sheet where the schedule they need to see is located. This insures complete, concise quotations from the suppliers. If substitutions are made, it happens in one place and is easy to point to for other project participants. Also, you can integrate door and window detail references into your schedules which reduces clutter on your elevation and section drawings. Some folks don't think this is effective and is easily missed, but if you explain your system to the contractors, you'll find they will quickly embrace it.
Here's how it all comes together…
First, I place a box on the Title Sheet of the drawings that illustrates my drafting symbols for the set. I point it out to the contractors at the pre-bid meeting to be sure they're aware of it. It looks like this:
Notice that the keynote marker description clearly states that the keynotes listed on any particular page apply to that page only. That way, you don't have to try to track note numbers through the entire set. That's a departure from the ConDoc / NCS standard, which tries to use the six-digit CSI numbers as keynote numbers (which are very cumbersome to read).
Next are the typically large format drawing sheets. With the exception of detail or wall section sheets, each drawing sheet has a column of keynotes on its right-hand edge composed of four sub-columns: A column for revision deltas, a column for the keynote symbol, a column for the specification section reference, and a column for the note description. Like this: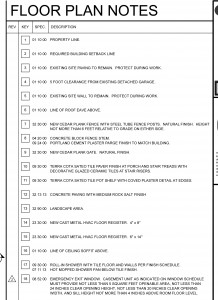 Notice that the descriptions are typically very short, and only say what needs to be said for cognition of what is being called out. The only time they get 'wordy' is if the AHJ wants you to expand on something; as in the case with note number 18 on this set. The idea is that we want the drawings to be quick to read in the field. If the person looking at the drawings needs more information, they can look in the listed specification section where there's a plethora of information for them to digest. In most cases, they only need to see that extensive amount of information one time, so we want it in one place.
This is extremely valuable for two reasons: If it needs to be edited, it is done in one place without any need to try to find instances throughout the set, and; it leaves lots of space to add notes on the drawing sheet so you can annotate your drawings more thoroughly. Another great benefit is that you can often reuse a large number of notes on other projects by simply copying and pasting to build up note lists for new projects. If you can stay disciplined and stick with your system, it can be a huge time-saver. Also notice that a single keynote can reference as many specification sections as you like, such as note number 17 which calls out the tile finish at the shower as well as the shower pan waterproofing. That note also references the finish schedule. Lets take a look at the note column there: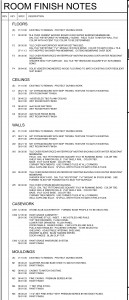 It's slightly different than the normal keynote list. The key numbers are not boxed, so that they can be inserted in the Room Finish Schedule as normal text. Also, this same column of notes is placed on the interior elevation sheets, and the key numbers are used to call out items on the elevations like this: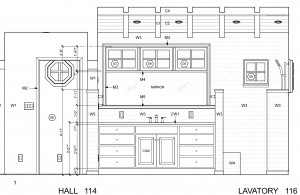 You can see how clean this leaves the drawing, making it much more comprehensible and with plenty of room for dimensions. This has the same benefit as the normal keynotes; You can change a material or finish specification without having to 'chase' it through the drawing set.
Finally, there's the detail drawings. Even though they don't get keynotes, they do get specification references. They look like this: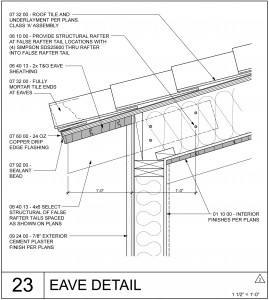 The specification section leads the notation with a hyphen between, which creates a clear separation between the specification reference and the description of the component. Also, I tend to kick as many detailed notes back to the large format drawings, which minimizes duplication of data and makes it easier to perform subtle edits. For instance, in this detail, I don't need to tell the contractor the precise texture and color of the exterior cement plaster finish; that's on the exterior elevations. All (s)he needs to know for the purpose of this drawing is that it's a 7/8 inch thick layer of the stuff… (S)he already saw it's color and texture called out on the elevations. Another side note on details; I like to give each detail an individual number, no matter what sheet it occurs on. By never duplicating a detail number, you'll have no confusion even if there's an error in the detail bubble's sheet reference. It also makes it easier to write each detail to a computer file without having to track it's location in the drawing set (i.e., 001.dwg, 002.dwg,….. 099.dwg, 100.dwg, etc.)
Once the drawings are complete, the edited and culled specifications are placed on a drawing sheet for inclusion in the set. This can be done by Object Linking and Embedding (OLE) in some software packages, which will make the placed text track changes in the source file, or you can simply copy and paste them section by section.
Personally, I use ArchiCAD software (which I highly recommend). It's a full-featured BIM package with two discrete components; a modeling section and a layout section. You can use it several ways, but my personal method is to try to do as little annotation as possible in the modeling section. All my keynotes are placed in the layout section. The exceptions to this are the material / finish callouts on the interior elevations and detail / section markers which I find easier to keep track of in the modeling section. Additionally, the door, window and room markers are generated within the modeling section where they serve as the database to feed my schedules. If you're using 2D drafting software, you won't be able to harness such automation, but that's a separate topic. Let me know if y'all would like a full dissertation on my BIM philosophy (it's an earful!).
The main ideas to improve accuracy and speed up your production processes are as follows:
Do your detailed specifications in ONE place, not scattered around the drawing set.
Always have every note refer back to the applicable specification section(s). Even very generalized notes, such as 'Roof eave above' refer back to specification section 01 10 00, which has extensive notes directing the contractor to pay attention to alignments, proper fit of components, etc.
Make a clear distinction between graphic content and verbal content.
Pick a method for each particular task, one that is simple and versatile, and then stick to it! Don't cheat.
Analyze your software packages' capabilities and automate as many functions as you can by utilizing database generated schedules, automated drawing titles and master layouts for drawing sheets. Know your tool kit.
Once you habituate to a solid system, you'll see your productivity soar, and you'll realize a more satisfying net hourly on that lump sum fee! 😉 Or, even better, use that time gained to dazzle your client with your generous amount of time allotted for site visits and your cheerful, relaxed response to RFI's.
One of the highest compliments I can get is a contractor telling me, "This is an awesome set of drawings." I get that quite a lot, and am quite proud of it. The best part, though, and the part I keep more private, is that it's much quicker to produce these drawings! I hope some these ideas and concepts can help to increase your productivity, provide your clients with tighter bids, and give you more control over the built conditions on your projects.
Let me know what you think of my system. Do you have any more tips to streamline our productivity? Share your ideas in the comments below.