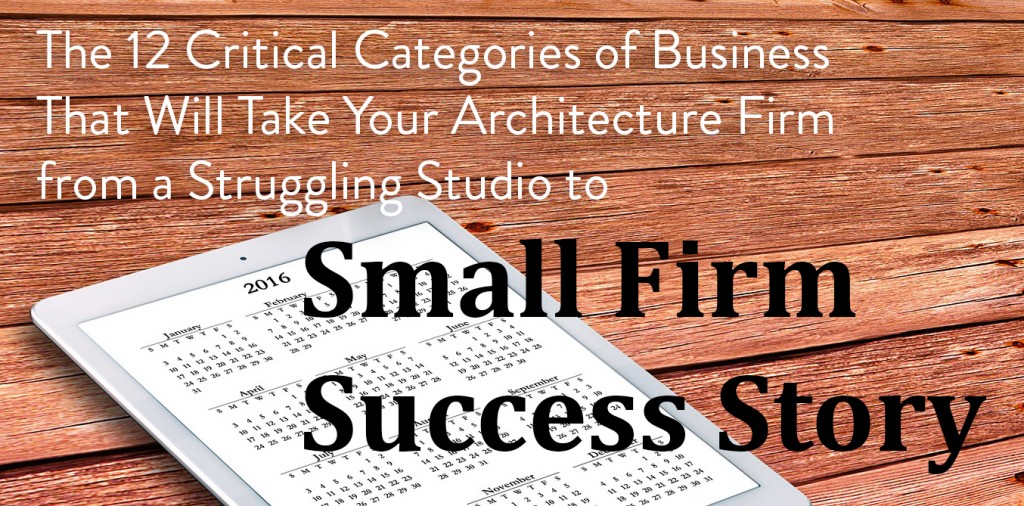 In architecture school, we all had a dream of what we would become when we became architects; designing beautiful spaces and making the world a better place with each project. We each told ourselves a story of success as an architect. We imagined a studio filled with light, working with talented people and surrounded by the iterations of our creativity. Powerful projects, patrons and processes of purpose that allowed us to pursue our passions.
How is your dream looking today? Are you succeeding… or are you struggling?
This week at EntreArchitect Podcast, Mark R. LePage will share The 12 Critical Categories of Business That Will Take Your Architecture Firm from a Struggling Studio to Small Firm Success Story.
Business is a game, and like any game, you have to be able to learn and play by the rules to win. There are critical steps that need to be taken in order for our firms to thrive and become the success stories of our dreams. The only way to small firm architecture success is to hit each one of these twelve critical categories:
Finance // Are your books in order? The numbers are how we make it all work financially. How do you manage your money? How do you put together your financial reports? Should you use debt to grow or not?
Business Development (Sales) // If you don't have sales, you don't have business, you don't have an architecture firm. Are you selling your services?
Leadership // Are you a strong leader? How can you become a small leader? Do you know how to build strong teams? Are you familiar with the roles, responsibilities, and results expected in your firm?
Culture // Have you defined what your firm's culture looks like? Are you intentionally developing your firm culture?
Client Fulfillment // How do you manage the expectations of your clients? How do you develop systems that help you fulfill clients' needs? How can you develop strong project management skills? Are you using the EntreArchitect Hybrid Proposal?
Technology // What design software are you using? Are you using the best equipment and software that you can afford to make you into the most productive in what you do? Is your technology relevant and are you looking to the future technologies that architects will be using?
Business Management // Who are the people in our firm and how are they working? What are the processes that those people are working with? What are the products and services that we're creating and serving with? Do you have an interview process, a hiring process, a conflict/resolution process, a firing process? Are they documented?
Personal Development // Are you learning and exploring to build a better you? What are you doing on a daily basis to care for yourself mentally and physically to make sure that you stay strong and healthy? Are you sharing what you know with others?
Marketing // What strategies and systems of marketing do you have in place now? What types of marketing should you be developing? Are you connected through social networks? Is your website telling your story in a captivating way? Is it a way for you to connect further?
 Life // How do you integrate your firm with your personal life? Are you learning the skills of scheduling and prioritizing to live a better, more integrated life?
Community // How can you build a business that does good for others while building a business that does well?
Planning // Do you take time to look back at what you've been doing to evaluate if you're on the right track with your goals? Can you look forward at how your plan will evolve further down the road?
If you are running a firm, these things aren't optional. Focus on each one of them, schedule time and be intentional to develop systems and strategies.
Mark struggled and searched for the answers for years, but when he focused on the fundamentals, he saw his firm turn around. His projects got better and his business grew.
He wants the same for every small firm out there, and that's why he launched EntreArchitect™ Academy in 2014. Every month we're diving deeper into these critical categories beyond what you see on the blog and hear in podcasts to learn all there is to learn. We have exclusive live trainings with experts who provide resources on what they know in each of these subjects. We break into smaller groups that support one another and help one another grow. Every member has access to our digital courses, document templates, systems templates from experts, and access to a whole library of videos that talk about so many topics. Early bird enrollment with a discounted rate is open until general enrollment opens.
Enrollment for the EntreArchitect™ Academy opens on May 2nd and is limited to the first 50 new members!
Click here to enroll in the EntreArchitect™ Academy
Visit our Platform Sponsors
FreshBooks
The easiest way to send invoices, manage expenses, and track your time.
Access Your 30-Day Free Trial at FreshBooks.com/architect (Enter EntreArchitect)
Referenced in This Episode
New Year. New Budget. [Blog]
Basic Financial Statements for Small Firm Architects [Blog]
6 Ways Your Architecture Firm May Benefit from Working with an Investor [Blog]
Financial Intelligence for Small Firm Architects [Podcast]
4 Steps for Changing an Architect's Mind on Money [Podcast]
The One Thing by Gary Keller [book]
Join us in Philadelphia at the EntreArchitect Meetup