How To Get Noticed When No One is Watching
"How do I get noticed when I am first starting an architecture firm? I have no portfolio of my own to show clients. How do I get that first solo project?"
I receive emails and see questions over at The EntreArchitect Community Facebook Group on a regular basis asking these or similar questions.
I've shared articles at this blog in the past on how much it may cost to start your own firm and how Annmarie and I launched Fivecat Studio with no clients and very little money.
Starting a firm from scratch is not easy. Many architects take a different tact by working for established firms and using the knowledge and connections from that position to leverage the launch of a new firm. Your first clients may come from relationships built during your time as an employee.
There are many benefits to running your own firm in terms of control, flexibility and freedom, but it will likely be your life's greatest challenge.
Another path to owning your own firm is to work your way through the ranks in an established firm, becoming a partner and ultimately taking the reins and responsibility for that firm.
What happens though if you want to launch your own firm and you are not in the position to use the projects or established relationships with clients from your current employer? How can you get things rolling before taking the leap to a full-time commitment of running your own firm?
How can you get noticed when no one is watching?
The secret to getting noticed is to build your own platform from which to launch before taking the leap. Build a foundation of relationships, connections and resources that will support you, provide the basis on which to build your new firm and get you noticed.
How To Start An Architecture Firm From Scratch
Here are 10 steps that you can use to build a solid platform and find your first client.
1. Be Certain
The first step is simple, but not easy.
Be certain that launching your own firm is what you truly want to do. Building a firm from scratch may be one of the most difficult things you will ever do. In order to succeed, you will work harder and work more hours than you can imagine. There are many benefits to running your own firm in terms of control, flexibility and freedom, but it will likely be your life's greatest challenge. It will take years of consistent commitment and you may struggle to find your footing before successfully climbing the mountain.
2. Make a Plan
Once you have committed to taking action toward launching your own firm, write a plan and use it as your guide. I've written about developing a Life Plan here and shared my 60 Minute Business Plan here. Don't move on to step 3 until you have prepared a preliminary plan for how to move forward with your new firm and the life you hope to live.
3. Tell Everyone
Tell everyone you know that you are starting a firm and that you are looking for your first project. Tell your family. Tell your friends. Tell your peers. Tell fellow architects. Tell your alumni groups, members of your chambers of commerce, parish members… Tell everyone.
Depending on the relationship with your boss and the terms of your employment agreement, I even suggest that you tell your current employer. Many first clients come as freelance work that your current firm cannot or chooses not to handle. If your intent is to leave your current position and start your own gig, sharing your plans with your employer may reinforce your relationship going forward and will give them plenty of time for you to transition with your replacement.
4. Start a Blog
One of the best ways to establish yourself as an authority is to start a blog. Pick a specific niche within your intended market. Give your blog a name that will reflect the topic on which you want to write. Be consistent, informative, interesting and entertaining and you will quickly attract a following of potential clients. Be honest with your level of experience and write about how you are working toward starting your own firm. Share your journey and demonstrate expertise in your specific niche. We've all heard it before, "People want to work with people they know, like and trust." The power of a blog is simply amazing for reaching the people with whom you want to influence and make a connection.
You will have a free blog up and running within minutes using WordPress.com, but I recommend that you visit WordPress.org and set up a self-hosted blog. You'll need a hosting service such as Bluehost, which comes with a small monthly fee, but a more advanced site will allow you to add forms to collect an email list (see number 8 below) and experiment in the future with ads and/or selling products directly from your site.
5. Start Networking
Your greatest asset, now and going forward, is your network. All the people you know have their own networks, who also have networks.
Terrestrial networking (i.e. meeting people in person) will allow you to quickly build strong relationships that may last for many years into the future. Get involved with your local business groups, your church or your child's school. (Some of our best projects have come from parents of our kids' friends.) Be sure to share your plans with everyone you meet. You will be amazed by the connections that lead to new projects. Our first project came to us through a Golden Retriever named Albert.
Digital networking, using social media and through comments on your blog, will quickly build large networks of connections. Share your plans on your personal Facebook page, on Twitter, Linkedin and Instagram. Set up company pages dedicated to your future firm and build networks through each site. Share your blog articles and post original updates on a consistent schedule. Your digital network will grow and your chances of finding your first client will become even more likely.
6. Volunteer
Take a trip to your town hall and let them know that you are a resident architect who cares about the future of your community. Inform them that you are available to provide pro bono services (that means "for the public good"  and without a fee) and are interested in serving on advisory committees such as planning or architecture review boards.
Then visit your library, your school district and any other organization that may need your assistance. Volunteering to provide architectural services may give you the first projects you need to feature on your website and establish your presence within the community.
7. Build a Website
When your potential clients decide that they want to proceed with a project, the first thing they do is click over to Google. They search for local architects and review their websites before deciding on a shortlist of firms to contact. If you do not have a website, you essentially don't exist.
Without work of our own to feature, Annmarie and I launched the original fivecat.com using beautiful sketches, hand-drawn perspectives and full renderings of unbuilt work. The site looked professional, described the services we offered and the types of projects we were seeking. It wasn't very long before we had photographs of our first projects, which we then strategically arranged throughout the site.
I built our first website myself using a simple-to-use program called NetObjects Fusion and hosted it on 1and1.com. Today, fivecat.com is built on the liveBooks platform. liveBooks offers pre-built templates designed for professional photographers to present their best work. With its focus on beautiful images and its user-friendly control panel to easily update the site with our new work, liveBooks is perfect for architects as well.
8. Build a List
With a blog and website set up, your first task must be to start an email list. Offer visitors something of value, such as a newsletter, short ebook or guide in exchange for their email address. You can use this list to connect directly with the people who are interested in you and your services. You want to stay at the top of each potential client's mind, so that when they are ready to start a project, you are the first (and maybe only) architect they recall without research.
For Fivecat Studio, I have used Constant Contact and for my blogs, I've used Aweber and ConvertKit. Both services allow you to sort and create sublists, as well as provide simple "unsubscribe" links for subscribers who no longer wish to receive your content. Annoying potential clients with email that they don't want may be the easiest way to NOT find your first client.
9. Take Every Project
When Annmarie and I started Fivecat Studio, we weren't picky. We were happy to provide architectural services for any project offered to us. Our first projects were restaurants, nail salons, small renovations and even a dog house for a charity fundraiser.
Once we built a portfolio and established ourselves as a recognized name in the region, we focused our marketing efforts on high-end small residential projects and built a brand around specific types of architecture within a specific project budget.
10. Start
The most important step of all? Start.
Without taking the first step… Without taking some small action toward starting your own firm and finding your first client, I will guarantee, 100%, you will NOT find your first client.
So, get to work.
Question: How did YOU find your first architecture client?
Share your stories so our friends with plans for starting their own firms may learn from your lessons. The more we share, the stronger our profession will be. Please share your thoughts in the comments below or head over to The EntreArchitect Community on Facebook.
---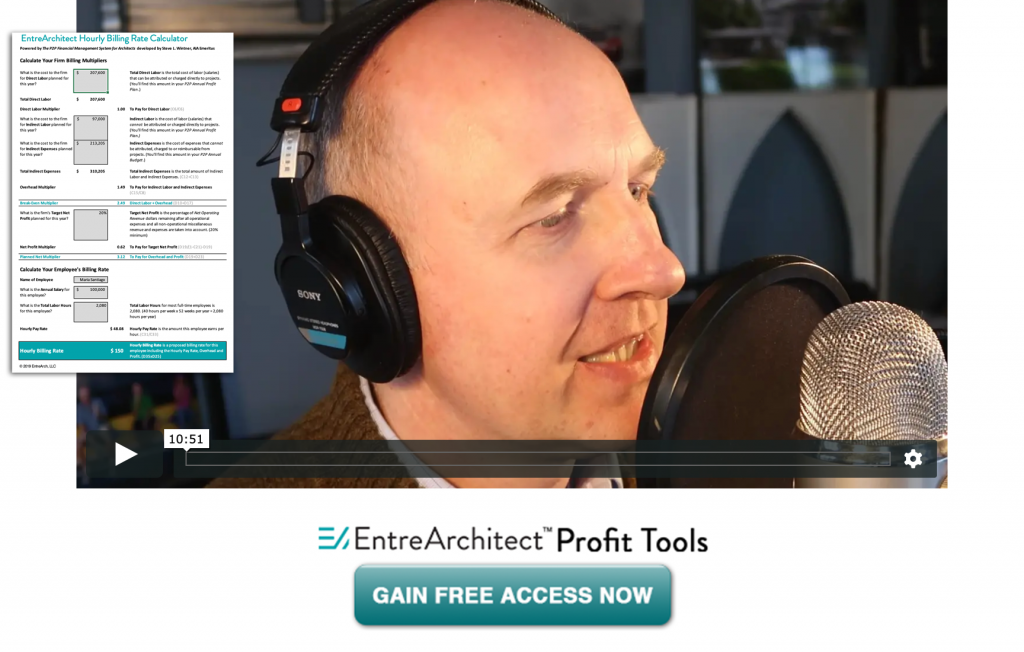 ---
Photo Credit: Shutterstock.com / loreanto
Affiliate Disclosure: Some of the links above are affiliate links, meaning, at no additional cost to you, EntreArchitect may earn a commission if you link through and make a purchase. Thank you for supporting The EntreArchitect Community.