Leverage The Power To Say, "No!"
When Annmarie and I launched Fivecat Studio more than 15 years ago we had no projects, no clients and no money. We were two young architects seeking the freedom of our own firm.
A friend helped start us off with our first project; a new local restaurant named Meetinghouse located in Bedford, New York. Meetinghouse led to other local projects and soon we were in business. I wrote a 3-part blog series a couple years back sharing the full story of how Annmarie and I started our own architecture firm.
In those early days, my answer was "Yes".
When a potential client called with a new project, I said, "Yes". A bathroom renovation? "Yes!" A garage addition? "Yes!" Expand your deck? "Sure… Yes, we can do that." Commercial, institutional, residential? We said yes to it all.
Without a second source of income or a portfolio on which to rely, we could not be very selective with the work we chose to complete. "Yes," was our very favorite word.
Things are different now.
Years of experience has taught us that not every project is right for our firm. Narrowing our focus on more profitable work has revealed the power of picking a target market. Saying no to anything and everything except for those projects that meet our specific requirements was one of our most successful decisions.
We have become experts on the specific residential work we do. We know the codes and can quickly prepare successful designs. Our process has been developed into a system that allows us to complete the work efficiently and effectively every time. Our clients are happier. Our staff is happier and we make more money.
Today, "No" is our favorite word.
The best result of saying "no" is that it frees up our time for the projects that are a "Hell yes!" When the best projects come along… When the best clients walk through the door, we have the space in our schedule and we say, "Yes!" If the project doesn't meet our target market… If its not a "Hell yes!, then the answer is "No!"
Working to find more work that you want? Leverage the power to say, "No!"
Question: Do you focus your marketing efforts on a target market? Why, or why not?
---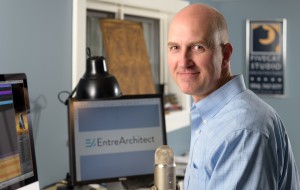 Free Special Session Webinar
Want to learn more about marketing and establishing a target market? Join Mark for a FREE live Special Session Webinar; The 3 Critical Business Systems You Need to Succeed as a Small Firm Architect.
To learn more, visit EntreArchitect.com/FreeWebinar
---
Photo Credit: Shutterstock / xtock