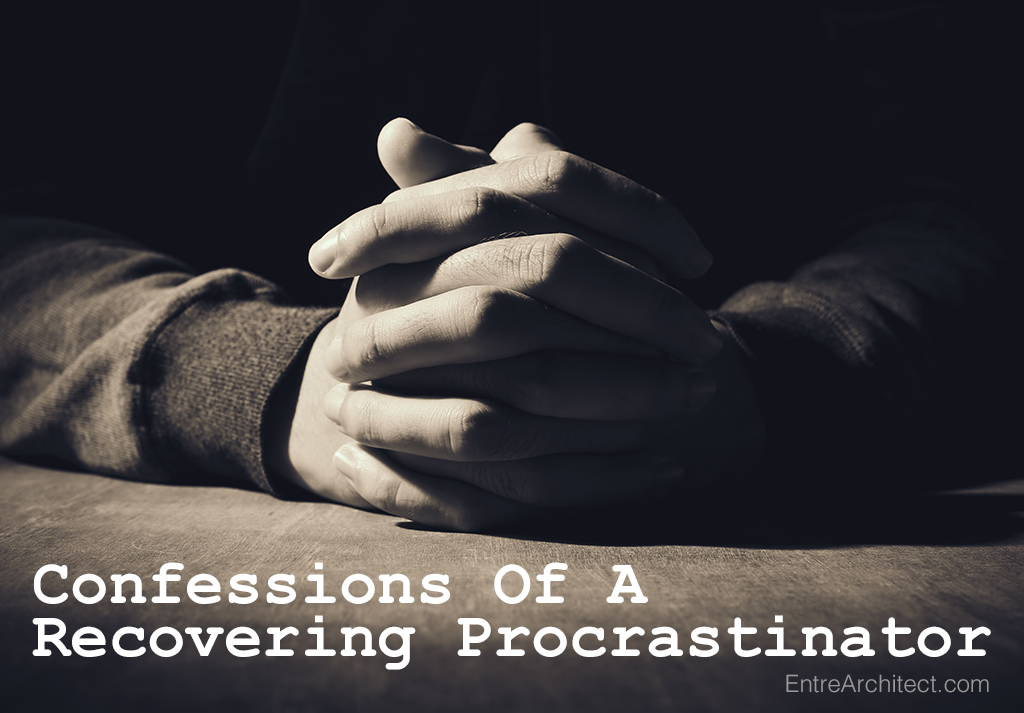 I think it's genetic… the DNA of every architect includes the sequencing chemistry for our procrastination. We start too late, we prefer the alternative and we push our limits up against every deadline, hoping to squeeze out every last bit of creative energy.
Do you procrastinate? I know you do… you're an architect.
I too am a recovering procrastinator, but several years ago I developed a process to overcome my natural tendencies to delay.
Here are 10 tips I use every day to conquer my procrastination.
1. Write out a plan. In order to get anything done, you need to create a plan. What does the end result look like and how are you going to make progress. Write it out. As a serial dreamer, I have hundreds of plans in my head, at all times. The plans that make progress are the ones written down and developed into a clear step-by-step process.
2. Schedule milestones. Progress looks much less daunting when you break things down into smaller easily attained milestones. Set them to specific dates and get to work.
3. Work toward deadlines. The quickest way to NOT get things done is to never NEED to get things done. Set deadlines on each milestone, and base your deadlines on realistic timelines developed in the plan you developed above.
4. Turn away from distractions. For years, I have been committed to a "full media blackout". I stopped reading the news, turned off the television and tuned the radio away from the talk station. If the world as we know it does in fact end, as many have recently predicted, I am quite certain I will hear about it. I am now focused on the things that are fully within my control. The things not within my control are simply distractions. Turn away from the distractions and focus on the things that truly matter most.
5. Stop blaming others. No one else is going to get it done. There is nothing stopping you from progress except YOU. You are in control of the decisions you make and the attitude you choose to adopt.
6. Birth good habits. In his book, The Power of Habit: Why We Do What We Do in Life and Business, Charles Duhigg deconstructs the habit into three parts; a cue, a routine and a reward. Once you understand that process, you may give birth to your own good habits. If you want to do something consistently without the pain and frustration of broken resolutions, make it a habit and watch what happens.
7. Kill bad habits. From what we've learned in number 6 above, we can now analyze every bad habit standing in the way of our progress. Identify the cue, the routine and the reward. The key to making sustainable change is keeping the cue and reward, and changing the routine. Do you unnecessarily check your e-mail everyday at the same time, rather than working on those pending construction documents? Identify the cue and reward. The cue may be the time of day. The reward may be a sense of accomplishment. Change the routine to completing a simple task on those drawings and a new habit may be born.
8. Look beyond yourself. Find some inspiration. Find others who have accomplished what you want to accomplish. Learn everything you can about them and how they made progress. When you know that others have done what you are trying to do, you'll find hope that you too will accomplish your goals.
9. Raise the stakes. I launched EntreArchitect.com and the EntreArchitect Podcast on December 12, 2012. I called it my 12/12/12 Project. Talk about procrastination. I've been trying to make progress on this project for more than a decade before finally committing and relaunching my personal blog as the EntreArchitect Platform. By announcing the concept of the 12/12/12 Project to the world and publicly committing to my plan, I raised the stakes. If I didn't do what I said I would do, I would lose credibility with my readers, my family as well as myself.
10. Start. It may be the most difficult step, but believe me, no task has ever been completed without starting. So, start… and see the procrastination melt away.
I am far from cured and still occasionally fall off the procrastination wagon. When I do, I review this list and start from the beginning. Remember… It's progress, not perfection that we seek.
Question: Do you want to comment on this post now… or later?
When you're ready, post your thoughts below. How do YOU overcome procrastination?
---
Photo Credit: Shutterstock / Christian Chan