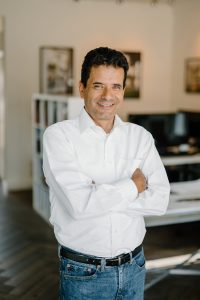 From Colombia to L.A. | An Architect's Story of Passion and Persistence
Luis was born and raised in Bogotá, Colombia, where he also received his bachelor's degree in Architecture at the Pontificia Universidad Javeriana in 1994. Although his birthplace was in the mountains, he always dreamed of living near the ocean where he could embrace his passion for an outdoor lifestyle. In 1997, the opportunity to work at a Los Angeles based design firm presented itself, so he chose to move his young, growing family to California. With his fun personality and serious dedication to architectural design, Luis's career flourished in Los Angeles.
In early 2010 Luis established LMD Architecture Studio. Focusing on his own professional practice he aims to achieve design excellence through efficiency, innovation, and responsible use of materials and forms, always motivated by his Colombian roots and 'can do' attitude. His return client list is a testimony to his joyful work ethic, innovative mastery of design and devotion to be personally present in every phase of a project. Luis continues pursuing his goal to orchestrate design solutions that influence and shape the client's vision into reality, and to enhance their lifestyle. Luis has been doing architectural design in the Los Angeles area for over 20 years. Luis is a Licensed Architect in Colombia and the State of California in the US.
This week at EntreArchitect Podcast, From Colombia to L.A. | An Architect's Story of Passion and Persistence with Luis Murillo.  
Connect with Luis at LMD Architecture Studio, or follow him on Instagram, Facebook and LinkedIn.
---
Please visit Our Platform Sponsors
ARCAT is the online resource delivering quality building material information, CAD details, BIM, Specs, and more… all for free. Visit ARCAT now and subscribe to ARCATECT Weekly and ARCATAlert.
Freshbooks is the all in one bookkeeping software that can save your small architecture firm both time and money by simplifying the hard parts of running your own business. Try Freshbooks for 30 days for FREE at EntreArchitect.com/Freshbooks.
Visit our Platform Sponsors today and thank them for supporting YOU… The EntreArchitect Community of small firm architects.