Imagine you'll get hungry tomorrow while you're out and you decide to pick up some quick lunch.
What would happen as you drove down the road if you didn't see signs for McDonald's or Chipotle—but instead only "Fast Food" or "Eat My Lunch?"
Or let's say you needed a new pair of shoes.
What would you do if every shop in the mall had blacked-out windows, doors that opened backward, and a banner out front that read "Guess What's Inside?"
If businesses worked that way, we'd have a hard time knowing where to go to satisfy our wants and needs.
Yet in our experience, many architecture firms are doing exactly the same thing.
What we learned from studying more than 400 architecture firm websites
Over the past year, we've evaluated the websites of more than 400 architecture firms. What we discovered was pretty surprising: The typical architecture firm presents visitors with a counterintuitive navigation menu, minimal and/or missing content, and portfolios that do little to provide any context or details.
In our study, it didn't seem to matter whether a firm was established or new, or big or small. Almost all of them struggled to communicate their value.
Even worse, many websites contained no information to help visitors quickly learn what the site is really about—let alone what that particular architecture firm was skilled at doing.
As a result, many architecture websites look and sound like 'generic' or cookie-cutter duplicates of each other.
That approach leaves potential clients struggling to understand what makes one firm better than the other.
Prospects won't understand the value your firm provides unless you communicate it
What our website study revealed is a symptom of a much bigger issue: Most architects are failing to effectively communicate their authority, expertise, and value to potential clients.
This lack has larger repercussions for the industry at large, resulting in:
Increased commoditization (which drives firm fees down)
More competition from hybrid services (like contractor-run Design-Build), and
Greater confusion about whether an architect is even needed at all.
If we zoom back in from the industry at large and look again at individual firms, here's what a lack of differentiation means on the ground.
More than your portfolio, more than your reputation, more than nearly any other aspect of your business—it's your website that really matters when it comes to impressing potential clients.
Your website is the best way to communicate what makes your firm unique and different from others.
And it's the best way to communicate the value you can deliver to your clients.
But if your website is confusing, unclear or missing important information, it should be no surprise that prospects do not understand or appreciate the value you bring to a project.
Why do so many architecture firm websites fail?
Of the more than 400 architecture firm websites we studied, a full 75% of the sites had major issues, many of which were related to basic best practices.
The challenge is that most architects think of their website as a design problem, very few think of their site as a marketing opportunity.
To get your firm's website right requires that you look at it from the perspective of your business prospects. And this takes some work. It's also a process that demands continuous improvement and updates.
But it's vital.
It doesn't matter if you are a residential or commercial architect. It doesn't matter if you only work on small home renovation projects or if you're designing skyscrapers.
Prospects are visiting your firm's architecture website.
And, what they find—or don't find—heavily informs their impression of your firm. In a recent study, 84% of AEC buyers revealed that they visit websites before contacting a firm and that they eliminate firms based on their websites.
If a prospect comes to your website and they can't easily understand what you do, how to contact you, or how to navigate your site, they are very likely to leave.
In fact, according to Google, website visitors will form an impression of your firm within about 50 milliseconds of viewing your website. That's less time than it takes to blink!
These may seem like harsh numbers, but they're easier to understand if you put yourself in the shoes of a prospective client.
Don't make your prospects think
Imagine that you need an architect, but you don't know anything about architecture. Maybe you receive a recommendation from a friend, so you Google the firm's name.
You notice that other firms show up in the search engine results, but at this stage, those names don't matter. You want to check out the firm your friend recommended.
So, you find what looks to be the right listing and click on the link.
Only, when you arrive on the site, it's not really obvious what they do. They say they're a 'design firm,' not an 'architecture firm.'
The website navigation says things like "Studio," "Profile," and "Philosophy," all of which can be confusing terms for people not familiar with architects.
The homepage displays a slideshow of images but without any context or explanation.
And suddenly—just like that—the prospect of finding an architect has become more complicated. Your brain starts instinctively calculating the effort it's going to take to get even some simple information… and your finger reflexively clicks the back button.
Off you go back to Google search to see if you can find an architecture firm website that is easier to digest.
From a marketing and website design perspective, an architecture firm needs its website to be as easy as possible to understand and use, because at that moment—the moment you make them think—you are inviting confusion and doubt. It's much easier for that prospect to click the back button and leave than it is to stay and try to understand your website.
Your architecture website needs to cut through the noise
You might think all of this sounds pessimistic. After all—you're still getting business, right? Clearly some people manage to figure out your website.
Yes, we often ask our clients: "But how much more business would you have if you made it easier for everyone who visited your site?" Unfortunately, none of them are likely to call you and say, "I was going to choose your firm but your website scared me off."
Your website needs to cut through the noise and instantly answer your visitors' top three questions:
What do you do and who you do it for?
Why should I care?
What do I need to do next to get started?
Use your architecture firm's website to answer those questions and you'll instantly differentiate yourself from the masses of your competition.
Ignore them… Ignore those questions…
And you might as well put up one of those signs that say, "Guess What's Inside?"
---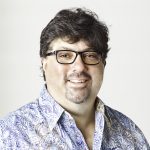 This article was written by Bryon McCartney of Archmark.
Archmark specializes in branding and marketing strategies for architecture firms. We help architecture firms create a great first impression, communicate their authority and value, attract their ideal prospects using The Archmark 3-Phase Growth System.
If you're interested in learning more, EntreArchitect readers can visit www.archmark.co or Schedule a FREE website evaluation call (a $397 value yours free).