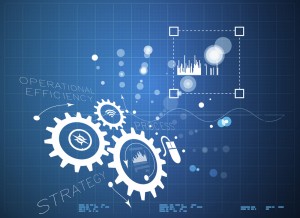 When Annmarie and I launched Fivecat Studio, we were "young and dumb". We were optimistic and enthusiastic, but we didn't know what we didn't know. We were 29 years old, had a dream of starting our own firm and jumped.
I always knew I would own my own firm. I'm a born entrepreneur. What I did not know though, was how hard business would be. Blessed with friends who needed architectural services for their new restaurant, we signed a contract and thought we were on our way. We thought that was all we needed; a project to launch the rest of our career.
That project did lead to another, and that one to another. Our boards were soon filled with work, but a successful business depends on much more than busy boards.
We bounced from project to project, establishing a local reputation and building a beautiful portfolio, but consistently living on the edge of financial failure. It took us more than five years and a serious commitment to educating ourselves before we acquired the not-so-secret basics of business success.
As I look back on the early days at Fivecat Studio, here are the five business fundamentals that I wish I knew before launching my own firm.
1. Learn to be organized. Personal productivity is one of the most important elements of a successful business. Spending time on the wrong things will quickly lead to financial failure. Creating business systems to efficiently complete repetitive tasks and delegating work to others who are better positioned to complete it, will allow you to focus and spend time on things that will build a better business. Learn more about personal productivity here.
2. Create a life plan. To get from one place to another, you need a map to get there. To live the life of your dreams, you need to develop a plan for how to make that life happen. Your life plan should include both personal and business plans, as well as goals for every aspect of your life. Learn more about developing a life plan here.
3. Know the difference between sales and marketing. From day one, we worked hard to build a strong brand around Fivecat Studio. We used our website and local networking to market our services. I loved to talk about our firm and we were great at marketing. Everyone in the county knew who we were and what we did, but we struggled to sign new contracts. After enrolling in a local business academy, we learned, to our dismay, that we were not selling our services. We were not selling at all. We developed a basic sales systems and everything changed. Today, with a few simple steps, we consistently keep our boards full of fantastic projects. Learn more about sales here and marketing here.
4. Understand basic financial management. Money flows in and money flows out from every firm. Understanding how, when and why this happens is crucial to your firm's financial success. Financial reports, such as profit and loss statements and balance sheets, are used to keep tabs on current and future business health. Running a firm without understanding basic financial rules is a recipe for failure. Learn about financial management for small firms here and basic financial reports here.
5. Remember that we're in the service business. We built our reputation at Fivecat Studio on service. We work hard to design and develop remarkable architecture and we're proud of our portfolio, but what separates us from other architects in the region is that we approach the business of architecture differently. We see our role as a guide, leading our clients through the experience of designing and building their project. Our designs, our drawings, our construction administration are all tools for managing a successful experience for our clients. Clients will always share their experience with friends and neighbors. Whether they share a delightful experience or a stressful one is up to you. Learn more about customer service here.
Learn all you can about these five fundamentals and most everything else will fall into place.
Question: What are some lessons you learned along the way that you wish you knew before you started?
---
Photo Credit: Shutterstock / DesignPrax