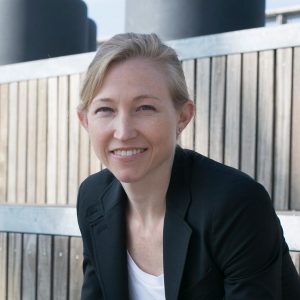 Most of us, when we launched our firms, we started solo, working by ourselves from a small private studio and wearing every hat required to run a successful architecture firm. We worked that way for as long as we could, but we finally reached a point when we knew it was time to get some help… but how? Where do I look? What if I hire the wrong person? How am I going to pay them week after week. That first hire is a pivotal point in every successful architecture firm.
This week at EntreArchitect Podcast residential architect Marica McKeel joined Mark R. LePage to talk about How to Overcome the Fear of Hiring Your First Employee.
Marica's journey began when she was recruited as a diver at North Carolina State University, where she decided to study architecture. After graduating, she moved back to Tampa to work for a commercial architecture firm. When she had a project for a multi-family space, she realized she loved the residential side of architecture. She pursued a masters at Parsons Fashion, Art and Design School in New York, where she fell in love with the New York City. She was hired at Santiago Calatrava, where she worked on the Chicago Spire, the PATH Station at Ground Zero and Santiago's personal home in Connecticut.
In 2010, after seeing the great desire for weekend homes by those who lived and worked in the city, she ventured out to start her own residential architecture firm. In the last year, she went from a solo firm to three employees.
Q: How long were you in business before your first employee?
A: 4 years.
Q: What made you say, "I need to get an employee"?
A: I was trying to maintain a client-happy business. If I failed at that because I was unable to keep up with my projects, I was doing my clients a disservice.
Q: How did you start out hiring someone?
A: I hired a contractor I was familiar with who worked about 60% of the time to test the waters. I quickly realized that he had other things going on and he wasn't 100% focused on being part of my team.
Q: Do you see that first hire as a mistake?
A: I see it as a stepping stone. If I were to give someone advice, I would say you don't need that stepping stone. For me, I needed someone quickly and I probably would have rushed a hiring decision.
Q: What role did you hire for the first time? Was it a high level or low level person?
A: You're typically supposed to hire a high level person so you don't have to teach as much. I hired someone straight out of undergrad at an entry-level role, and her energy and excitement might be more important than anything else.
Q: What was the process you went through to hire the first person?
A: I put out a job ad on Archinect and filtered through those applications. I was looking for those who did their research: they knew who I was, what type of work I did and what was important to me. I wanted them to want to work for my firm.
Q: Once you found your top 3, how did you decide on the right person?
A: Mostly based on the conversation, but I could have probably narrowed it down to the cover letter. As architects, we have to present ourselves well.
Q: Can you tell us about hire #2?
A: The second hire was someone I'd worked with for years and always hoped would come to work for me eventually. She called two months after the first hire, and I said, "Absolutely. Let's do this." She is a partner without having a partner. She runs the office and loves a challenge, so I was able to unload a lot of my responsibility to her so I could get back to being an architect.
Q: Why did you choose to hire a third employee in less than a year?
A: Mainly because we needed to be more team focused and our contractor was ready to go do his own thing. We had passion and design, but we didn't have detail strength, so that's what we were looking for. We needed an experienced, unique person who was willing to come into a strong team. Plus, now we were three people looking for someone instead of just one; all three of us had to like him, interview him, and be on the same page.
Q: Where are you planning to go in the future?
A: We're working to establish ourselves as a team, and we're figuring out how to go full-speed ahead.
Connect with Marica and Studio MM online at MaricaMcKeel.com and on LinkedIn, Facebook, and Twitter @ArchitectMM.
---
Visit our Platform Sponsor
FreshBooks
The easiest way to send invoices, manage expenses, and track your time.
Access Your 30-Day Free Trial at FreshBooks.com/architect (Enter EntreArchitect)