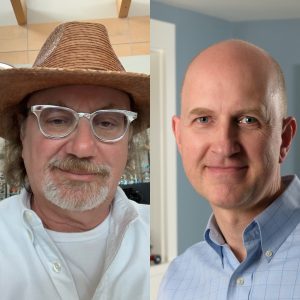 Mark R. LePage Shares His Vision for EntreArchitect and the Future of Small Firm Architects
Mark R. LePage, AIA, NCARB is a licensed architect based in Charlotte, North Carolina. He is President and CEO of Gābl Technologies, Inc. and the founder of EntreArchitect, the global community for small firm entrepreneur architects, and EntreArchitect.com, the online platform launched in 2012 to provide information, resources, and training for architect business owners and small firm leaders.
With his 11th year leading EntreArchitect, Mark has contributed more than 3 million podcast downloads through 500+ published episodes, leads a private Facebook group with more than 8,000 architect members, and launched The EntreArchitect Community Annual Meeting; the first-ever live conference dedicated to small firm entrepreneur architects.
As President and CEO of Gābl Media, Inc. Mark leads a multimedia network that empowers global leaders in the architecture, engineering, and construction industries. Gābl Media creates and distributes industry leading podcast series, including EntreArchitect Podcast, Archispeak Podcast, SPACES Podcast, Build Your Brand Podcast, TRXL, Build Smart, She Builds Podcast, and more. The mission at Gābl Media is to create content that informs and entertains an audience dedicated to building a better world.
Mark Zweig is an experienced entrepreneur and founder of two Inc 500/5000 companies, Zweig Group and Mark Zweig, Inc., as well as four other new ventures.
He is a leading management and business expert in the architecture and engineering industry, skilled in Mergers & Acquisitions (M&A), start-ups, leadership, Human Resources management, organization structure, ownership transition, and marketing.
In addition, he is the author of 13 books, most recently "Confessions of an Entrepreneur," as well as a writer for The Zweig Letter, contributor to The Walton College Insights, and monthly contributor to The Northwest Arkansas Business Journal.
This week on EntreArchitect Podcast, Mark R. LePage Shares His Vision for EntreArchitect and the Future of Small Firm Architects with Mark Zweig.
Learn more about Mark R. LePage at EntreArchitect.com and GablMedia.com, connect with him on Facebook, Twitter, Instagram, and LinkedIn
Learn more about Mark Zweig at MarkZweig.com and ZweigGroup.com, check out his blog and connect with him on LinkedIn.
---
Referenced in This Episode
Scott LePage Motorsport Photographer
Crimetown: Divine Providence [podcast]
---
Please visit Our Platform Sponsors
Detailed is an original podcast by ARCAT that features architects, engineers, builders, and manufacturers who share their insight and expertise as they highlight some of the most complex, interesting, and oddest building conditions that they have encountered… and the ingenuity it took to solve them. Listen now at ARCAT.com/podcast.
Freshbooks is the all-in-one bookkeeping software that can save your small architecture firm both time and money by simplifying the hard parts of running your own business. Try Freshbooks for 30 days for FREE at EntreArchitect.com/Freshbooks.
Visit our Platform Sponsors today and thank them for supporting YOU… The EntreArchitect Community of small firm architects.
EntreArchitect + Graphisoft
Archicad BIM software enables design, collaboration, visualization, and project delivery, no matter the project size or complexity. With flexible licensing options and a dedicated support team to guide us along the way, Archicad is an ideal choice for firms and projects of any size. Visit our dedicated landing page at EntreArchitect + Graphisoft for an exclusive special offer waiting for our community of architects.