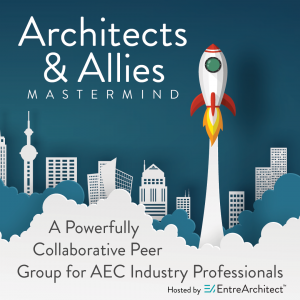 Introducing The Architects & Allies Community
I first launched EntreArchitect in 2012 as a platform to help and inspire small firm architects to build better businesses.
It is my belief that if we as small firms each individually work to become more successful, financially, as leaders, as small business owners, the profession will grow and benefit as well.
And as the profession grows and becomes more resilient… the world benefits.
Since then, the EntreArchitect Community has grown significantly, including:
The EntreArchitect Profit Workshop and Build Your Brand Workshop
and
The community outside our membership has grown as well.
The EntreArchitect LinkedIn group currently has more than 18,000 members
The private Facebook group, The EntreArchitect Community, includes more than 6,000 members.
The EntreArchitect Architect Community on Facebook is an amazing community of people. Every day we see dozens of posts, hundreds of comments with support, encouragement, transparency, honesty, and positivity. It's become an online home for thousands of small firm architects throughout the world.
For years non-architects within the AEC world have been asking to join us at our private Facebook group, but the fact that it is a private, safe and secure environment is a significant ingredient in the success of the group. Culture is everything and we protect that culture with care. So, The EntreArchitect Community has been exclusive to architects and architecture students from the day we launched.
But I understand that we cannot do it alone in this profession. We can't build a better profession without our allies;
engineers
designers
contractors
construction pros
manufacture representatives
consultants
service providers
AEC media
And everyone else working within or serving the AEC industries. These people are our allies.
If we want to thrive as a profession, we need to come together to collaborate.
Architects & Allies: A Community of Collaboration for AEC Professionals
So, we launched Architects & Allies.
Architects & Allies is a new community on Facebook, inspired by The EntreArchitect Community. It's a community of collaboration for AEC Professionals.
So on this special episode of EntreArchitect Podcast, I invited my friends John Jones and Bryon McCartney to join me to talk about Architects & Allies and some of the plans we have for this new community.
I hope to see you there.
—Mark
Referenced in this Episode
Architects & Allies Facebook Group
Architects & Allies Mastermind
Click the link above to learn more about this new peer group dedicated to a diverse membership of AEC professionals… the Architects and Allies Mastermind. Learn more and reserve one of the 10 seats available. Enrollment for this group closes on Friday, August 7, 2020, at 11:59 PM (Eastern Time).