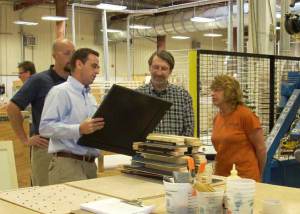 Last week on the podcast, I shared my 12 Steps to Business Success in Architecture, the same presentation I shared at the recent AIA CRAN Symposium. I proposed that if you learn how to execute on each of the 12 steps, you will be a successful architect, with a profitable business leading to creating more art and better architecture.
This week we are continuing where I left off last week. We will get more practical, go deeper and discuss what it takes to be successful in small business; whether you are running an ice cream stand, a manufacturing company or an architecture firm.
This week on the EntreArchitect™ Podcast, I am speaking with CEO of Crown Point Cabinetry Brian Stowell and we discussed the anatomy of a successful small business.
Visit our Platform Sponsors
ArchiSnapper
A simple cloud-based tool for creating and managing field reports.
Try the ArchiSnapper Field Report App Free for 30 Days
FreshBooks
The easiest way to send invoices, manage expenses and track your time.
Access Your 30-Day Free Trial at FreshBooks.com/architect (Enter EntreArchitect)
Referenced in this Episode
Custom Residential Architects Network (CRAN)
Crown Point Cabinetry (web)
12 Steps to Business Success in Architecture (episode 92)
Leave a review for this episode on iTunes
---
Photo Credit: Crown Point Cabinetry