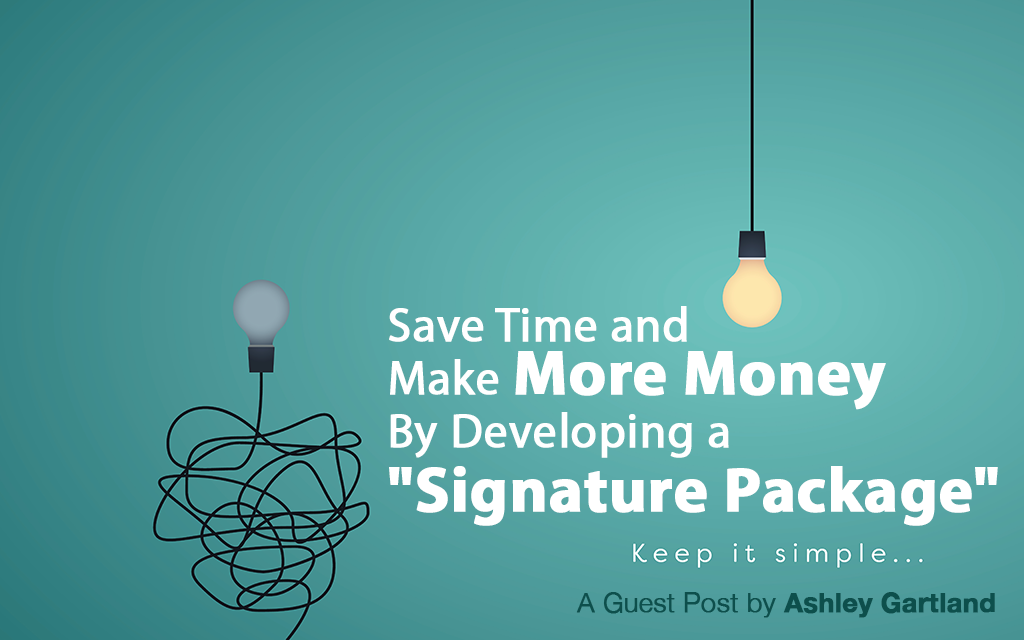 This is the third guest post by Ashley Gartland in a series of three about simplifying your business.
Save Time and Make More Money By Developing a "Signature Package"
Do you spend too much time creating custom proposals and delivering custom work to your clients?
Nine times out of ten, my business coaching clients answer this question with a definitive YES.
They have good intentions for creating custom proposals and delivering custom work. It feels generous, personalized and valuable. It also seems like the route they have to take because they don't always see the commonalities that exist from one project to the next.
But they also know that all those proposals and all that custom work consumes their time and energy. It makes it hard to take steps to simplify their business, steps like developing systems and workflows or streamlining their sales process and customer journey. Not to mention, it makes it challenging to reach the next level.
So when I tell them we can streamline things by developing a set of signature offers or service packages for their business, I can almost hear them breathe a sigh of relief.
I'm guessing that you too can see the logic in creating signature offers or service packages – especially if you're spending all your time doing custom proposals and work right now. But just to make sure, let me outline a few more ways this change can benefit your business.
Signature offers or service packages can help you…
be more productive, freeing up time and space for other things
focus on delivering the services you do best – and let go of the things you don't enjoy doing
set yourself apart from the competition in your area
improve your customer experience
increase your sales
If you're ready to start creating your signature offers or service packages, here are three tips to consider:
1. Don't try to create ALL the offers. You don't need dozens of services and packages to serve your clients well – in fact, having too many will overcomplicate your life and confuse potential clients (and confused people rarely buy). For starters, I recommend coming up with three services or packages. That's all you really need.
2. Do consider what you love doing – and what you don't. Business owners often struggle to figure out the features and deliverables they should include in their offers or packages. I find that the most obvious place to start is by identifying the things you love doing for clients – and the things you don't enjoy working on – so you can build your offers around things you enjoy.
3. Don't overthink your pricing. Putting a price tag on your signature offers or service packages can feel challenging because it involves multiple factors. To uncomplicate the pricing process, I ask my clients to consider two things. First, I ask them to consider the time and energy they'll spend delivering a service or package. Then I ask them to consider the result they're creating for their clients – and what that result is worth. Once they consider these two things, they can almost always name a price for their package that we can then refine as needed.
These are three solid, simple tips that will help you start mapping out your signature offers and service packages. But if you get started and find you'd like more support, you can reach out to me directly at ashley@ashleymgartland.com.
---
Ashley Gartland works with small business owners and service-based entrepreneurs whose business is doing well but who feel like a hot mess behind the scenes – and they know it's holding them back from reaching the next level. She helps them simplify and streamline their business so they can experience more growth and fulfillment in their work and more freedom in their life. Ashley's work has been featured in O, The Oprah Magazine, The Huffington Post and Being Boss and she's appeared on The Startup Sessions, Courage & Clarity and the Creative Empire podcasts. She lives for rainy days, is an avid runner and prefers kombucha over coffee to fuel her day. To learn more about Ashley's work and get her free guide, 5 Steps to Simplify Your Business, just click here.
---
Photo Credit: Shutterstock / MJgraphics