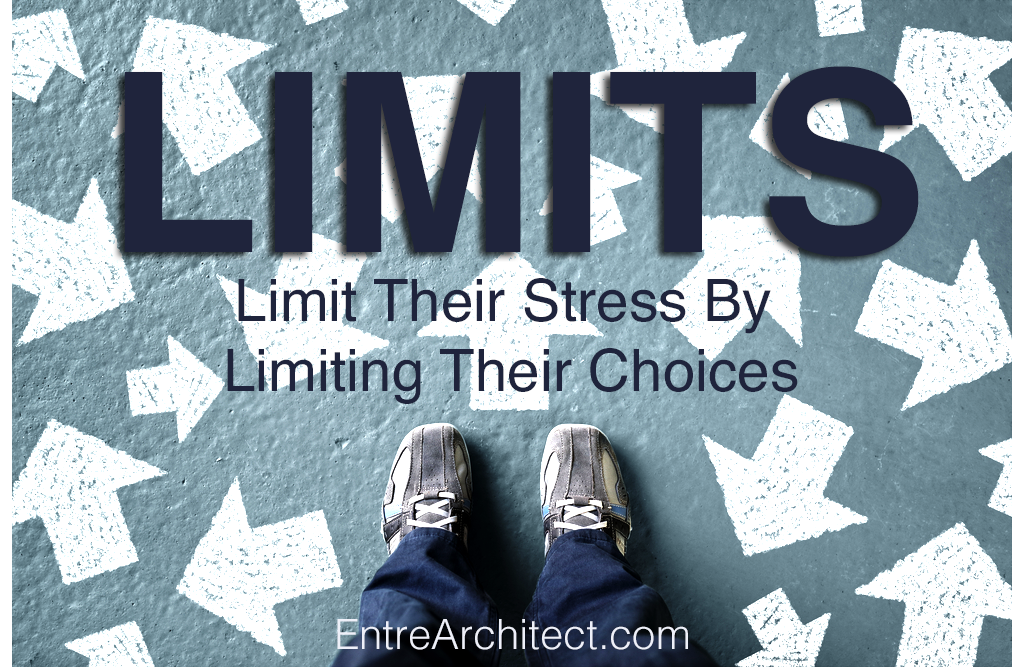 When performing our Design Development phase with clients, we typically assist them in selecting all their finishes, plumbing fixtures and lighting. It's an Additional Service, but one that most clients are happy to have us complete.
The process of selecting is completed most efficiently when we discover and learn, through questionnaires and images, what our clients like and what they dislike. Then, with a thorough knowledge of their taste and personal style, we offer a limited number of items from which they select.
We find that when clients attempt to perform this task themselves, they are often overwhelmed by the almost infinite number of choices from which to pick. They have access to hundreds or even thousands of materials, fixtures and finishes from which to choose.
The overwhelm of the process typically leads them back to us and our efficient system of selection…
There is a fine line to walk when presenting selections though. Present too few and your client may not feel well served. Present too many and they will freeze up, stall and often panic, as they attempt to process the overwhelming amount of information required to make a decision.
Questions: How many options do you present to a client? How many schemes during Schematic Design? How many different material selections? Do you set limits?

Stressed clients are unhappy clients and we architects are in the Client Happiness Business. We can make our clients' project experience easier and more enjoyable. Limit their stress by limiting their choices.
---
The #ArchiTalks Blog Series
This post is my contribution to an international blog series called #ArchiTalks. Each month, dozens of architect bloggers publish a post on a specific topic simultaneously on the same date. This month, we are writing about "Choices".

Scroll down for links to posts written by all of my #ArchiTalks friends.
Lee Calisti, AIA – Think Architect (@LeeCalisti)
choices
Lora Teagarden – L² Design, LLC (@L2DesignLLC)
Choices
Eric T. Faulkner – Rock Talk (@wishingrockhome)
Choices — It's Everything!
Michele Grace Hottel – Michele Grace Hottel, Architect (@mghottel)
"Choices…"
Brian Paletz – The Emerging Architect (@bpaletz)
A million choices
Jeffrey Pelletier – Board & Vellum (@boardandvellum)
How Do You Deal with Choices During the Design Process?
Nisha Kandiah – ArchiDragon (@ArchiDragon)
Life is a Gamble that depends upon your choices
Keith Palma – Architect's Trace (@cogitatedesign)
Slow… merge… stop
Jim Mehaffey – Yeoman Architect (@jamesmehaffey)
Choose Your Battles
---
Photo Credit: Shutterstock / Brian A Jackson