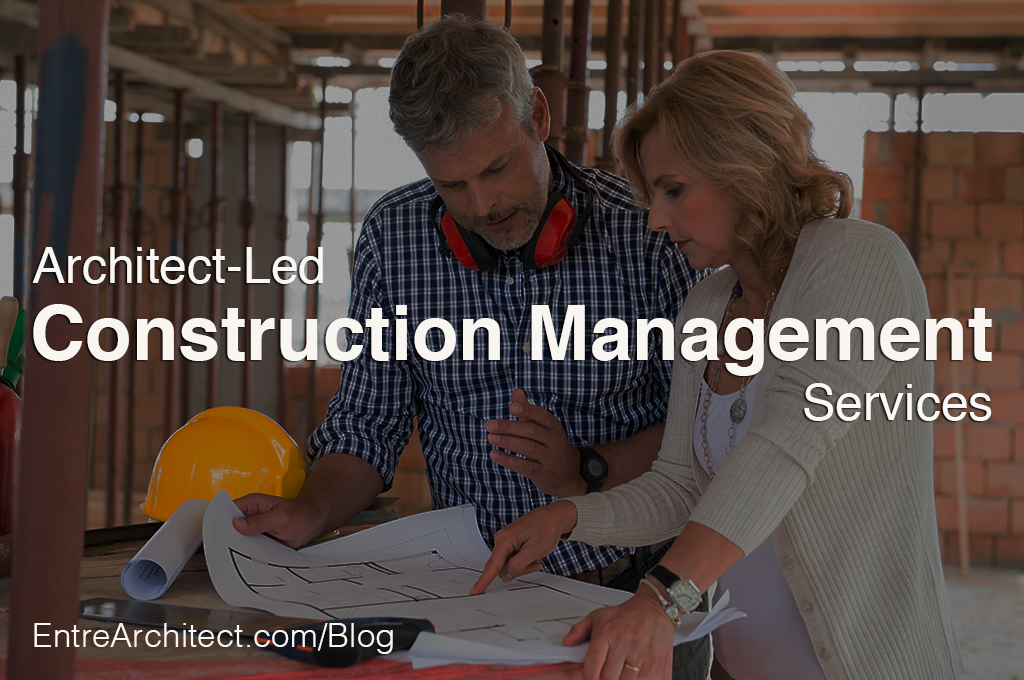 During my interview with a potential client, I answer many questions. Most are very similar; How much will it cost? How long will it take? Are you available to start right away? Do you have any references?
You know… all the questions they learn to ask from their favorite shows on HGTV.
Another question that I'm often asked is, "Do you build the project too?" And like a good architect, I would explain the difference between architects and contractors and politely say, "No. Architects design the project. Contractors build them."
Then, about nine years ago, I changed my answer.
"We sure do." I would say.
Architect-Led Construction Management Services
Tired of watching our best projects be built by others and frustrated by the fact that the contractor earns significantly more money on each project than the architect, I developed an additional proposal and a new integrated process of construction.
Today, we invite about 10% of our clients to have their projects be built using our Architect-Led Construction Management Services. With this process, we have full control over who's building our designs, how each detail is completed and, best of all, we more than double our fee on each project.
Fivecat Studio is a full service firm. Our basic architectural services agreement includes managing the bidding process and I've written several times about how we provide Construction Administration on every project. During construction phase, as the architect, we meet weekly on site to review progress and observe the contractor's workmanship. We assist in resolving unforeseen conditions and are available, as needed, to answer questions between project meetings. All applications for payment from the contractor are delivered to our office for review and certification and any disputes are quickly resolved by our ongoing presence during this phase.
Offering architect-led construction management services was no great leap. In fact, it is one of the few preconceptions held by an owner that actually works to our favor. Before meeting with an architect, many owners already assume we provide construction services. Answering, "Yes we do," when asked this question, is the quickest sale you'll ever make as an architect.
An Extension…
Architect-led Construction Management, for us internally, is simply an extension of the basic services we have always provided.
During the design phases, we provide additional cost estimating services and manage the owners budget throughout the process of development.
During bidding, rather than managing invitations and proposals from three or four general contractors selected by the owner, we take on the responsibility of selecting bidders and offer invitations to each trade. We typically divide the scope of work into four sections; plumbing, electrical, mechanical and general trades. We then select three or four contractors to bid each section and assemble the best construction team for the least cost. The bid process is transparent and contractors are selected with full participation from the owner.
Contracts with each trade contractor are prepared and signed directly between owner and contractor. All payments for construction continue to be reviewed by our firm acting as architect and are paid directly from owner to contractor.
As construction managers, we are managing the process of construction and are not contracted to construct the project. This is a very important distinction. If we limit services for construction management to 10% of all services and we are not directly responsible for the means and methods of construction, our professional liability insurance for architectural services does not change. Our premiums are not effected. If we choose to provide full construction services, a home improvement contractor license will be required by the county in which we work, we'll need to form a new separate company and purchase an additional insurance policy for contractors' general liability. These issues differ from state to state and from region to region, so before you offer any form of construction services, be sure to consult your insurance policy and review the licensing laws for your specific jurisdiction.
…but Separate
During construction, we provide two separate roles. We continue to provide full construction administration services as the architect; reviewing progress, reviewing payments and consulting as necessary on any design modifications. As construction managers, we manage the construction process, schedule contractors and coordinate the scope of work among trades.
Providing construction management does require more time on site and more focus on the construction of those projects being managed. When things go wrong (and you know they always do), as construction managers we are positioned at the apex of the crisis and are often targets for the blame. Being so involved though, allows us to see these issues coming and manage their resolution before crises occur. We work as a team with the contractors, with the same goal of completing a quality project in a timely manner without dispute. We are all working from the same side of the table toward the satisfaction of the owner.
When we prepare a Proposal for Construction Management Services, its separate from our Proposal for Architectural Services. The construction management proposal is structured as an extension to our architectural services and is technically listed as an "Additional Service". Keeping the proposal documents separate though, makes it clear to the owner that they are hiring us for two separate services. The additional clarity helps later when we are providing services as both architects and construction managers, and are invoicing for each service.
Our Fee for Architect-Led Construction Management Services
As construction managers, we essentially replace the services of the general contractor, so we have established our fee for construction management commensurate with the profit and overhead typically proposed by a general contractor. Our total fee for these additional services is based on a percentage of the total cost of construction. We are paid as a percentage of each invoice from contractor to owner. Each time we process a payment to a contractor, it is accompanied by an invoice for our construction management services.
We have learned to pick and choose the projects for which we provide construction management services. It is a serious commitment and the additional responsibility can be fatal to our business' reputation if not managed well. With the right client and the right project, offering Architect-Led Construction Management Services benefits our best architectural projects and is very beneficial to our bottom line.
Question: Do you provide Construction Management or any other form of construction services? What are your thoughts? Do you think it benefits an architect to get more directly involved during construction?
Post your thoughts here in the comments below, or join the discussion over at The EntreArchitect Community Facebook group.
---
Photo Credit: Shutterstock / Rido