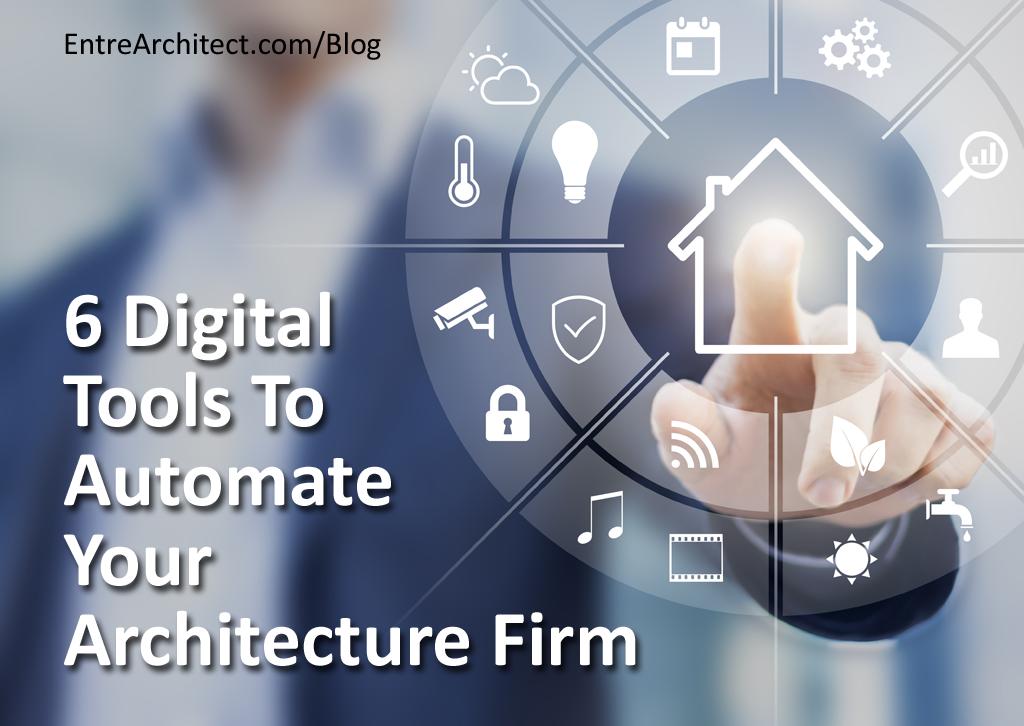 As small firm architects, we are responsible for so many different roles and responsibilities. We are pulled in so many different directions and our schedules are full every day, from morning to evening. We need to meet with clients, develop and distribute marketing, respond to important email, manage our social media accounts, send invoices, collect payments and so much more. Oh yeah… and we need to design and develop our architecture projects as well. We are architects after all.
How can we get more done, so we can get focused on the things we love to do?
The first step in being more productive is to automate your architecture firm. Use technology, applications and cloud-based tools to do many of the repetitive tasks that we find stealing time from our daily schedules.
There are new digital tools to automate an architecture firm being introduced every week. Successful modern businesses are using these tools to be more productive and to get focused on the things that matter most. There are many options from which to choose in every business category. In this post, I am sharing 6 tools that I have chosen and currently use to automate my own small firm.
6 Digital Tools to Automate an Architecture Firm
ScheduleOnce for coordinating my calendar.
This cloud-based scheduling software allows me to send one link that will present my clients with multiple dates and times available for a call, meeting, or any other event that we would like to schedule. Once our client selects the date and time of their choice, the system sends us both a notification via email and automatically adds the meeting to both calendars. The system provides us with the ability to auto-respond with follow up emails and reminders for the meeting. All I need to do is send the link and watch my calendar for the next meeting. No more back and forth coordinating calendars. No more missed meetings, since in addition to the email reminders, the system also sends a text message to my iPhone, with the date, time, location, clients' names and any other important information I need for the meeting.
Aweber for email marketing.
I have been collecting email addresses from our target market for over a decade and for years I prepared a quarterly newsletter and sent it directly to our prospective clients' inbox. With updates about the firm and information that the letter's reader would find interesting, I can credit the Living Well in Westchester newsletter directly for several great projects. I started our newsletter system using Constant Contact and moved to Aweber when we relaunched EntreArchitect in 2012. These tools allow us to load dozens of completed newsletters into the system and schedule the date for delivery on each one. Just set it and forget it. If done well, email marketing may be one of the most powerful tools we have for keeping our name in the mind of our past and potential clients.
Gmail for email management and spam removal.
I struggled with managing my email for years. With hundreds of messages being pushed to my address every day, its difficult to sort through to find the few most important contacts. One missed email message could lead to a lost opportunity and tens of thousands in missed revenue dollars. I recently moved our firm's email and administrative tools to Google Apps, which includes Gmail for Business. I've been using a personal Gmail account for years, but now with my business accounts safely in Google's digital hands, sorting, managing and filtering spam is simple and automatic. After a recommendation from my friend Neal Pann over at Apple for Architects, I added SpamSieve to my inbox and now find only a dozen or so critical messages in my inbox each day. Since moving to Gmail with SpamSieve, I have almost completely eliminated spam from my life altogether… automatically.
Social media is a critical piece of our overall marketing strategy at Fivecat Studio. Keeping our audience, friends and potential next clients informed and updated allows us to stay "top of mind". We can build real relationships using these online tools. Using the right social media platforms and posting at the right times will help our investment be worth the effort. Applications like HootSuite and Buffer allow us to preload our posts and schedule them for regular release or at very specific times. Although these tools are great for automating the initial posts, remember that in order for social media to work, you actually need to be social. Once your posts are live, its still up to you to check in, mention and respond to the automated connections these posts are making each day.
Zapier for digital tasks.
I've been using the most flexible productivity tool ever created for years. IFTTT (If This Than That) is an application that allows you to create "recipes" for automated digital processes. Want to send every Gmail messages to your Evernote email archive notebook, IFTTT can do that and so much more. Recently, I've discovered Zapier, which takes IFTTT to the next level. Want to post an update to your Slack team each time you update your project meeting minutes in Google Docs? Want to backup your Email archive notebook to Dropbox? Zapier can do these and hundreds of other Zap automated processes. Just tell Zapier what apps you use and they'll provide a lists of all the most popular Zaps for that app.
A couple years back, I moved our accounting software for Fivecat Studio from Quickbooks to FreshBooks. In addition to how simple this cloud-based software is to use, my favorite feature is the email invoice. We set up an account through FreshBooks (who is also a Platform Sponsor at EntreArchitect) to receive payments via credit card and we cut the time we wait for payments in half. Once the invoice is sent via email, a series of automated reminders are sent via email, gently nudging our clients to pay their bill. I scheduled the first notice to arrive 15 days after initial delivery and discovered clients paying via credit card on that 15th day.
I continue to seek automation tools for the many tasks I am still responsible for. I add a new tool to my systems about once per month. Automation is a key to success in architecture. Find people or tools to do the work we don't need to be doing and we'll have more time to do the work we love to do.
Question: What are the tools you use to automate your architecture firm?
---
Photo Credit: Shutterstock / NicoElNino