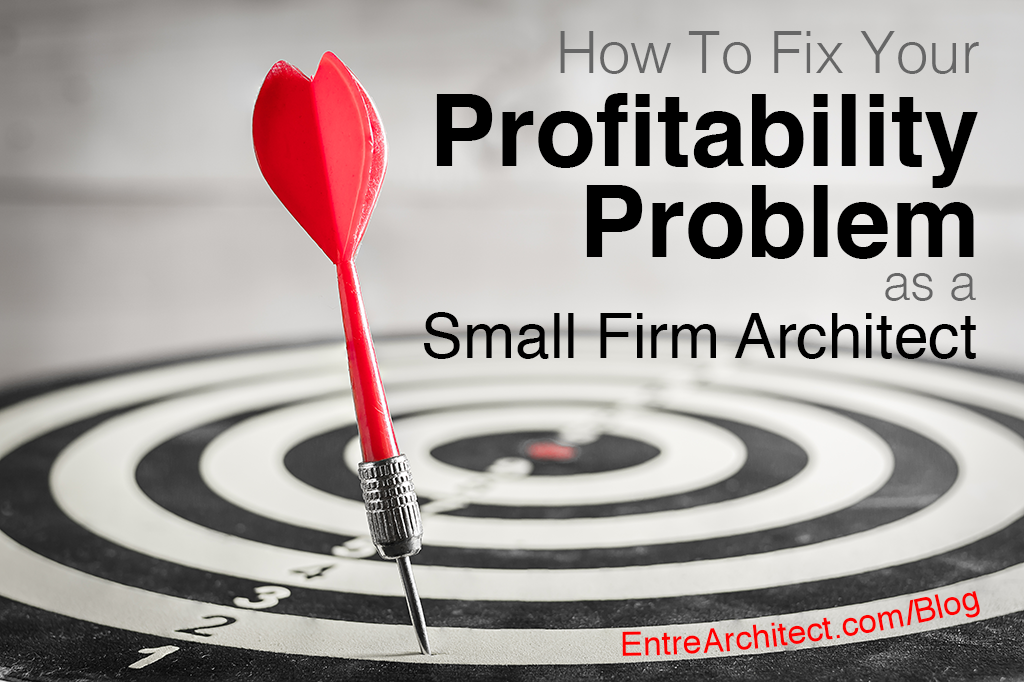 Why Architects Miss Their Profitability Targets
For all professional design firms there are two different, yet interrelated levels of profitability – a firm's overall profitability and the profitability of each completed project.
Historically, the profitability of professional design firms is, on average, in the range of 8-12%. While many firms achieve profitability exceeding 12%, the majority struggle to achieve their targeted profitability on every project, every year.
In spite of the 'demographics' of our profession, profitability is not a factor of firm size or geographical location. Profitability is directly correlated to a handful of reasons that impact a firm's profitability and the profitability of every completed project.
Because these two different levels of profitability are interrelated, it's not unusual that some of the reasons impact both the firm and the projects. The firm's profitability is directly proportional to the level of total profitability of all of its completed projects, but not entirely.
Profit is Independent of Projects
The following reasons have a distinct impact on a firm's profitability, independent of the outcome of their completed projects:
1. The legal and organizational structure of a firm.
The legal type of a firm impacts its tax liability, which impacts its cash flow.
The organizational structure has the potential to impact its level of effectiveness and/or efficiency, which impacts profitability.
2. The firm's culture (or lack of one.)
A firm's culture impacts the relational dynamics of its leadership effectiveness affecting accountability, communication, motivation, initiative and most of all the trust and confidence of its employees.
3. The absence of clearly defined policies and procedures.
The absence of clear policies and procedures impacts critical resources (available workforce, consistency, timeliness and accuracy of individual timesheet discipline,) which in-turn impacts the quality and profitability of all projects.
Generally, a firm's profitability will be impacted by its overall effectiveness and efficiency, in which each of the above play a role.
Two Reasons are Most Important
Project profitability is more delicate and impacted by numerous factors, all requiring conscious attention to avoid its inevitable reduction. Two of the most serious and important are:
1. Submittal of timely and accurate timesheets
2. A properly-formatted Chart of Accounts (CoA)
The Critical Importance of Timesheets
I firmly assert that the Timesheet is one of the most important financial resources of a professional design firm; and its most misunderstood and neglected resource. I also assert that the lack of a Time Management Discipline Policy will do more to reduce the profitability of a project than any other factor.
To support these assertions, I would simply remind every firm principal and employee that in our industry, we only have one 'product' to sell and that's TIME! Consequently, if time is not tracked and captured in a timely and accurate manner, it will reduce a firm's financial resources faster than any other factor in the project delivery process.
The timely and accurate capture and tracking of every firm member's time can only be effectively achieved if it is done daily. Everyone doing it twice a day will almost ensure the elimination of any 'lost' time that could otherwise negatively impact a project's profitability.
My putting an emphasis on the word 'every' is intended to especially highlight the need for firm principals to recognize that they might be the biggest contributors to such a negative impact, by their failure to capture and record their time accurately every day.
There isn't any viable, reasonable excuse, save being out sick, or on vacation, to not find the 5-10 minutes, twice a day to enter time on a timesheet. I recommend doing just before taking the lunch break and then again, just before leaving the office for the day.
Of all the hours, or portions thereof, captured, the most critically important is the time spent on chargeable projects, whether billable or not. These hours are used to calculate the firm's overhead rate, break-even rate, hourly billing rates, the calculated project fee and upon completion the profitability of every project. Let that percolate in your mind when you do your timesheet.
Proper Structure for Chart of Accounts
A very close second, as one of the most important financial resources of a professional design firm, is the format of a firm's Chart of Accounts (CoA). This resource is not given a moment's thought or concern by the majority of firm principals. And they believe this for a good reason. This is an accounting document and the responsibility of a firm's bookkeeper/accountant/CFO, or outside CPA consultant. However, the final responsibility for a firm's success belongs to it's 'owner'/managing partner/principal, not a staff member or an outside consultant. Therefore, knowledge of ALL aspects of a firm's operations, including the accounting department is, at the end of each day, their responsibility.
The structure and organization of a firm's CoA needs to be established by an experience professional, who may or may not be a member of the firm. What is critical is the individual's depth of knowledge of financial management and the basics of accounting. None of us received this knowledge in school, unless we received a higher degree in business administration, or have learned of these systems on their own initiative and/or on-the-job experience.
Small firms and sole proprietors rely on the offerings of what their budgets will allow in terms of purchasing an already commercially available computerized accounting system. These days, the options are very limited and with the exception of QuickBooks, FreshBooks, or Xero (or other smaller systems) the options are very expensive and far too sophisticated to warrant or justify the expense. In addition to being more affordable, these smaller systems are simple and easy to implement and also have a level of greater flexibility to modify.
Nevertheless, I am of the firm opinion, that all of the systems; small or large, inexpensive or very expensive, integrated and modular, or not, are all in some critically important way, 'flawed'. The flaws are in the organization and structure of a system's formatting; such that it inhibits, without the need for additional effort, access to what I refer to as the 'true' key financial performance indicators (metrics) that essential to establishing a properly developed project fee, that will ensure a minimum of 20% net profit before distributions or taxes in every fee proposal sent, without the need for doing additional calculations, interpellations and effort.
There is however, a financial management system that does provide a properly formatted CoA, Profit/Loss Statement and Balance Sheet.
More Reasons for Missed Profit Targets
Additionally, the following are other reasons why professional design firms are missing their respective profitability targets:
1. Even if a firm's CoA were properly formatted, the data entry to the CoA is being done sloppily, or inaccurately.
On-staff bookkeepers and/or accountants can inadvertently, or unknowingly, are making errors in how they are entering time, income, or direct and indirect expenses incurred. While these may be small errors, they will add-up over time to become a significant factor in reducing a firm's profitability.
Formal guidelines, for posting to the CoA, needs to be incorporated into a firm's handbook of policies and procedures. These guidelines also need to be developed by a professional who clearly understands the nuances of a firm's operations to be able to clarify the distinction of why an entry belongs in one place or another in the CoA.
2. As mentioned above, inaccurate Key Financial Performance Indicators (KFPI's). The formulas for calculating these metrics are definitive, not random or a matter of options. Anything less than using the correct data will skew these metrics and those errors will be compounded as project rates and fees are developed using flawed data.
3. The lack of realizing that there is a costly difference in the methods used to determine a project's percentage of profitability.
The two most common methods, other than using a 'SWAG', or pulling a number out of the air, are: a mark-up on cost, or a percentage of the total proposed fee.
Using a 20% mark-up will provide a percentage of profit that is between 20-25% of the profit percentage calculated using a percentage of the total proposed fee.
4. The lack of a consistent project delivery process from project-to-project will create ways for the project's profitability to be diminished. Inefficiency and inaccuracies are costly to every project's success and profitability.
The focused avoidance of all of these negatively impactful reasons that can lead to lowered profitability is far less costly than allowing these gaps in a firm's operations to persist over time.
Time can be an asset or a liability; it's all a matter of managing the time available for the tasks that are the highest priority. Enhanced time management and more effective, efficient operations will eventually lead to enhanced profitability. All you have to lose is time, which is of course, in our industry… $$$.
---
Steve L. Wintner, AIA, Emeritus, successfully passed his ARE's and was licensed in 1968. In the course of his 30+ year career, Steve has served as the managing principal of a small firm partnership and later as the VP/Director of Operations for two of the largest architectural firms in the country. Retiring from active practice in 1985, Steve started a second career as a management consultant, with a commitment to make a difference in the professional design industry by assisting other design professionals achieve their goals through his body of knowledge and experience as a managing architect.
Steve's commitment to the profession has lead to developing a series of professional development workshops, which have been presented to national, state and local AIA components and individual professional design firms throughout the country, since 1993. His financial management workshop, 'The Path to Profitability' became the basis of the book he co-authored with Michael Tardif, Assoc. AIA, Financial Management for Design Professionals: The Path to Profitability. A second printing of the expanded book will be self-published as an e-Book, on Amazon, sometime in 2017.
---
Photo Credit: Shutterstock / Pachai Leknettip