Each month, my friend Bob Borson over at Life of an Architect organizes a group of architect bloggers to coordinate a single post on a single topic released simultaneously on a specific day. We call it #ArchiTalks. Read posts from past topics on Google, Twitter and Facebook, by searching for the hashtag #ArchiTalks.
This month, the #ArchiTalks theme is Crafty. Check out the links at the bottom of this post for many more posts from the #ArchiTalks series.
---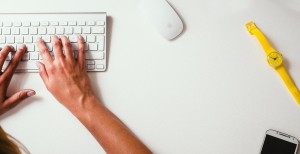 The blog is one of the most effective tools a small firm architect can use to foster community. The goal when writing a blog is to gain an audience. Over time, if encouraged to interact, your audience will develop into a community. A community will guide you, support you and share your content with others. A community will help your audience grow. A community will help you succeed.
Small firm architects are busy people. We are not seeking more obligations, taking more of our time. If not managed properly, writing a post can easily consume most of a work day to complete. A weekly publication schedule can very quickly discourage any busy professional, causing them to abandon one of the most effective tools they may have to gain new projects.
I launched the Living Well in Westchester blog in 2006, where I shared progress updates on current projects, revealed new products and commented on the many interesting building materials that my clients might find interesting. Back then, there was very little social media and Facebook was virtually unknown. It took time to gain an audience. Submission to search engines, posting consistent entries and back-linking from every free directory I could find, the blog quickly rose to the top of Yahoo and Google. When potential clients searched for "Westchester Architects", they would find the first page filled with links to fivecat.com and Living Well in Westchester (which has since been retired).
A successful blog requires interesting content, well written and published on a consistent basis. Since launching my first blog more than 9 years ago, my consistency has gained me more than a dedicated audience of readers. Over time, with each new post, my skills as a blogger have improved. I have learned how to quickly craft articles that keep my community informed, entertained and coming back week after week.
I have developed a writing process that allows me to efficiently craft an interesting post in 90 minutes or less.
10 Steps for an Efficient Writing Work Flow
1. Schedule time to write. I write for my blog on the same day each week. Many in my community expect to receive my content on a consistent basis and have included reading my words as part of their weekly routine. I appreciate my community for supporting me and I feel an obligation to meet their expectations. In order to have a new quality article written and ready for publication every Monday, I schedule a time dedicated to writing every Thursday morning.
2. Let ideas marinate. Earlier in the week, before I begin to write, I start thinking about potential subjects. I don't commit to any one idea. I let my mind wonder. I review the list of ideas that I keep in my Evernote. I visit other blogs and read books that may inspire content that my readers may find interesting.
3. Select a topic. By Wednesday afternoon, an idea solidifies and I commit to a topic. Committing the day before allows me to develop the idea in my mind as I complete my many other responsibilities as the owner of a small firm architecture studio.
4. Prepare a basic outline. On Thursday morning, as I sit down and start the process of writing, I prepare a simple outline. It's nothing formal. Essentially, I list the ideas that have been developing in my head since the day before. This outline provides a guide for the content as the ideas develop into a completed article.
5. Use a writing template. My secret to preparing quality content on a consistent basis is to use a writing template. I learned about this useful tool from Michael Hyatt, who may be one of the most successful bloggers of our time. My template is based on one that Michael has shared over at his blog and includes cues for each part of a successful post, including the title, subtitle, lead paragraph, personal experience, pivot, objective statement, rationale and a reminder to post a question to encourage interaction and community growth.
6. Start writing. Start. Starting is often the most difficult part for me, but I have found that once I start pulling the words from my head, I gain momentum and the fragmented ideas flow into paragraphs of developed thoughts. Just start. Use your outline and start writing whatever comes to mind. You will soon be on your way to a finished post.
7. Keep writing. Don't stop. Just keep writing. This is the most important step in order to quickly complete the task. Turn off distractions, stay focused and keep writing.
8. Take a quick break as needed. There are times when I get stuck and I can't get the idea from my head in the way I want it to be read. When I find myself at these roadblocks, I do stop, stand up, take a quick walk around my studio, sit down and get back to work. The fresh second look always finds the right words and I am quickly back on track.
9. Proof read and edit. Once I have the first draft complete. I proof read my words. At this point, it is far from ready to publish. I edit the piece as required. I rearrange paragraphs, fix typos and improve the flow. I proof read each article at least 5 or 6 six times. With each pass, the article is refined and improved.
10. Publish. The rule in blogging consistently is "progress, not perfection." Seeking perfection before publication will send you off to a series of rewrites that will easily consume your day. Once the article is developed to the point where it is effectively sharing the intended information, it is ready to publish. Format the content for the blog, categorize, choose the proper tags and push publish.
Small firm architects often ask me how they can find new projects. My answer is often to build a community… and a quality blog is one of the best ways to do just that. If properly planned and published on a consistent basis, your blog will soon lead you to success and with the 10 step process above, you too will quickly craft quality content for YOUR blog week after week.
Question: Do you blog? Share a link of your most recent post here in the comments below.
---
Photo Credit: Pixabay / Life-Of-Pix
Visit My #ArchiTalks Friends
Bob Borson – Life of An Architect
@bobborson
Architects are Crafty
---
Marica McKeel – Studio MM
@ArchitectMM
Why I Love My Craft: Residential Architecture
---
Lee Calisti, AIA – Think Architect
@LeeCalisti
panel craft
---
Lora Teagarden – L² Design, LLC
@L2DesignLLC
Oh, you crafty!
---
Brian Paletz – The Emerging Architect
@bpaletz
Underhanded Evil Schemes
---
Jeff Echols – Architect Of The Internet
@Jeff_Echols
Master Your Craft – A Tale of Architecture and Beer
---
Michele Grace Hottel – Michele Grace Hottel, Architect
@mghottel
krafte
---
Meghana Joshi – IRA Consultants, LLC
@MeghanaIRA
Crafty-in Architecture as a Craft
---
Stephen Ramos – BUILDINGS ARE COOL
@sramos_BAC
Ghost Lab
---
Matthew Stanfield – FiELD9: architecture
@FiELD9arch
On the Craft of Drafting: A Lament
---
Rosa Sheng – Equity by Design / The Missing 32% Project
@miss32percent
Which Craft?
---
Jonathan Brown – Proto-Architecture
@mondo_tiki_man
Crafty
---
Cindy Black – Rick & Cindy Black Architects
merging architecture and craftiness