This is a guest post by Kenneth W. Cobleigh, Esq., Managing Director & Counsel at The American Institute of Architects.
When I asked the Entrepreneur Architect tribe who I should contact regarding legal agreements for architects, Ken's name quickly rose to the top of the list. Ken leads the team developing AIA Contract Documents; the most respected collection of agreements for the construction industry.
There are many options for agreements, but Ken and his team are working hard to keep our firms protected and our projects running smoothly with tools and resources from the AIA. Whether you use AIA Contract Documents or create your own, this post will tell you what you need to know about your Owner-Architect Agreements.
Take a few minutes to look at what's happening at AIA Contract Documents. You may be surprised by what they offer for the sole proprietor and small architecture firm. – Mark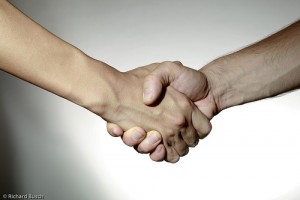 Every construction project involves risks and rewards for the participants. Optimally, the parties will enter into a written contract that assigns such risks and rewards, as well as the rights and responsibilities of each party, using a fair and balanced approach. This provides a framework for the project to be completed more efficiently and with fewer disputes. However, many construction professionals do not have the expertise or time required to draft their own contracts. Standard form contract documents, such as those published by the American Institute of Architects (AIA), address these issues with widely recognized, tested and accepted language.
Contracts are an integral part of the building design and construction process, and should address all relevant aspects and unique phases of a project. Parties should enter into agreements that are tailored to the specific needs of the project. For small project practitioners, using a document tailored specifically to the requirements of the project is of utmost importance.
A good contract will specify the project requirements, and address the responsibilities and expectations of all parties involved, from owners to sub-contractors. If small firms and sole practitioners fail to utilize properly drafted contracts, the result may be misunderstandings about the responsibilities of each party, with a greater risk of disputes occurring between the parties.
Contract disputes often result when one party has differing expectations about the performance obligations of the other party. Written contracts that describe, at a minimum, the scope of work or services, payment terms and conditions, the project schedule, insurance requirements, terms associated with correction of work, and terms associated with changes in scope of work or services, are critical to ensuring that each party has a clear understanding of its obligations and the other party's expectations.
Small project practitioners should memorialize such key elements in a written agreement at the outset of a project. Standardized contract documents contain provisions addressing such items, including the owner's requirements, the architect's scope of services, compensation, ownership of instruments of service, and termination.
Small project practitioners should carefully think through each of the following questions before proceeding with any project:
Owner requirements
What are the owner's basic requirements for the project?
What is the owner's budget and schedule?

If these details are clearly understood from the beginning, they provide the framework for project planning and attainment of the owner's goals.
Scope:  design and construction phase obligations
What is the scope of the architect's services during the design and construction phases?
What construction administration services will the architect provide?

Answering these questions before beginning a project allows you to properly allocate time and resources, and helps avoid potential misunderstandings as the project moves forward.
Compensation: basic and additional
What is my compensation going to be?
How am I going to be paid for basic services?
How am I going to be paid if additional services need to be provided on the project?

Similar to addressing the scope of work, compensation should be clearly set forth in the contract. Payment disputes can cripple a project.
Ownership of instruments of service
Who owns the architect's instruments of service?

The contract should address ownership and copyrights in the architect's instruments of service, as well as any rights of the owner to use them after project completion, and how the architect would be compensated and indemnified for such use. Some owners may want to use the design for other projects. Specific contract provisions are required to address the issues associated with such use.
Termination
What happens if a contract is terminated by the architect?
What happens if a contract is terminated by the owner?

A good contract should definitively state each party's right to terminate a contract, as well as the details and process of a termination. This prevents unlawful termination and assures both party's rights are fairly protected.
When each of these contractual points is memorialized clearly, in plain language, understandable to both parties, the potential for contract disputes is greatly reduced. However, don't assume that shorter contracts are better contracts. Contract documents should be sufficiently comprehensive and detailed so that important information regarding each party's obligations and expectations are not written vaguely. Essentially, the contract should be tailored to the size and scope of the project. It is also important that contracts for a project be coordinated. For example, the responsibilities described in the owner-contractor agreement should be coordinated with the construction administration responsibilities in the owner-architect agreement, and both should refer to the same general conditions document.
To address small project needs, the AIA has developed contract documents for use in residential or small commercial projects. Currently, there are two Small Project Family agreements available in paper, software and on AIA Documents-on-Demand. By using coordinated standard form contract documents, parties will develop and share a clear understanding of their roles and responsibilities. This shared understanding also helps streamline contract review and negotiations, and ultimately furthers achievement of the project objectives.
***
Do you use AIA Contract Documents? If not, share what you are doing to protect your firm and keep your projects running smoothly. Please leave a comment below and let us know your thoughts. Speak your mind.
***
photo credit: Richard.Asia via photopin cc