50+ Business Forms and Checklists for Small Firm Architects
Many small architecture firms start with one or even no clients, no money and a huge leap of faith. Maybe you started the same way.
Does it seem like every step of running your business is guided by trial and error?
Most small firm architects have no business training, no experience with business systems and frankly, are completely unprepared for what the future holds.
If you say it out loud, that doesn't sound like a formula for success.
EntreArchitect Foundations is a success formula built on 20 years experience in running
a small architecture firm like yours. That's valuable experience you can learn from
today.
EntreArchitect Foundations is a collection of more than 50 business forms and
checklists designed and built specifically for small firm architects.
Are you one of the hundreds of architects who already purchased? Download the documents here.
---
Want To See Inside?
Take a tour of the EntreArchitect Foundations: Business Forms and Checklists package with Founder, Mark R. LePage.
This collection includes documents for Business Administration, Design Development, Project Management, Construction Management, Sales and Project Organization.
Click here to see a complete Table of Contents and download a few samples to review.
Whether you've just started a new firm or you've been in business for decades, these are the documents you need to make your business systems purr.
Remember, it took 20 years experience to build this library of resources. You can have it
all today.
---
Our Pre-Design Client Questionnaire Could Be Sold Separately
Included with the package is the Pre-Design Client Questionnaire … FREE!
This is the one document you need to gather information about the project, the client and all their hopes, wants and needs. It requests Love/Loathe Image Collections and provides an inventory of likes and dislikes using a matrix of 100+ descriptive words, revealing each client's personal taste and style. It keeps the pre-design process fun while gathering all the information required for a successful project.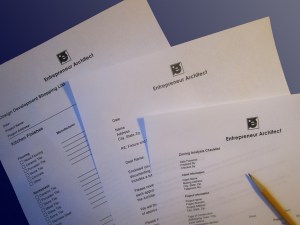 You get all 50+ forms and checklists, including the Pre-Design Client Questionnaire, for only $49.00… that's less than $1.00 per document.
Twenty years of experience and development for less than $2.00 per document. Imagine the time and money you'll save simply by using these documents as your
foundation for success. You cannot purchase a package like this anywhere else.
All documents are prepared in a completely customizable Microsoft Office Template.
---
Always Backed By The EntreArchitect No Risk 100% Money Back Guarantee
Best of all, there is NO RISK. Your purchase is 100% guaranteed. If you are not satisfied, just send us an email within 30 days of purchase and we will refund your money.
Click the BUY NOW button below and you'll be on your way to savings and success.
---
What Are Other Architects Saying About EntreArchitect Foundations?

"I expect this set of Foundation docs will help me to be more methodical and not re-create the wheel so much for each project while also helping me to be thorough and not miss something critical. I have been making shopping lists for clients lately and I'm pleased you have complete versions ready to use. There are so many good docs in the package. I'm excited about the usefulness of each and the potential efficiencies I'll gain by using them."
– Cary Westerbeck, Principal at westerbeck|architecture
"Although I've been in the industry for many years, I've worked for several different firms and none really had any set of checklists to help guide the SD, DD, CD, CA/CO process. No wonder things get missed sometimes! I figured your documents would be a great jumping off point for me as I set up my own firm "from scratch" again and redefine the tools of the trade for the 21st C. office. So, yes, of course I bought the set! Thank you for stepping up and offering these. Our industry needs exactly these kinds of tools to improve customer service to our clients."
-Tara Imani, Architect, Writer, Blogger at IndigoArchitect.com
"We reviewed the documents and believe they are perfect for firms that cater to
residential and small commercial projects. We are altering some of the documents to
use on larger projects, but believe this is a great foundation resource … The documents are well put together and can be tailored for many different project types."
-Jason Lockhart, Partner at Sinektiks LLC
"I just wanted to let everyone know that the packet is really good. I'm especially excited about the client questionnaires for things like initial contact (pre-screening the client), pre-design/programming and the shopping lists during DD. I also want to spend more time going through the checklists for DD and CD drawing prep. Although I have my own versions, I'm recently finding that I could save a lot of time coordinating with consultants if I add more info to my DD sets. I just haven't really figured out exactly what info was needed, so I think your documents will save me a lot of time. Even just the way they're organized is super helpful."
-Jill Cropp, Studio Cropp Architecture & Design
---
Still Not Sure?
Download the Foundations Table of Contents and see what you'll get.
Still need more information before making a decision? Here are three FREE samples to get you started:
P004 Zoning Analysis
D003 Shopping List Kitchen Finishes
P014 Fixture Finish Approval Letter
These free samples are in PDF format. The collection documents are fully functional MS Word and MS Excel Template formats.
We hope that helps. When you're ready…
Click the BUY NOW button and you'll have the full collection in minutes
Questions? Email us.