Every thing, every where, has a size. Dimension is upon every corporeal thing in our universe. But Size is not Scale.
Rather than gravity, time, even craft, the Scale of what we make can be a result of what it is and does, or its Scale is completely independent of its Size. A skyscraper can be a lamp post. A home can be a Cathedral. A room can be a hall, or closet. Any number of buildings are rendered as cubes, blobs or walls, and they work hard to either be Monopoly Board pieces or mountains of pure form. They do not want scale. You could not tell the size of these creations by any 2D representation.
Unless a human is there. Humanity defines architecture, because it is used, or it is sculpture. Sculpture can have any size, it has no need for scale. It is not just architecture that humans make of sculpture, humans transform many essential elements by their presence and use:
Time is not History.
Gravity is not Structure.
Materials are not Craft.
Just like these realities, Size only becomes Scale when Humans are imposed upon its apprehension.
Scale is hard to teach, but it is easy for humans to spot misfit.
An easy target, the low fruit of scaleless reality, is found in the work of Albert Speer. Young, ego famished and offered unlimited budgets by Nazi Germany, young architect Speer was able to fully eliminate Scale in the pursuit of Size.
These, of course are doors. The drawing shows the doorknob, perhaps 3 even 4 feet off the floor.
Doors are perhaps 18 feet high, maybe 4 feet wide. Size betrays scale when humans inhabit anything. Like this monument.
The lower arcade might have 40 or 60 foot high vaults that tiny humans pass through. And the monument itself, well, it is as big as the buildings it was going to address, fully.
I do not think you could see a human in this scale. Inhumanity was the motivation, and the outcome. That was the only scale.
We deny ourselves when we deny scale. It is absurd on its face when a chair cannot be fudged in size (or it is useless), but everything else is Size without Scale.
At least the doors relate.
But ideas can be made universal without being inhuman, like Boullee's hope. He actually shows humans in this rendering. For a monument to a human, not inhumanity.
Capturing the universe inside architecture in Perfect shape and space, with no intention of any real scale, is a hard motivation, and that can become an outcome. That outcome only comes when you build something, whether you like the size of the pieces that try to be unseen to make a place that defies scale or not.
Or you take an idea and give that idea the scale of a place. Like this farmer's home. Given scale only by its human entry.
Some architects fully loath scale. Sometimes a shape is just a shape and can be a toaster or a city. But some things use the reality of sizes to scale their real size. I make things that have scale in their size by showing how they are made.
When you know how to make something and want that Craft to be of the thing made, you have scale, no matter what the size is.
No matter what we make, humans make it. When we try to defy the making of anything we are revealing that the outcome of what we make is fully, wholly, at one with its motivation, denying the humanity that made it. We are not God who inveighs power directly into reality. We are humans who have motivations, and then define outcomes. Not the other way around.
We create scale.
---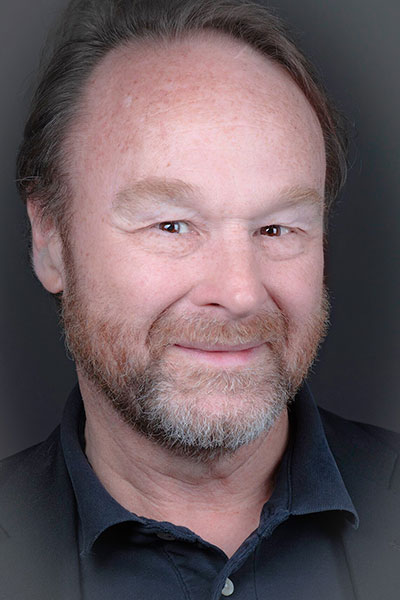 Duo Dickinson, FAIA
Graduating from Cornell in 1977, Duo Dickinson opened his architectural practice in 1987. His work has received more than 30 awards and he is a Fellow in the American Institute of Architects. Much of his work is dedicated to pro bono or at-cost work for not-for-profits, totaling over 75 projects for over 30 organizations over the last 30 years. His design work has been published in more than 70 publications, he is the architecture writer for Connecticut Hearst Media Corp. and a staff feature writer for The Common Edge Collaborative and Mockingbird Ministries. He is a contributor to Arch Daily and has written for Archinect and other publications. His blog, Saved By Design has received over 100,000 hits in the last few years. Dickinson has also written eight books, the latest of which, A Home Called New England was nominated for a 2018 CT Book Award. He hosts the radio series "Home Page" on WPKN Radio. Dickinson has taught at Yale College and Roger Williams University. He is now on the faculty of the Building Beauty program at the Sant'Anna Institute, Sorrento, Italy as well as co-chair of their American Advisor Board and is teaching at the University of Hartford.