This is a guest post by Danielle Hegedus. She's is a freelance writer based in Atlanta, GA. where she currently nurtures her HGTV obsession by writing about all things home decor for Modernize.com. I thought this post would provide us with some inspiration when designing our own workspaces.
If you haven't yet seen Modernize, it's another great place to find ideas and gain inspiration when working with our residential clients. (This is not a paid endorsement… I just thought I'd share.) – Mark
---
Your Sanctuary from a Chaotic World
As a small firm architect, it's important to have a workspace that fuels your best work—a laboratory for experimenting with design concepts that can dramatically transform the way you approach living and work space. We all know there is no standardized formula (Frank Lloyd Wright prints, leather chair, copies of Architectural Digest artfully displayed), as different people will respond to different stimuli, but there are some guiding principles to creating a space that adds an element of inspiration to your work. Read on for tips to help you create an office space (home or otherwise) that is your sanctuary from a chaotic world, where your ideas can flow freely and your productivity is at its peak.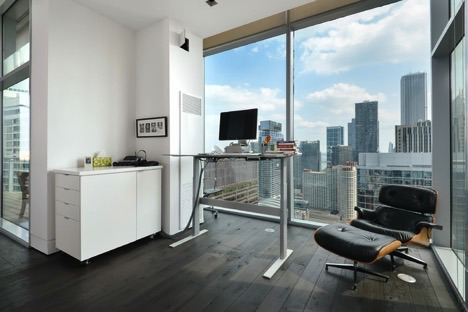 Clear Out the Clutter
Clearing clutter is one of the main principles of feng shui for a reason. An organized office fosters a peaceful mind, and "a tidy desk is a tidy mind." Utilize crates, folders, cord huggers, and other organization pieces to keep clutter at bay. Assess what you really need or want, and what can be thrown in the trash or shredded. Nothing is a bigger distraction than a messy office. It can detract from your focus and decrease your productivity, as you have to search through piles of papers to find what you need. Your office doesn't have to be barren, just limit yourself to items that you love and that inspire your unique design perspective.
Maximize Natural Light
Whether you're working a standard eight hours a day or just tackling a new project, sitting in a room by yourself can be isolating. Open blinds and curtains to let the light in and create a link to the outdoors. You may even find yourself feeling happier and working more efficiently. As we learn more about Seasonal Affective Disorder, it has become clear that our mood is greatly influenced by our exposure to natural light. Having access to natural light regulates our melatonin levels, which affect our ability to sleep, and our serotonin levels, which affect our alertness and create an elevated mood. A 2012 study by Mirjam Muench that studied two separate groups of people—one who spent multiple work days under fluorescent light and another who spent multiple days working in natural light—found more dramatic feelings of sleepiness at the end of the day in those who worked in artificial light. Maximize the natural light in your office and you may even be able to cut back on the caffeine!
Be Mindful of Color
Incorporating color in your workspace isn't just about design. It can also have a large impact on your mood. Color psychologists believe that certain colors influence your ability to perform certain activities. According to the Huffington Post, white walls can create an intimidating "clinical" feel, while, "colors that are very saturated and not very bright—like emerald green and sapphire blue—generally promote an energy level that puts people into overdrive if they're trying to do thoughtful work alone or to collaborate with others." Consider a neutral template of taupes, tonal whites, and warm grays, using brighter colors as accents. Softer colors will also decrease eye strain.
Invest in a Quality Chair
If you have to sit to work for long periods of time, your chair needs to be supportive and comfortable. A recent study found that when ergonomic improvements are made to a worker's environment, the productivity improvements can be up to 17%. While you should still try to take breaks to stretch your legs every hour, invest in a chair that won't have your back aching or induce dread at the thought of sitting in it.
Keep a Library of Inspiration
We all get creatively stuck from time to time. Surround yourself with inspiration, whether it be images that inspire, or books by colleagues and artists whom you admire. A library of inspiration will keep you reminded of your purpose, helping you when you feel unmotivated or overwhelmed.
Bring the Outside In
Bring an element of nature into your workspace to help you connect with the textures, scents, and colors of the natural world. It just may help subdue any inklings to abandon work in search of the outdoors. House plants also have the added benefit of purifying the air in your workspace. The spider plant, garden mum, peace lily, and aloe vera are all easy to grow and help remove dangerous chemicals such as xylene, formaldehyde, benzene, and ammonia—all of which are found in common household cleaners—from your workspace. So breathe easy and get started on your most inspired work!
Photo Credits: All photos via Modernize
---
Question: What is your favorite part of YOUR workspace?