Each month, my friend Bob Borson over at Life of an Architect organizes a group of architect bloggers to coordinate a single post on a single topic released simultaneously on a specific day. We call it #ArchiTalks. Read posts from past topics on Google, Twitter and Facebook, by searching for the hashtag #ArchiTalks.
This month, the #ArchiTalks theme is Summer Break. Check out the links at the bottom of this post for many more posts from the #ArchiTalks series.
Use the Summer Slow Down to "Sharpen the Saw"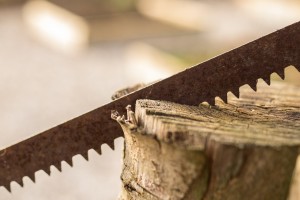 Every June, as school ends and summer camps begin, we see a slow down here at Fivecat Studio. The phone gets quiet and current clients have their priorities pulled in other directions. As Independence Day celebrations launch their final bundle of fireworks, we enter the month of July and summer break is in full effect.
Our boards are still full with active projects and we have plenty to keep us busy, but we experience a dip in new work. The pace slows a bit. Each time this year, we find that we might have a little more breathing room than at other times of the year.
Rather than sitting back and waiting for things to return to their regular hectic pace, this predicable period of peace is a great time to "sharpen the saw". It's a great time to review our systems, evaluate their effectiveness and develop new systems to keep our firm running efficiently and effectively. The summer slow down is when we spend some quality time working on our business, because before we know it, the leaves will be turning color and we'll be pulled back into the daily temptation of working in our business.
I recommend that you use this time wisely. Once you finish tuning up your current procedures, here are two new systems that you may want to launch before things get busy again.
Move to the Cloud
When Annmarie and I moved the firm from our 2,000 square foot studio in Pleasantville, to the new 200 square foot virtual studio here at home in Chappaqua, we also moved our project files from our local server to the cloud. We signed up for Dropbox, set up a new folder structure to mirror the structure on our server and moved everything over to the cloud-based file storage. We were up and running within a few hours and our progress never slowed. With a few clicks of the mouse, we were working directly from Dropbox and never looked back.
Today we have access to our files from anywhere in the world with an internet connection and our old Apple Mini Server is now used as an archive and redundant backup drive.
Moving to the cloud is simple, quick and will make your team more effective, whether they are working from your local studio or virtually anywhere else in the world.
Set Up a Paperless Filing System
If you listened to episode 81 of the EntreArchitect Podcast, you heard me share My 5 Tools for Pursuing a Productive Paperless Virtual Architecture Studio. Using my Fujitsu ScanSnap iX500
scanner and Evernote, I am quickly trading my old metal file cabinets for a paperless digital solution in the cloud.
Shifting file storage for new documents is simple. Any documents generated internally are saved and stored on Dropbox or in Evernote. That's an easy transition.
The challenge comes from paper entering the studio from the outside. Mail, deliveries and client furnished documentation often finds its way to stacked piles on my worktable. The real system kicks in when a dedicated time is scheduled to process all this pesky paper. The scanner is quick, so each week I schedule time to scan, tag and organize these documents. Then the paper is shredded or tossed into a bin ready for recycling.
We're not purely paperless yet, but we are well on our way. Setting up a paperless filing system is simple. Order a scanner that can upload automatically to Evernote, schedule time during the week to process the paper and you're in business.
Question: What are some other systems that can be quickly launched during the summer slow down?
Visit All My #ArchiTalks Friends
Bob Borson – Life of An Architect – @bobborson
Architectural Bucket List
Marica McKeel – Studio MM – @ArchitectMM
Summer Break = Extreme Architecture
Jeff Echols – Architect Of The Internet – @Jeff_Echols
Summer Break and Aunt Loretta
Lee Calisti, AIA – Think Architect – @LeeCalisti
summer break
Lora Teagarden – L² Design, LLC – @L2DesignLLC
Vacationing with an Architect
Jes Stafford – Modus Operandi Design – @modarchitect
Summer Getaway
Rosa Sheng – Equity by Design / The Missing 32% Project – @miss32percent
#Architalks 10 – Give me a Break!
Michele Grace Hottel – Michele Grace Hottel, Architect – @mghottel
#Architalks 10 – ""summer break""
Cormac Phalen – Cormac Phalen – @archy_type
MILES AND MILES OF ROAD 
Amy Kalar – ArchiMom – @AmyKalar
Summer Break"
Stephen Ramos – BUILDINGS ARE COOL – @sramos_BAC
Architect: Gift or Curse?
brady ernst – Soapbox Architect – @bradyernstAIA
The Education of an Agrarian Architect
Brian Paletz – The Emerging Architect – @bpaletz
Summer Vacation
Tara Imani – Tara Imani Designs, LLC – @Parthenon1
A Brilliant Summer Break
Eric Wittman – intern[life] – @rico_w
summer break [or] summer school
Matthew Stanfield – FiELD9: architecture – @FiELD9arch
SummerBreak?
Brinn Miracle – Architangent – @simplybrinn
Summer Break
Meghana Joshi – IRA Consultants, LLC – @MeghanaIRA
Architalks: There, but not there
Sharon George – @sharonraigeorge
Summer Break #ArchiTalks
Michael Riscica – Young Architect – @YoungArchitxPDX
Architecture Students Summer Break
Andrew Hawkins – Hawkins Architecture – @HawkinsArch
Summertime
---
Photo Credit: Pixabay / Skitterphoto