This week I am sharing a great article written by Peter from ArchiSnapper. ArchiSnapper is a cloud solution for making field reports and punchlists simple. If you have questions about "the cloud", backups, apps or software for architects in general, I invite you to contact him directly at peter@archisnapper.com.
---
Get Your Head in the Cloud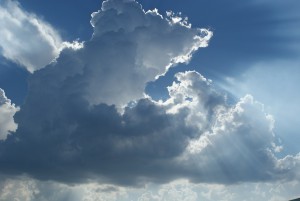 You have heard much about "the cloud" already, but you don't really know what that cloud is or how it can help your architecture business. This article will show how you can make your life as an architect more comfortable and become 10% – 50% more efficient (that is: get 10% – 50% more done in the same amount of time) if you know what the cloud really is and how to use "the cloud" better in your day to day business.
Yes, I know. There is no time for change, right? You are too busy. You have a business to run, a field report to finish, deadlines, a family, some hobbies, and your phone is about to ring… so you need to pick up. How would you even have time to learn about the cloud?
Well, here is the good news. The cloud is all about managing less yourself, and outsourcing things that are not part of your core business (architecture) to… somewhere in the clouds. "The cloud" is basically a new terminology for the internet, online software, services, mobile/tablet apps, servers, backups, and anything else that runs purely online,  supporting your business from outside your own office. The cloud lets you focus on your core business instead.
The internet is the crucial component here. Cloud software or services mean: software or services that run somewhere, somehow on the internet. "Somewhere, somehow" is important. You don't really (have to) care where exactly it runs, or how it runs, or what programming language is used, or which engineers have developed this software or how it's backups are managed, or anything else. It just runs, and you use it. Much like tapping electricity from the wall with a power plug. Much like your clients not worrying about the technical details or the blueprints of a new building. They outsource that to you.
By "tapping into the cloud", you plug into a world wide network of new possibilities, services, software and solutions that can help you run your business. Ten years ago things were different. The way architects ran their businesses was different. Technology has changed incredibly over the past couple of years (and it will keep changing). Architects who spot and use new possibilities to run their business will get things done faster, more efficiently and more accurately. They'll spend less time in administration and without the typical frustration and side tracks of running a business. They can do what they really like and focus where they create true value for their clients: architecture.
Let's look at the competitive advantages that cloud software / services / apps can offer you. I'll come up with very concrete examples for architects, and how this could literally save your company hours of time every week.
No Installation. No Maintenance.
Cloud software is consumed over the internet. Most cloud software can be up and running in just a few minutes. You don't need to install anything on your computer or on any of your staff computers. You just log in to your online account and off you go.
See for example Sefaira, a software for architects and designers who aspire to design high performance buildings. Sefaira can be accessed from your browser without requiring any installation.
The same for maintenance, product updates, bug fixes and the list goes on. All this can be struck off your to-do list so you can 100% forget about it. The SaaS provider (SaaS is a synonym for "cloud software") will take care about this for you. On a yearly basis this might save you and your team several hours or maybe even days.
Grow as fast as you want. Let the cloud follow your needs.
What is more frustrating than a booming architecture business with a computer infrastructure that is growing out of it's capacity? Software is slow from over usage, data is lost and disk space runs out of Gigabytes? You really don't want technology to become the bottleneck of your company.
Cloud software is extremely scalable and will follow your needs. Cloud providers let you pay what you get. Let's take the example of Basecamp, a very generic online project management software, also suitable for architects to follow up your construction projects with your staff, share information, data, to-do's, documents and so much more. For a small architectural firm, Basecamp will cost you $20/month. (Note: this is nothing compared to the hours of time you'll save, the backups they run each day, the daily status updates you'll get in your mailbox as a project manager, and so on.) As your business grows, Basecamp will follow. You can easily update to the next plan with a mouse click. Basecamp's servers are setup for growth and scalability, and serve multinationals as well. Since 2004, over 10,000,000 projects were managed with Basecamp. They are prepared for growth.
Accessible anywhere, always.
Cloud software is accessible anywhere, any time. You access it through your browser, from wherever you need to. Forget about forwarding a print screen or attachments from your business email to your personal email because your accounting software is only accessible from within the office.
Take FreshBooks for example, cloud accounting and invoicing software. You'll always and everywhere have access to your pending invoices and a view on which client owes you what. Check how architect Jonathon Zilka (Portland, Oregon) uses FreshBooks to make his life as an architect more easy.
Backups, always, everywhere.
Ever had a hard disk crash? Or you lost your iPad? Someone broke in and stole your laptop? Then you know that backups are a must have for your business. If you are not backing up your crucial data, sooner or later you will run into serious problems. Backups are not optional. I know of one business in particular that almost went broke after their crucial data disappeared.
I know that many architects don't have the time and/or the expertise to set up an automated nightly backup mechanism that will take care of backing up all your crucial data, pictures, field reports, blueprints, contact details, contracts and so much more in a fully automated and transparent way.
With cloud software there is just no need for you to manage backups! The whole backup problem disappears from your to-do list if your data is in the cloud. Cloud providers make it their problem to safely back up your data so you can forget about it. Maintaining servers, software and backups is their core business.
Take Highrise for example; a simple CRM (customer relationship management) application. It handles all your contacts, prospects, leads, interactions, deals and so much more. Since your data is "in the cloud" and not on your own computer, a stolen laptop doesn't mean you just lost all of your signed contracts and deals. Everything is always safely backed up in the cloud.
Let me tell you a little secret. I run a business as well, and this is one of the reasons I outsource everything to the cloud. It would not be smart, but I could drop my computer into a pool, buy a new one, and just continue working without any single file lost. All of my data is hosted and backed up in the cloud.
For the software you (have to) run locally on your computer or for files you don't want to put in the cloud for one or another reason, there are cloud backup solutions that will back up your entire computer every night into the cloud. That means: you have an exact copy of your data, always, on secured remote servers. Of course, you can use local backups on a hard disk, but it won't help if someone breaks into your office or if you have a water flood or fire in the office. Cloud backups are not a luxury, they are a must-have. Backblaze and Crashplan are just two examples of cloud-based backup services that you could use.
Easy online collaboration.
Cloud services or software run, as per definition, over the internet. And since nowadays everyone is connected to the internet, instant and direct collaboration of your architectural businesses has become easy. Forget about emailing an excel file back and forward to your colleagues and ending up with 27 out of date versions of the same file. Leave your USB stick at home. Work together remotely on the same projects and files. The cloud makes this easy, efficient and fun.
I don't think I need to introcude you to Dropbox or it's alternative Box. Every architect knows those cloud applications, and both make it incredibly easy to work and collaborate on the same set files. Again, not just from within your office, but from anywhere in the world, with whomever you would like.
To be honest, my personal preference goes to Google Drive. Google Drive offers a (cheaper) alternative to Dropbox and Box, but on top of that it lets you use Google Docs within your Google Drive space. Google Docs is an online (cloud) variant of the well known Microsoft Office suite (MS Word, MS Excel, MS PowerPoint). The difference is that they are stored and edited in your google Drive space. Nothing on your hard disk. And the best is that collaborating with a colleague in a Google Doc is real time. You can literally see your colleague typing, changing colors or commenting documents in real time. In combination with Skype or Google Hangouts, this allows you and a colleague to work from home on the same project proposal for that new client. This can not be done with Dropbox.
Google Calendar is another super efficient way to manage your office agenda. It includes shared calendars, invitations, acceptations and so much more. All for free.
Online Communication, Remote Work and Outsourcing.
What about collaborating with people from the other side of the world? Or how about working from home one day a week to avoid traffic jams? Or a screenshare with a client to show some first draft ideas or sketches (instead of jumping in your car to loose a couple of hours for a 20 minutes meeting)? I know that some things require you to be physically on the construction site or at your desk, but too often people travel around without questioning themselves. The world has changed. Rethink your business every day and try to make tomorrow more efficient than today. Work smarter, not harder.
Skype is very well known and I use it every day. It allows screen sharing, video, chat and talking. Google Hangout allows you to do the same and fully integrates with Gmail, Google Drive, Google Docs and so much more. All for free, so you don't have any reason not to try it out.
Outsourcing repetitive and easy tasks that take up all your time but don't really add true value to your business is another key aspect for growing your business. Think about translations, content writing, filtering emails, appointment scheduling, calling up prospects, and so much more. Again, the cloud makes this easy. Odesk lets you find and hire virtual assistants from anywhere in the world, easily outsource administrative, repetitive tasks, and lets you follow up everything your VA (virtual assistant) is doing via regular screenshots of their screen during their working hours. Think about it. If you are charging more than $20/h, you definitely should start thinking about outsourcing a lot of work for much less per hour, so you can earn more by doing less – instantly.
Mobile and tablet friendly.
Before I forget, here is one of the top advantages for architectural businesses. Most cloud software is new, and so born in the era where mobile and tablet compatibility are a must. This means that most cloud software seamlessly works and integrates with your mobile or tablet.
This is especially important for architects that are traveling back and forward to different construction sites, their office and clients. While you probably won't check your invoices on the construction site, you might want to use your mobile or tablet to gather field report data, or to track time spent on your tasks, or to check out construction plans. The combination mobile/tablet + online cloud software is very powerful and can save you hours of time, administration and headaches.
Take Toggl or Harvest for example, mobile and online time tracking solutions. How do you know exactly what to invoice to which client? Do you know what your staff has been working on? How much are you over budget? Both cloud application let you capture data (time logs) on the site, and sync everything over the internet into their cloud software, where you can process or analyse it further.
As already mentioned above, Dropbox is a popular tool for architects dealing with a lot of files on a day to day basis – site plans, specifications, technical drawings and so on. With Dropbox you can access whatever files you save in your Dropbox, from any computer, tablet or mobile phone, wherever you are in the world. Any files you save into your Dropbox folder sync automatically to the cloud. There's no need to think about uploading and downloading files from an external server or mailing them to yourself – any changes you make to files within your Dropbox or any new files that you add will automatically be uploaded and synced to all your computers and mobile internet devices.
Pricing models
Most cloud softwares apply a 'pay as you go' pricing. This means you pay according to your needs: if you're a small firm with few people, projects, customers, … you'll pay less. If your business grows, you can simply move on to the next plan (one click on a button).
Many of these services charge a monthly fee. The advantage here is that you don't need an upfront investment to acquire the software (or have it custom made). As you understand this significantly reduces the risk of acquiring software. You can try out a software (most of them even offer a free trial) and if it's nothing for you, you can cancel and you won't need to pay. This is a huge advantage compared to traditional software that most often requires an upfront investment and that you can not use for real before you purchase and implement it. Typical custom made software projects cost 10K – 200K. Compare this to the monthly SaaS fees that range between $20 – $500 a month.
Architects who think that $50/month is a lot of money for a piece of software that saves them multiple hours a month need to think twice. If a software saves you two hours per week and you charge $50 per hour, you will save enough time to bill $100 more per week or $400 per month! It's my experience that some people just don't understand this, others understand it but they still prefer to save up the monthly $50 and they tell themselves to do the extra hours at night or during the weekend. Then there are others who understand that this is a no brainer and that the piece of mind and times saved because of a great software pays itself back immediately in terms of more billable hours.
Everything a Small Firm Architect Should Be Looking For
Although the term 'cloud' became a buzzword the last years, I'm convinced that cloud software is no longer optional for a well run architecture business: no IT impact (meaning you don't need an IT guy to install or maintain software and servers), the ability to scale along with your business, the accessibility of all your files and documents anywhere and anytime, the automated backups, and the sharing and collaboration options are all enormous advantages compared to traditional softwares.
Moreover, selecting and implementing quality software is no longer a privilege of the big firms. The various cloud softwares out there (we only mentioned a few in this article) offer even the smallest architecture firms everything a business owner should be looking for: less risk in acquiring software, the ability to drastically reduce administration and overhead time, better collaboration, and more focus on what matters: architecture!
Question: What cloud-based solutions are YOU using at your small firm architecture studio?