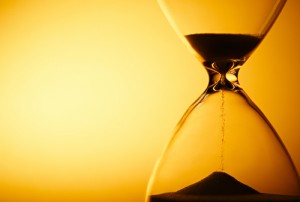 The deadline is a critical tool, used by the most successful people in the world to make things happen.
When teaching about business planning, author/speaker Dave Ramsey says, "Goals are dreams with deadlines." It's the deadline that will take our intentions and turn them into reality. Without them, life flows into the void and our best intentions remain unfinished.
Author and Peak Performance Master Tony Robbins, says, "The secret of unleashing your true power is setting goals that are exciting enough that they truly inspire your creativity and ignite your passion. Brainstorm everything worth pursuing. Then pick a goal that excites you the most, something that will get you up early and keep you up late. Assign a deadline for achieving it."
The key sentence in Robbins' quote is no doubt, "Assign a deadline for achieving it."
For years, I planned on owning my own architecture firm. I started dreaming about it when I was 10 years old. It was never in doubt. I set a course, completed the proper education, gained the required experience… and then set a deadline to achieve my life's goal before I turned 35.
I beat that deadline by 6 years when Annmarie and I launched Fivecat Studio in 1999 at the age of 29. All along, my focus was on achieving that success before the deadline.
The same holds true for our day to day projects. Completing projects in a timely manner and beating the IPS, is the result of setting proper deadlines and working to achieve these goals. Setting deadlines not only helps your team complete their work on time, but it sets proper expectations with your clients.
When deadlines are not set, our tasks drag on and clients lose confidence. We might tend to procrastinate or continue to develop a project beyond the level necessary to complete the requirements. (Does that sound familiar?)
Parkinson's Law describes, "The amount of time that one has to perform a task is the amount of time it will take to complete the task."
Setting shorter deadlines is one way to be more productive. Providing buffers for the unexpected may lead to those buffers being used for unnecessary additional work… and chances are quite good that we are not being paid for that additional work.
Use the almighty deadline with skill. It may be your greatest weapon in this war on getting things done.
Remember though that under-promising and over-delivering is still necessary for a happy client. The deadline you provide to your client for setting expectations should rarely be the same deadline you set internally for your team.
Question: Are you using deadlines with skill? Share your thoughts in the comments below.
---
Photo Credit: Shutterstock / sergign