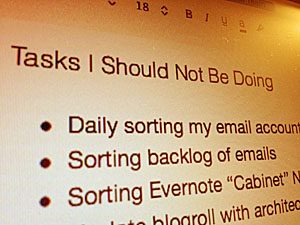 The EntreArchitect blog now hosts more than 26,000 views per month. The podcast is downloaded more than 7,000 times every 30 days. The Entrepreneur Architect Report, my free weekly newsletter, is delivered to more than 3,500 Entrepreneur Architects each week.
Big things are happening here at Entrepreneur Architect. We are rapidly achieving our mission of becoming an influential force in the profession for small firm architects. (Stay tuned for some very exciting news!)
My residential architecture firm Fivecat Studio is busy as well, with 8 active projects in every phase of design and construction. The phone is ringing and several new projects are in the pipeline.
There's lots going on… and that's all on top of me trying to be the best husband I can be and dad to three smart, energetic young swimmers.
Life is good, but needless to say, I am busier than I have ever been.
Being busy though, does not make one successful.
Being busy though, does not make one successful.
Both organizations are growing and, if you've been following me for any amount of time you are well aware, I have big plans for each.
During the recession, our staff at Fivecat Studio shrunk to one project manager. In November 2013 we recognized an opportunity, shifted strategy, closed our 2,000 square foot design studio and moved to a Virtual Studio business model. We now work with remote-based independent contractors, including our veteran project manager, to complete each architectural project.
For years now, we've been working with a minimal crew, bootstrapping to pay down debt. We kept our payroll to a minimum in order to reestablish a strong foundation before choosing to grow again. I have been performing every role from draftsman to designer, from secretary to CEO.
Its Time to Grow
In order to accomplish everything we want to accomplish, at both Fivecat Studio and at EntreArchitect, I need more help. Delegation must be a top priority. Great and enduring companies are not built by one person alone. They are established through years of development with a team. It is time for me to focus on the things I do best and find help to complete the tasks best handled by others.
Great and enduring companies are not built by one person alone. They are established through years of development with a team.
Every morning I spend hours completing the many administrative tasks required to keep two growing companies alive and well; tasks such as managing email, maintaining social media, sorting digital files and preparing written documents. Accumulated, the time I spend each morning on these lower level tasks totals more than 520 hours per year.
That's more than 13 weeks of my life.
If you had an extra 13 weeks this year, what could you accomplish? How many more projects could you complete? How much additional revenue could you earn?
I need to spend my time on tasks that only I am qualified to complete.
In January, I compiled a very revealing list of tasks that I, as a leader of the firm, should not be performing. I prepared a detailed job description and contracted a recruiter to provide a short list of three qualified candidates to be my new General Assistant. A few weeks ago, I carefully interviewed each via Skype, tested them and offered a 60-day trial to the one that fit my requirements the best. I will soon have the help I need to grow the companies as planned.
I am preparing my systems and guidelines, building a foundation on which to grow my team again. I am very excited to announce that my new General Assistant will begin in the next few weeks.
Are you wearing too many hats? Are you performing tasks that others could, and should, complete for you? It may be time to grow for you too.
Three Lists to Freedom
Try this simple exercise.
Take a clean sheet of paper and divide it into three equal columns. At the top of each column, write the following headings;
Tasks I Should Not Be Doing
Tasks I Don't Want to Do
Tasks I Cannot Do
Chris Ducker, author of the book Virtual Freedom: How to Work with Virtual Staff to Buy More Time, Become More Productive, and Build Your Dream Business
, calls this his Three Lists to Freedom.
There are dozens of tasks that you are spending hours completing each day that fit below one of these three headings. Compile your lists and you will discover the path to your own freedom. I found 13 weeks that I will use to develop my businesses, earn more money and better enjoy my life.
Complete your Three Lists to Freedom and let me know your thoughts in the comments below.