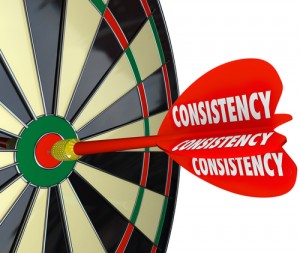 Focus your vision, set your goals and take action.
That is the only formula for success. Whatever it is that you may want to accomplish, taking action is the difference between reaching your goals and floundering in stagnation until ultimately failing.
Action though, is only the first step. Repeatedly taking action with consistency will lead you to your dreams.
Sometime in early 2012, I committed myself to write this post on a weekly basis and I haven't missed one since. When I relaunched Entrepreneur Architect in December of 2012, I introduced the Entrepreneur Architect Podcast and took action to publish an episode once per month. This past January, twelve episodes later, I stepped the podcast up to once per week and published my 26th consecutive episode this past Thursday. The 57th edition of the Entrepreneur Architect Report, my free weekly newsletter, was delivered via email to my subscribers this past Friday morning.
"We are what we repeatedly do.

Excellence, then, is not an act, but a habit."

– Aristotle
Every week, whether I am overloaded with responsibility at Fivecat Studio and exhausted from a long week or enthusiastically energized to take things to the next level, every week I ship. I get it done. I am determined to succeed. I have been consistent with no excuses (well, maybe a few excuses, but I ship anyway).
This consistency is showing returns. During the past 16 months, page views for this site have improved from a few hundred to more than 25,000 per month and it's growing quickly every month.
I work hard with everything I share at Entrepreneur Architect. I want it to be the best it can be. My vision is to make Entrepreneur Architect an influential force in the profession. I have a goal to build Entrepreneur Architect into a profitable enterprise that will help sole proprietors and small business architects build better businesses. Together, we'll turn this profession around, one Entrepreneur Architect at a time.
As we grow, become more influential and financial goals are met, the site will improve and more resources will be launched. Small firm practice will never be the same.
Share your thoughts in the comments below. What do YOU want to accomplish? What are your dreams? Focus your vision, set your goals and take action… consistently.
***
Photo Credit: Shutterstock / iQoncept