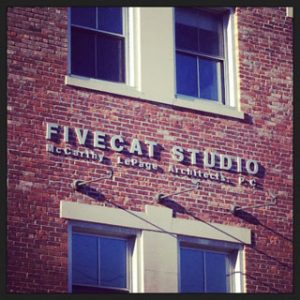 Annmarie and I spent the past week deconstructing, disassembling, demolishing and disposing of the Pleasantville Studio. More than 11 years of files, record documents, samples, manufacturers' binders, reference books, code manuals and accumulated "stuff" needed to be sorted, relocated or trashed.
To be honest, its been overwhelming.
I am thankful that our move has been voluntary. I can not imagine how hard this process would have been if it were forced upon us.
With the final few items removed from 48 Wheeler Avenue on Saturday morning, an important chapter in the history of Fivecat Studio came to a bittersweet end. That building and the studio we built within it, was a critical part of the success we enjoy today. For two young architects trying to prove their value to a highly competitive residential market, a studio in a historically significant and centrally located commercial building granted abundant credibility to our fledgeling firm. As we grew, the 2,000 square feet we leased allowed us to grow a small staff and establish a leading firm in the region.
Leaving the home studio back in 2002 and signing a five year lease for 2,000 square feet of office space required courage. We felt tremendous fear and uncertainty, but we knew that without taking action and moving forward, our goals of success would never be achieved.
Ironically, as I write this post, sitting here in my new studio space about 30 feet from the corner of the house where Fivecat Studio was born, I am feeling much of the same fear that I felt more than a decade ago when we moved out. Though this time it's different.
With maturity comes experience and knowledge. Although there is fear, there is no uncertainty. We have worked hard to achieve the success we enjoy and I have faith that we are on the right path.
"To achieve all that is possible, we must attempt the impossible. To be all we can be, we must dream of being more."
I have lived by this mantra since I was a young teen. It has allowed me to take action in the face of fear and write the many successful chapters of my life.
You have a dream too. We all do.
Take action today and move toward your goals. Push past the fear and move forward. Progress is the path to your success.
Leave a comment and tell me about your dream. What is the action you will take today to make your dream a reality?