The following is a guest post written by my friend David Doucette. When I invited Andrew Hawkins to write a guest post back in September, David commented that he appreciated the content provided by Andrew but preferred that I did not publish guest posts. He reads Entrepreneur Architect for my personal point of view.
I want Entrepreneur Architect to be the top source of business information for architects on the internet. There are many topics of which I am interested in learning more and posts that would be better written by others. Evernote is one of those topics. I knew that David had successfully integrated Evernote into his firm's critical business systems and I wanted to learn more about how he did it.
So… I invited him to write a guest post.
David is an Entrepreneur Architect, the co-Founder of ArchitectExamPrep.com and Founder of CSEprep.com and reside architecture. He's an avid podcaster and hosts two great shows: the ARE Podcast and CSE Podcast. When David is not helping residential clients or candidates pass the Architect Registration Exam and California Supplemental Exam, he's most likely to be found spending time with his two young boys or rock climbing in Joshua Tree National Park. Follow David on Twitter @ArchitectPrep and say thanks for sharing this ultimate guide to Evernote for Architects.
What is Evernote?
Evernote is a cloud based organizational tool that can help you become and stay organized in your architecture office, as well as your personal life at home. It's a powerful tool that can be used on your desktop, laptop, or mobile device. It's real beauty is that all of your devices sync with Evernote in the cloud so no matter which device you are using, you are working with your latest notes or project information. You can also share notes and notebooks with your in-house project team, your consultants and your clients.
Evernote is free and also available as a Premium Subscription for about $50 a year. I do have a Premium Subscription because my partners and I frequently add to and edit notebooks we share for ArchitectExamPrep.com.
However, for our purposes and for getting your feet wet with Evernote, the free version is completely fine. The free version allows you to share notebooks (although the person you share them with won't be able to edit or change them) and allows you to benefit from almost all of the features of the Premium Subscription.
Evernote also works on PC or the Mac platform. While I was transitioning from PC to Mac, I had Evernote installed on my iMac and PC and was able to sync effortlessly between the two. They look a little different on Mac versus PC but work the same way.
I should also reiterate here that Evernote is cloud based, meaning all of your data is somewhere out there in the ether at some data storage facility. If you're using Evernote on your laptop, you "sync" it to the Evernote cloud and when you pick up your mobile device, it will pull it down from the Evernote cloud. Now your info is the EXACT SAME info that is on your laptop.
The beauty of the cloud is that you can also access your Evernote account from anywhere on the web via a browser in a pinch. For example, you've just arrived in San Francisco and check into your hotel room. You forgot your laptop and your iPhone is dead. You need to access and print out the meeting minutes for a meeting later this afternoon. With Evernote, this isn't a problem. You head to the business center at the hotel, log into your Evernote account through the web browser and you have immediate access to all of your Notebooks. Print out the meeting minutes and you're on your way.
Evernote also has a user base of 75 million. That's a lot of people putting a lot of faith into one company. I would guess not all of those 75 million users are active users, but it would be safe to say a majority of those users are. And they know something you may not right now. The awesomeness of Evernote!
What are the benefits of using Evernote?
Here's a quick summary of the benefits of Evernote:
Access to notes and notebooks anywhere (options available for no internet connection)
Save anything online including text, links, articles, images and send it to your evernote account with web clipper
Share notebooks with family, friends, and colleagues
Sync notebooks and notes with all your devices including your desktop, laptop, and mobile devices
Replace several different programs and systems with just one, Evernote
Why should Architects use Evernote?
Evernote can help you become more efficient. It can help projects run more smoothly by becoming the central hub that organizes all the files related to the project. You can create a "notebook" for a project and inside that notebook, you can create other notebooks that contain the meeting minutes, invoices, important emails, milestones, schedules, checklists, approvals, and any other notebooks that would be relevant to your project. You can choose which notebooks or notes you share with your project team, consultants, or your clients. You have total control.
Evernote is versatile. It can accommodate the way you set up your projects and project files in your office. It can also help you organize your personal life, from creating notebooks related to your upcoming vacation or quickly finding your kids' soccer schedule so you don't miss the game this Saturday.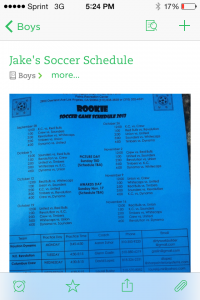 An example of this is when I get my boys' soccer schedule. I could sit down and write all 8 dates and times on my calendar for my 7 year old and then do it again for my 5 year old (16 calendar entries), but who has time for that?
I just take a picture on my iPhone and send it to Evernote and put it in a notebook called Boys. Then when I need to know what time their next game is, I open Evernote (which I'm already in) and check the Boys notebook and see the image of their schedule right there. A quick pinch out, and I'm zoomed in to the day and time of the game. I'm able to do it and find it in less time then it took me to write this sentence.
In fact, my boys play soccer, basketball, and baseball. That would be a minimum of 48 calendar entries for those three sports. I'm not sure how long those calendar entries would take to enter into the computer, but I spend less than a minute taking a picture of both schedules and emailing it to Evernote.
Then I just recycle them (or give them back to the coaches, because I usually do it right there on the spot) and now I don't have to worry about having to find that piece of paper later on or ever ask again, "where did I put Jake's soccer schedule?"
Pretty cool, right?
Evernote takes a mental commitment
You might be thinking, "Evernote sounds great, sign me up!" but not so fast. I'm not going to sugarcoat this. Using Evernote takes time and commitment. It's not simply a matter of downloading and installing Evernote and your life is forever changed. In fact, nothing about Evernote is life changing, although I may tend to make that claim every now and then.
But let's face it. Anything worthwhile takes time to learn and Evernote is no exception. Taking time today to better understand a system than can save you a lot of time later on, is one worth learning.
When I first started "using" Evernote last year, I downloaded it, created a few notebooks and even went so far as to create a note or two. And then I let it sit. And sit.
It wasn't until the beginning of this year that I became determined to put the time into Evernote to really learn it and figure out how it could best suit my needs. With that said, it doesn't require hours of time to set up or understand so you should not be intimidated by using it.
It's much more of a mental commitment. It's committing to doing something a different way. Instead of relying on old habits or old systems, you have to train your brain to say "wait, that would be great to have in Evernote." It took me about two months of conscious and intentional use to make it become habit. After that, it became much easier and quite enjoyable to use. After using it successfully for 10 months, it's has become an extension of my thought process and has become second nature.
The question for me is no longer, "Would this be good in Evernote?" but the question now is, "Which Notebook in Evernote does this go into?"
How is Evernote Organized?
Evernote uses a simple system of notebooks, stacked notebooks, notes, and tags. I'm not going to go into tags here because frankly I don't use them. I know others love them, but my brain just doesn't seem to work that way. I can accomplish all I need with notes and notebooks.
Evernote notebooks work very similar to a directory tree on a computer. The main difference is Evernote only allows notebooks to be stacked two deep. For example, you create your notebook for the project 1234 Flores Avenue. Then you create notebooks inside that notebook for meeting minutes, invoices, important emails, and the other notebooks you need related to 1234 Flores Avenue. Unfortunately, that's as deep as Evernote allows you to go. You cannot put another notebook inside any of those notebooks we just listed.
The lack of ability to allow for deeper stacking of notebooks is a major flaw in Evernote. It's a very hot topic and if you google the subject, you'll see many users in different forums requesting this feature. A few others on the other side of the aisle justify the existing limitation as a reason to use tags because that's where Evernote shines. I don't buy it. Evernote needs the ability for deeper stacking of notebooks.
The best way to work with the existing and limited notebook stacking feature of Evernote is to put a letter or word in front of all your projects so they remain grouped together in the sidebar. For example, you could use the term Work or Project such as Project 1234 Flores and Project 453 Main. This would allow all of your work related notebooks to be grouped together in the sidebar so you can find them easily. Not ideal, but it works well enough until Evernote allows deeper stacking.
Getting Started with Evernote
Okay, so now let's go ahead and take a look at how you can get started with Evernote right now.
Step 1 -Download and Install Evernote. Go to evernote.com and download and install Evernote on your desktop, laptop, and mobile devices. Do all of your devices within reach of you right now.
Step 2 – Create Evernote Account. Create an account and sign in to all of the devices you just installed Evernote on.
Step 3 – Add Evernote email address to Contacts. Go to Account Settings and locate the "Emails Notes to" address. Copy and paste this address and add it to your contacts. I simply call mine Evernote. So when I want to send something to Evernote, I compose an email and simply start typing "Evernote" in the "To" line on my iPhone and it comes up.
One final tip. You need to create and designate a Notebook to be your default Notebook. This is place that everything you send to Evernote goes to. I name mine @Inbox and include the "@"symbol because it keeps it at the top of my list. Once an item is in my @Inbox, I can move it to the proper notebook. Once created, select Notebook properties and check "Make this my default notebook."
Step 4 – Download and install Evernote Web Clipper. Go to the Evernote Web Clipper page to download the Web Clipper for your browser.  Don't skip this because this is a powerful took. It integrates into your web browser tool bar and allows you to send web pages, articles, and anything else you find on the web to your Evernote account with a couple of clicks of the button. It's very slick.
Now that we have the foundation built (sorry I couldn't resist), lets take a look and see how we can setup a project notebook.
Step 5 – Create your first Notebook. Create a new Notebook called Project 1234 Flores (Use your project address or other identifier, just be sure to put Project in front of it). The way to do it will depend on the device you are on. On a desktop or a laptop, it should be under File tab.
Step 6 – Create 4 new Notebooks. Create 4 new Notebooks called Admin, Approvals, Meeting Minutes, and Schedules. Be sure to add the project name in front. For example, I used Flores Admin, Flores Approvals, Flores Meeting Minutes, Flores Schedules. You can always add more notebooks or rename these later.
Now you should have 6 Notebooks created including @Inbox. Let's go ahead and create a "Notebook Stack." The stack will be the Project 1234 Flores notebook. Select the other 4 Notebooks (don't select @Inbox) and drag them on top of Project 1234 Flores and you just created a stack.
Step 7 – Create Notes. Now that you're set up with your project files, you can begin creating notes inside each of your Notebooks. For example, you can simply drag and drop the .pdf files of all of your meeting minutes to the Meeting Minutes Notebook. I would recommend creating a note for each meeting minutes document so if you had 12 meeting minute documents, you would have 12 notes in the Meeting Minutes Notebook.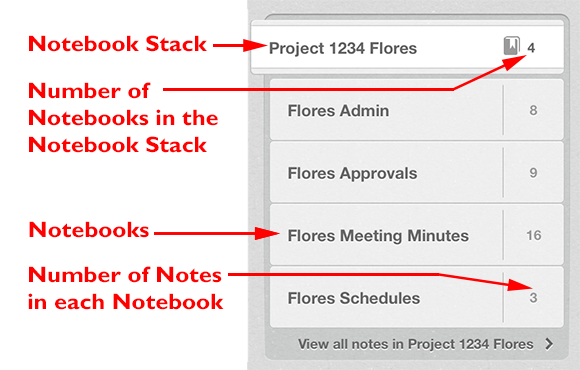 Final Thoughts
There you have it. Hopefully you're able to begin seeing the benefits of using Evernote and I hope you followed along and you've made a plan to complete all 7 of the Steps. If you want to learn in more detail about Evernote, the best publication I have used is Evernote Essentials by Brett Kelly (this is not an affiliate link and I make no commission if you purchase it, it's just a great guide). And yes, I created an "Evernote Notebook" and that publication along with other tips and tricks related to Evernote all reside in the "Evernote Notebook."
One quick note about Word documents and Autocad drawing files. I do not use Evernote to manage or store Word files or Autocad drawings as that is more about file management. Instead I use Dropbox for that purpose. I do use Evernote to organize all of the .pdf files of meeting minutes, approvals and drawings. The combination of Evernote and Dropbox essentially runs my entire office and allows me to work virtually anywhere there is an internet connection.
I'm a firm believer that we operate better when we are more organized. I know I do. Being more organized and being more efficient affects all aspects of our lives. It can not only mean a bigger profit to our bottom line in business, but also allow us to focus on the more important things in life, such as spending time with friends and family.
I would love to hear your thoughts below. Has this post inspired you to complete the 7 Steps and start using Evernote? If you're a current Evernote user, let us know why you're in love with this powerful app.