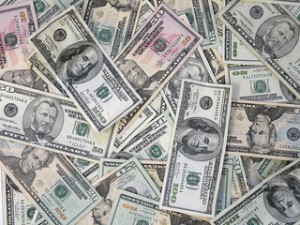 The number one question, I am asked each week is, "How can I make more money as an architect?"
Through my twenty years of experience, I've come to realize that much of our financial struggles are due to very simple problems. Yes. We have huge issues in our profession with which we must address, but internally, our problems are likely much more basic.
In my own firm, I've discovered that there were a few relatively minor barriers causing some major disruption in my financial success.
Here are five simple changes that had dramatic results on my bottom line.
I Collected My Receivables
Architectural projects require hundreds of hours to complete. Regardless of fee structure, the Agreement Between Owner and Architect we use clearly identifies how we should be compensated for the many hours of work we spend completing our services. (If not, you need to use a different agreement.) Very often, as creative people, we feel guilty about charging our clients for the work we perform. Hours are artificially reduced and never make it to the invoice. Many of our billable hours should actually be considered Additional Services, but we don't request the additional compensation owed to us for the additional work. To make matters worse, there are times when clients are late to pay or question the bill and the fee is reduced to avoid the potential conflict. Sound familiar? Successful collection of all fees owed may be one of the quickest ways an architect can make more money.
I Told My Story
Architects are great communicators. We are trained to develop ideas and effectively explain our concepts to the many parties involved in our projects. We are talented at telling the stories of our projects, but often fall short when telling the story of our firms. Old school professionals were told that architects should not promote their firms with marketing strategies or public relations. Times have changed my friends. If we're not spreading the word of our firms and telling our unique stories, then we're missing a huge opportunity to make more money. When we craft a narrative and share it with the world, not only do more projects become available, but better projects within our specific target market start knocking on our doors. Tell your story.
I Limited My Development
I know this one may be a bit controversial, but I think we may be over-developing the designs for our projects. For years, our systems at Fivecat Studio have included developing our construction documents to a level where every possible question was answered. Documents developed to such minute detail require hundreds of hours to complete. As designers, we are very satisfied with such an outcome, but as business owners, should we be considering reducing the information we produce? Is there such a thing as a Minimum Viable set of drawings, where only enough information to understand the scope of work is documented? Could remaining information required to complete the project be developed during Construction Administration Phase? As an architect, I want fully developed drawings. Our portfolio is a result of that extra effort, but as a business owner, I want to experiment with how reducing development time may increase my bottom line.
I Improved My Cash Flow
From the launch of our firm, cash flow has always been our toughest obstacle. We've improved through the years, but even today, we need to work at balancing our revenue with our expenses. To keep the spigot flowing, we've changed our payment terms from net 30 days to "due upon receipt". This helps with reducing the time between billing and receiving payment. Not all clients cooperate. Some still hold their money until the last possible day, but most respect the agreement and pay on time. Recently, we've experimented with staggering our billing cycles. With about a dozen invoices transmitted each month, half are sent to clients during week one and the remaining are held until week three. By spreading out payment requests, collections flow in throughout the month, allowing me to have cash on hand and better manage my expenses.
I Raised My Fees
Our fees are higher than most of our competitors and, truthfully, they're still too low. With higher fees, we filter out the potential clients who are seeking services based on price. Higher quality clients result in higher quality projects and a portfolio filled with projects that attract more quality clients. Fees should not be set with some arbitrary "gut feeling" or based on what your buddies are charging. Your fees should be established using data from your overhead and the profit (yes, you need to make a profit) required for a healthy business. Want to make more money? Raise your fees.
These five ideas don't require you to restructure your firm or make any major operational changes. They are simple ideas that require the courage to take some risk and experiment with the way you are running your firm. Take action today and watch what happens.
Do you have any simple ideas for making more money in architecture? Share your thoughts by commenting below. The more we share, the more we'll all grow and build a stronger profession.