This is Part 3 of How I Started My Own Architecture Firm. If you haven't been following along these past two weeks, I recommend that you start with Part 1 and Part 2 before proceeding with Part 3 below.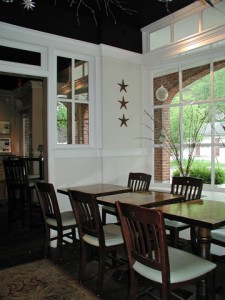 Starting our own firm was a bit overwhelming. Though, at the time I thought I had everything under control, we honestly had no idea what we were doing. We were two young architects with few expenses, no kids and very loving, supportive parents. We knew, in the back of our minds, that we had a safety net and I am quite certain that was the source of our blind courage.
Our first project was complete. Meetinghouse Restaurant is located in Bedford, New York on Old Post Road; the main thoroughfare of the village. From this fortunate location and with enthusiastic support from Penny and Joe, Meetinghouse lead to several new projects and truly launched "the firm" into the spotlight.
Each Successful Project Leads to the Next
Meetinghouse lead to several retail projects, another restaurant and a few small additions to local homes. Our second project was for a woman who owned multiple nail salons throughout Westchester County. She had selected a new location in Bedford and stopped in at Meetinghouse for lunch. When she finished her meal, she asked to speak with Penny to discuss the design of her restaurant. She loved the details and the warm residential scale of the space. In search of an architect for her new business down the road, she asked for Penny's referral.
Once again, we threw ourselves into a fully integrated service, dedicated to designing everything; the interior architecture, custom furnishing, fixtures, fittings, window treatments, art installation and a complete graphics package for letterhead and signage. Every inch of that space was touched by our hand.
During that first year of business I was still consulting for local architects through The Construction Documents Company and Annmarie was working full time for an architect in Katonah, New York designing custom homes. Every free hour during nights and weekends was dedicated to making the new business succeed. With a mortgage to pay and no real consistency in workload, we could not take the leap to full time.
Then we received a telephone call.
A Happy Client is the Most Valuable Member of Your Marketing Team
It was the wife of a very well known developer from New York City. (They own much of the Manhattan skyline and no… it wasn't Donald Trump.) The woman had visited the salon, loved the work we had done and inquired about the designer. We had worked hard, focused on extreme customer satisfaction (there's a topic for another article) and it paid off. The next day, Annmarie visited the couple's home in Katonah and was hired for a major renovation of the main house.
That was it; the project we needed. With enough work to keep Annmarie and I both busy for the next 12 months, Annmarie resigned from her position and I began to close out my contracts as a consultant.
A New Name for a New Firm
With full commitment to our future and to the success of this new firm, we decided to give it a recognizable identity.
We wanted a name that would separate us from the crowd of local architects and would be easy to remember. We wanted a brand that would reflect our own personalities and could endure beyond our leadership far into the future.
Annmarie has been an advocate for animal rescue since she was a child and her dedication to the cause is a personal passion. At the time we were kidless and in addition to Albert (see Part 2 for Albert's story), our home was refuge for five adorable felines named Katonah, Indy, Oscar, Charlie and Tarzan.
After several very unique possibilities (none of which I can remember today), we decided that the name Fivecat Studio would fit us well.
Fivecat.com
My first task as Partner in Charge of Operations was to develop a website. It was 1999 and very few architects understood the importance of marketing and even fewer gave the internet any real credibility. Yahoo.com was king of the search engines and I knew that if we wanted to get noticed, we needed our own domain.
With photos of Meetinghouse and the few other projects we had complete, I built a website and launched Fivecat.com. With very little online competition from my peers in the region, we quickly rose to the top of the search results and remain there to this day.
Our Dream Job Becomes Our Worst Nightmare
We could not believe our fortune. Two young professionals, not yet even 30 years old. We had our own firm and a project that could only happen in our dreams months earlier.
We developed several detailed schemes for a residential alterations project so involved, it was essentially a new house.
Back and forth we went, scheme after scheme… with no contract. After months of work, we finally found a solution that met with the clients approval. Ready for phase two and a bigger commitment from our clients, I had been sending copies of an agreement for weeks requesting a signature and an authorization to proceed.
No response.
Then we received another call. This time from the husband, who informed us that our services were no longer needed. There would be no signed contract and the project was over.
We had played the game… and we lost.
Young and naive, we had dedicated ourselves completely to this client and to the success of our first major residential project. We had no other work.
With a mortgage, a car payment and the recent arrival of our first child, we were scared and had no idea what to do.
Have Faith, Live with Certainty… and Have a Good Website
One week later, as if sent from Heaven, a young wealthy bachelor called. Searching online for a local architect, he found Fivecat.com and liked what he saw. He was living in the city, owned a local Chappaqua estate and wanted to renovate. Planning his engagement, he needed to bring his country home to proper standards for his new wife and future family.
A few meetings later, we had a signed contract (lesson learned), a trusting client and an amazing project. It was the project that would help take Fivecat Studio from startup to a thriving residential architecture firm.
Fourteen years later, each project still leads to the next and our clients' satisfaction is still our highest priority.
And THAT, my friends, is the story of how Annmarie and I started our own architecture firm. If you liked this story, please share it with your friends by using the buttons below.
So, how did you start? Are you considering launching your own firm? Please share your tale and tell me your story.