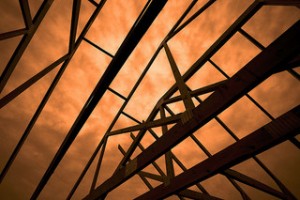 One of the most popular topics over at the Entrepreneur Architect Linkedin Group (almost 2,000 members strong) is the role of the architect during the construction phase. I am often surprised by the number of firms providing architectural design services and forfeiting the final phase of the process, Construction Administration.
Here is a recent comment from the group;
"I need to get better at selling my clients on construction administration. Most think they do not need it and refuse it when offered. I had a recent client back out on (the service) because my drawings were essentially too well done. Once they saw the final drawings, they decided the contractor could handle it without my involvement."
This is a common problem; architects offering Construction Administration and their clients opting out.
During the past few years, we've begun to discuss, as a profession, "taking back" the process, regaining control of our projects and working to be viewed, once again, as the leaders of the construction industry. To make this happen, we must literally take control of our projects and lead the process from beginning to end.
Construction Administration is NOT an option, to be offered as an additional service. It is an integral part of the architectural process.
Imagine a surgeon diagnosing her patient, preparing for surgery, making the first incision, then handing the actual procedure off to the anesthesiologist. Imagine an attorney researching the case, spending six months preparing her prosecution, selecting a jury, presenting to the court, then heading back to the office to prepare for the next case on the day before final arguments.
It is no different for an architect. We spend months preparing a design, working our way through three levels of increasingly detailed development and documenting exactly how a structure is to be constructed. We are responsible for the health, safety and welfare of the users of our creations and are legally liable for what is ultimately built. It is our responsibility, as licensed professionals, to observe the construction of our designs and ensure that they are built as documented.
At Fivecat Studio, we provide Construction Administration on every project. It matters not if the project is a storage shed or a whole house renovation; we work for the client from the beginning to the very end.
Here's how we do it:
We present Fivecat Studio as a "full service" architecture firm; from helping them organize their initial ideas for the project, all the way through to the end of construction. Most clients have no idea how our process actually works and if we offer Construction Administration as an "option", they will most certainly view it as such.
We propose one fee (flat or %) and include Construction Administration as part of that fee. Some clients ask me if we will work without Construction Administration. I tell them, for us, that is not an option. I explain the benefits they will receive from having us involved and describe the services we provide;
1) We lead a weekly project meeting and review the progress of construction.
2) We confirm that the contractor is executing the project as per the design and specifications. I tell the client that we want to confirm that the contractor is building her project as per our construction documents, "which she paid all that money for us to prepare".
3) We are available to quickly resolve unexpected issues and unforeseen conditions, so construction progress is not delayed.
4) We review the contractor's payments, so we have more leverage during construction. This leverage allows us to protect the client's interest and confirm that they are only paying for what is appropriate at that stage of the project.
5) We review shop drawings and submittals. Again, to confirm that the client is getting what she is paying for.
6) We assist with preparing and confirming the completion of the punchlist and that the Certificate of Occupancy is issued.
7) We are legally responsible for their health, safety and welfare and must confirm that all building and environmental codes are being observed, and
8) As licensed professionals, it is our firm's policy to be involved in the the construction of every project, for among the many reasons described above and to protect our firm's legal exposure in terms of liability.
On projects where we waived the Construction Administration Phase (in the early days of Fivecat and before we knew better), we lost our ability to resolve issues quickly. Small issues became large problems and when the architect is not involved, guess who gets the blame… the architect. That only happened once or twice before we felt the burn and learned that we needed to be involved through to the end of every project.
From a business point of view, we are ultimately working for our clients' complete satisfaction. If we are absent during construction, it is extremely difficult to manage expectations, to quickly resolve conflicts and keep our clients happy. It is their experience during construction that clients will remember most when others ask for their referral.
We must be involved. The success of our firm depends on it.
At Fivecat Studio, we have an excellent reputation for designing beautiful buildings, but because we hold our clients' hands throughout the entire process, people also talk about our support, care and personal touch during construction. It sets us apart from the other firms where clients fend for themselves at this most critical point of the process. When a client fully understands that our role during construction is to protect them and keep them comfortable during construction, they wouldn't have it any other way.
Construction Administration is NOT an option. It is part of the full service we should all be providing. If we choose not to… our work will suffer, our clients will suffer and in the end, our firms will suffer.
Please share your thoughts on Construction Administration by leaving a comment below. As professionals, is it our responsibility to provide Construction Administration services… whether our clients want it or not?