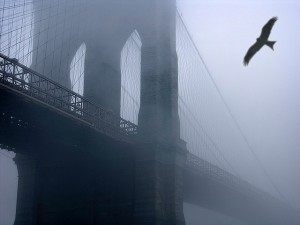 My wife and I launched our architecture firm, Fivecat Studio, in 1999. We were 29 years old. Young, ambitious and a little crazy, we started with no money and no clients. One good lead and some help from a few local architect friends gave us the courage to take a leap of faith, and we went for it.
In the 13 plus years we've been in business, I've learned a bunch. Today, I thought I would share a few secrets to our success.
Dreams really do come true.
If you haven't figured it out by now, I am a big dreamer. Since I was a young boy, I've been planning my future and plotting my success. You can even ask my mom. The life I am living today is awfully close to the stories I told as a child.
The difficult part of being a dreamer though is when your life veers away from your set trajectory. Life happens and you need to respond, but if you keep dreaming and have faith (and work your ass off), you'll find that your dreams really do come true.
It's much harder than you think.
I am a father of three young kids and my life revolves around their care, their guidance, and their happiness. I was born to be a dad and I have always loved kids. I thought fatherhood was going to be a piece of cake. Well, any dad will tell you that being a father is the second most difficult job on the planet. It is way more difficult than I ever thought it would be.
Running a successful architecture firm is very much like raising kids. You start wide-eyed with big plans of success. Soon after you start, you realize that your job as a leader is much more involved than you ever expected. You have responsibilities that you never planned for and not everything ends up like you dreamed. Your "hat rack" grows larger and larger every day as your roles in the business and in your life multiply. As prepared as you think you might be, running an architecture firm is much harder than you ever imagined.
It's much easier than you think.
Yes. It's difficult to run an architecture firm, but if you properly educate yourself in the basics of business (You'll need to educate yourself on this topic because our architecture schools have decided that it's not important enough to include in their programs.); prepare budgets, manage your expenses, create sales systems, properly market your services, hire the right team, develop habits of personal productivity, encourage a culture of personal responsibility and lead with passion, you might find that success is actually much easier than you think.
You must jump off the cliff before you can fly.
This is a mantra that I've adopted since commencing on my 12/12/12 Project last year. Imagine what it would be like to fly… to just stretch out your arms, catch the currents of the wind and glide high into the sky. The sense of pride and freedom you would feel would be incredible. Your movements would be effortless. Your destination… limitless.
Now, imagine jumping off a cliff. Fear. Total and complete fear. Well, if you are ever going to fly, you are going to need to first jump off the cliff.
Before you can finish, you must first begin.
Sounds simple right. Well, the big secret in business is that taking the first step is not as simple as it sounds. Starting is actually the single hardest part of launching a firm.
Last night, I was putting the final touches on my 12/12/12 Project and preparing for its big launch on Wednesday. I've learned much in the many years since launching my own firm, but the single most important lesson I have learned is that you must push through the fear, turn away from the list of reasons "not to", embrace the possibilities… and start. Only then, will you succeed.
I hope you too have taken this opportunity to start. December 12, 2012, is only a couple of days away.
Until then…
***