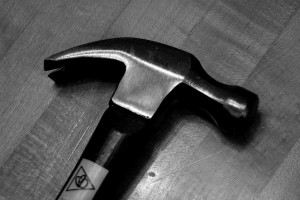 I come from a family of auto mechanics and contractors, so repair and construction are in my blood.
Before I was registered as a New York State architect, I worked as a carpenter and mason during summers and school breaks. As a child, I would hear my carpenter uncle speak negatively about architects and I wanted to know why, first hand. (…and boy, did I?)
One of the topics often debated over at the Entrepreneur Architect Linkedin Group is whether practical construction experience should be required for professional registration. The current Architect Registration Examination (A.R.E.) consists of seven divisions, which include multiple-choice, fill-in-the-blank, and check-all-that-apply questions as well as graphic vignettes.
Not one hour of practical construction experience is required.
The lessons I learned swinging that hammer each summer are utilized every time I step onto a job site. Reading architectural drawings as a tradesman and executing each detail as documented, reinforced the importance of clear concise construction documents. As a member of a construction crew, I heard the unfiltered criticisms of architects thrown by disgruntled carpenters. I learned quickly how architects could build stronger relationships with the people responsible for bringing their designs to life.
Today when I visit a job site to review progress or meet to resolve an unforeseen condition, I come to the discussion with a very different point of view than if I had forgone these experiences as a young aspiring professional. My relationship with the people building my projects are based on mutual respect and understanding, and my projects are built better in return.
Practical construction experience should be the eighth division of the A.R.E. Jobsite relationships would be stronger and buildings built better.
What say you? Should practical construction experience be required for the registration of today's architect?
photo credit: justinbaeder via photopin cc