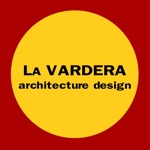 Google the name "Gregory La Vardera" and you will view years and years of hard work listed on one page.
These days most architects have a website. Some have even started to blog, but few have an Internet presence equal to La Vardera.
A principal of a small firm located in Merchantville, New Jersey just minutes from Philadelphia, Greg has been developing and selling modern architecture home plans since 2002. He posts to his blog on a regular basis with progress on homes located throughout the world built using his plans.
Thanks to the sustainable green buzz and an increasing interest in modern design, there many sources for modern home plans and prefab houses. Greg was one of the first and today, he's still one of the best.
From LaMiDesign.com:
Our mission is to fill the void in the house plan marketplace by offering modern home designs. Our designs are flexible and allow different people to use them in different ways. It is possible to build our designs with conventional methods familiar to any builder, or to introduce unique materials. If you always wanted a modern home, but thought a custom design was beyond your reach, then we think you may really like what you find here. We don't know of anything else like it.
In addition to posting to his blog, Greg is also a regular at the CORA and LiveModern forums. His work has been posted on blogs throughout the net and he has been featured in several articles, both print and web.
More recently La Vardera teamed up with EcoSteel, manufacturer of contemporary building systems.
From LiveModern:
EcoSteel steel building systems are complete steel shell packages, ready for your interior customization. The pre-engineered and pre-fabricated EcoSteel building package includes a complete Insulated Steel Building System along with exterior doors, windows and trim.

EcoSteel's program is the undeniable leading force in steel prefab construction. EcoSteel leverages an existing manufacturing network of 13 primary shipping points across the U.S.  The pre-engineered and panelized steel systems are easily built by a commercial contractor. All of the steel components of an EcoSteel system are pre-cut, pre-drilled, and are clearly labeled which virtually eliminates mistakes and confusion typically associated with wood homebuilders venturing into steel construction.

EcoSteel is teaming up with Greg La Vardera of LaMiDesign to modern home designs, all built with steel. Pricing starts at $135/sf, complete.
Greg La Vardera… Entrepreneur Architect.