The last fifteen years has been one wild ride for Fivecat Studio. We have survived two recessions, several natural disasters and a major terrorist attack within 40 miles of our front door. The confidence level of our clients has been riding the roller coaster of an uncertain, unpredictable economy. Project conversions have been up and down for more than a decade. Our best year, in terms of converting Prospects to Projects was 2004. The bottom was 2008. I know this as fact, because I track my firm's Prospect to Project Ratio.
Today, I am sharing typically protected information; the data to determine the Prospect to Project Ratio for Fivecat Studio.
Don't be deceived by the information I am presenting though. Revenues and profits are not shown in this data, and I can tell you, it looks very different than the trends shown here. In the spirit of Entrepreneur Architect's mission to help you build a better business, I will share that private information another day.
Every year since Annmarie and I launched the firm in 1999, we've had a full workload. The size and scope of our projects have varied with the trends of the stock market, but we've always had work to do.
Below are two charts that present data collected throughout the history of our small firm architecture studio.
Prospects and Projects
This first chart shows the number of commissioned projects in reference to prospective clients. The orange bars represent the total number of proposals presented in the year indicated below. The year 2004 was the year that we finally gained some traction following the dip caused by the events of 9/11.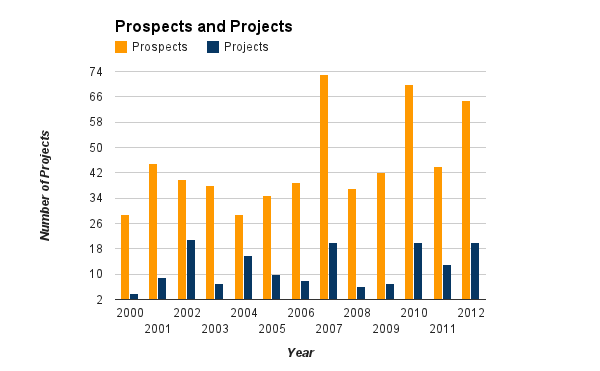 In 2006, I enrolled in the Academy of Entrepreneurial Excellence at Westchester Community College, where I fed my passion for business success, learned the basic rules of the game and applied new sales and marketing strategies at the firm. The tall orange bar from 2007 shows the result of that investment. That year we presented 73 proposals to prospective clients within a very focused target market.
The blue bars represent signed contracts and the Great Recession is clearly visible in the major drop seen in 2008 and 2009. Although the past few years appear to show improvement, what the graph does not reveal is the size and scope of the projects commissioned. As the economy creeps along, our high-end clients have reduced typical projects budgets from over $500,000 to less than $200,000. We're busy, but projects are much smaller, resulting in less revenue.
The Prospect to Project Ratio
This second graph shows our Prospect to Project Ratio, which is determined by dividing the number of signed contracts by the number of proposals presented. The "roller coaster" of client confidence is very clear in this image. Our best conversion years have been the pre-Great Recession years of 2002 and 2004. We can also see our slow climb out of the hole. Every year since 2008, we've gradually improved our conversion rate.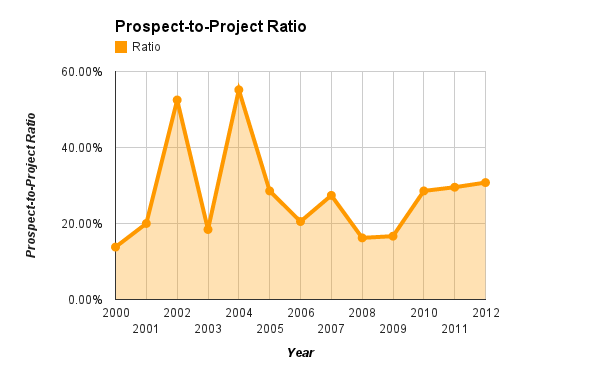 This past year has not been included in these charts because that data has not yet been fully collected. There is often a 6 to 12 month lag between presenting the proposal to a prospect and a new client returning a signed contract. The trend for 2013 continues to improve, so our fingers are crossed that conversions will continue to climb.
How To Use This Data
Collecting and organizing this data is great. It makes for really fancy and impressive looking graphs. Don't you think?
Fancy graphs alone don't really help your business or bottom line though.
Here is what I find most interesting about this data. Let's go back to the first chart, Prospects and Projects. The orange bars labeled Prospects are the direct result of our marketing efforts. The blue bars, Projects, are the direct result of our sales system. Keeping the orange bars closer to the height of our blue bars will move the Prospect to Project Ratio line on the second chart up, indicating an improved conversion rate.
Preparing 73 proposals in 2007 looks very impressive on the chart, but my conversion rate was only 27% that year. If my conversion rate was closer to 50%, like it was in 2004, I would have only needed to prepare 40 proposals. That would have been 33 interviews, 33 proposals and 33 follow-ups that would not have required my attention. That was time that I could have used to improve my sales system (or to design better architecture).
We ultimately want to know how many sales are required per year to be profitable. Then we want to build an efficient and effective sales system that yields the highest conversion rate possible, bringing the orange bars down, closer to the level of the blue bars.
In time, we established a specific conversion rate. Today we know, and plan for, the specific number of interviews and proposals we need to submit for a profitable year.
The ideas presented here are simplified. There are many other factors, like project scope, revenues and profit margin that also play a part in the equation. For today, though, I wanted to keep it simple and show you how the relationship between Prospects and Projects lead to a specific conversion rate. I hope you can take this information and start to develop your own charts. The things you will learn from this data will be transformative.
Do you know your Prospect to Project Ratio? Tracking such data will help you see where you've been, confirm that your current strategies are working and will let you predict the trends of your future. How are your conversions? Are you experiencing similar trends? Please share your thoughts in the comments below.
***
Our sales system at Fivecat Studio includes our proprietary Hybrid Proposal for Architectural Services. Click here to learn more.