EntreArchitect Live: New York 2018
Sponsored by Charrette Venture Group
Wednesday, June 20, 2018
At The CVG Suite, concurrent with AIA Conference on Architecture 2018 in New York City.
(Not affiliated with American Institute of Architects or AIA Conference on Architecture)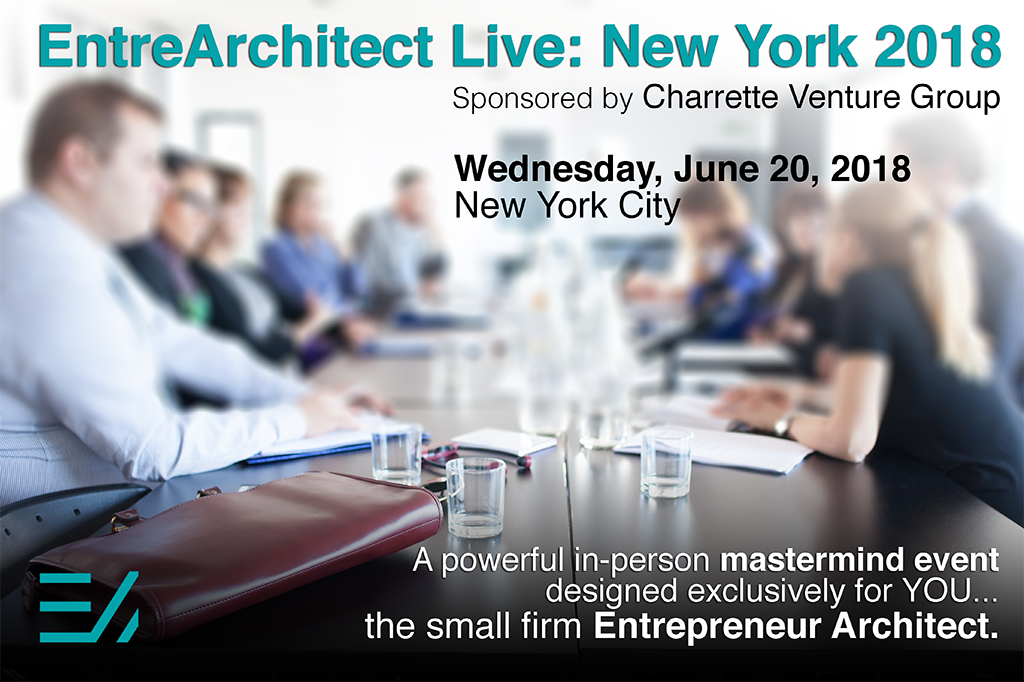 Finally, an opportunity to meet and work face-to-face with friends from The EntreArchitect Community, fellow entrepreneur architects and other firm leaders from around the world. Organized and presented by EntreArchitect and sponsored by Charrette Venture Group (CVG), EntreArchitect Live: New York 2018 is a powerful in-person, facilitated small group mastermind* event designed exclusively for YOU… the small firm entrepreneur architect.
Don't miss this one time event. Join your fellow small firm entrepreneur architects for EntreArchitect Live: New York 2018. 
Plan successful strategies for 2018 in a proven interactive small group mastermind format.
Discover solutions for the struggles and roadblocks limiting your success as a small firm architect.
Swap knowledge with passionate, dedicated firm leaders just like you.
Meet face-to-face with your online friends from The EntreArchitect Community.
Compare notes with motivated like-minded entrepreneur architects.
Shift your mindset from starving artist to successful entrepreneur architect.
Meet with the Charrette Venture Group (CVG) consulting team for business advice and recommendations.
Structured to motivate, inspire and help you plan for success in 2018.
Launch your A'18 experience with a powerful live event designed just for YOU.
Register Now for EntreArchitect Live: New York 2018
The event is limited to 20 people. You must be a practicing Architect to attend.
---
Wednesday, June 20, 2018 from 2:00PM to 4:00PM
$200 per person
---
* What's a mastermind? A mastermind is a powerful, proven meeting structure held in roundtable peer group format. Participants individually present topics and issues of which they are seeking solutions and strategies. The group works together (using the power and knowledge of all their minds, hence creating a single "master mind") to solve problems, share knowledge and develop solutions. Participants gain massive value, obtain strategies and learn actionable lessons that can be applied at their own firms. It's the power of the many finding solutions for the one. It's a fun time where you will meet new friends who will become advocates and advisors; who will support you and your firm as you grow and find the success you are seeking long into the future.
Do you have any other questions? Email us at support@entrearchitect.com. But don't delay. Seats are strictly limited.
See you at EntreArchitect Live: New York 2018
#LoveLearnShare