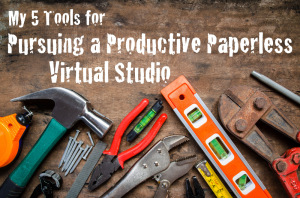 For 11 years Fivecat Studio was located in Pleasantville, New York about 10 minutes from our home in Chappaqua. It was a 2000 square foot space with hardwood floors, large windows, exposed structure and tall ceilings. It was a fabulous space for an architecture studio and we enjoyed being there for all those years.
In November 2013, Annmarie and I made the decision to move out of that space and we moved into a new private studio built at our home. Our staff is now located in remote studios of their own and our 2000 square feet has been reduced to 200.
In order to be most efficient and effectively communicate with our virtual team, we have adopted several apps to get things done. This week on the EntreArchitect Podcast, I will share My 5 Tools for Pursuing a Productive Paperless Virtual Studio.
This episode is sponsored by GetFocused Course.
---
Photo Credit: Shutterstock / Isara Kaenla