Alexa is the way we will deal with our lives. Amazon is replacing much of our decisions with answers – with Alexa. Either architects are present in the mix of cultural awareness, or Alexa, who is the child of unavoidable Artificial Intelligence, will replace architects for all but those seeking the artisanal in architecture.
This series will offer up the essential truth that it is the humanity of architects that has value in a world soon reordered to follow the lead of AI. Architects who have relied on a Fine Arts mystique will simply lose credibility to a completely user-friendly way to create a design. Only humans build buildings, and humans created AI. What AI offers addresses what architects often gloss over – a lack of building knowledge, communication that is self-serving in its opacity, and a clear way to address basic problems.
But architects need to get real: in communication and transparency – because Alexa is fully transparent and is designed to listen and respond.
If architects simply hunker down in dead-ender denial of Artificial Intelligence we will evaporate.
If architects simply hunker down in dead-ender denial of Artificial Intelligence we will evaporate. You cannot pretend that Alexa is not a fundamentally useful reality in many lives. Alexa is coming to supplant creativity (and frustration) with performance. Her growing position as the basis of more and more simple essentials in life means that the presence of humanity of things like architecture is shown to have value, or architects becomes a forgotten cost.
This is not a Luddite scream against the value of using technology to end unnecessary cost, or to be more effective. Artificial Intelligence will make better buildings, but unless all those who are not architects know that humanity is not replaced with data, most people will use technicians that input their needs into the software that will seamlessly produce a product.
The issue is not whether Artificial Intelligence is the right way to create, it is to show that humans who create with AI make better buildings, and that we are worth the added time and cost. The current Fine Arts hype system that simulates value through "branding" ignores the coming economy where reality trumps pretense. Traditionally architects have withheld their ignorance of how to build, how to listen to clients, and often their inability to just work in the world of builders and codes in hopes that when given a chance to build something, anything, the world will see their value.
Artificial Intelligence will bridge all these gaps of inexperience, except our inability to communicate. Unless architects can see the world from the perspective of our clients, and write and speak in the terms they know and understand, and address the issues they care about, then architecture simply becomes the next thing Alexa will solve. Architects need to prove credibility, or simply lose it to Alexa. We need to walk the talk.
In the coming age of universal transparency, architects either communicate with non-architects or they sketch in isolation on their devices to amuse themselves (and show other architects) while they earn a living doing other things. Communication is facilitated by technology to the point where architects can no longer have the excuse "I just can't get published."
But pictures are not enough. Description is required. And not the opaque, self-serving descriptions that withhold motivations in favor of promoting objects. Architects either confront their communication skills or the Universal Translator of Artificial Intelligence will simply take over. What you have to offer is directly keyed to your motivations. If you want your object, and have others pay for it, then you are a Fine Artist. If you want a paycheck then you are a scribe, doing as told. Both cannot compete with Alexa, who listens and is cheaper. Only your humanity in interaction with all the realities of making anything, including the humans who are making AI, means that you have a greater worth than Alexa.
But no one can know your humanity unless you can communicate it. Presenting what you do, rather than selling your "brand", is essential simply because soon you will not compete with the "brand" of Alexa who will be able to apply every "brand" of every architect who has ever practiced, fully available in her database.
Unless architects focus beyond the 200,000 of us in a country of 380,000,000 people, we will continue to talk to ourselves.
Unless architects focus beyond the 200,000 of us in a country of 380,000,000 people, we will continue to talk to ourselves. There have been precious few building architects who write for non-architects. https://commonedge.org/why-architecture-needs-more-building-architect-critics/ The internet has blown away the Editorial Lock on communication, but how and what you communicate has to be part of the lives of those who want to make something, or at least understand how something is made.
Its time architects started to write about buildings: not for other architects, but for the rest of the world to both hear and see why buildings are human, versus a product. Error in creation is inevitable, architects need to own their vulnerabilities in creating beauty. Presenting invented language to feign intelligence just renders your thoughts worthless to those who are not you.
Architects need to learn how to tell stories rather than preach genius. This means listening, admitting a lack of control that is the reality of any built thing. We need to be as direct as Alexa to be as useful as she is becoming.
There is nothing more human than architecture – it is created, built, used and seen by us: but it is often treated as a found object, a singularity, not understandable beyond its outcomes, as its motivations and contexts go unaddressed – even though the motivations to build are the fundamental reality of the world around us. Either architects use the instant, open, 24/7 reality of the internet to describe buildings in ways that AI cannot, or people will bypass a fine arts community designing for its own approval – in favor of a relationship with Alexa.
---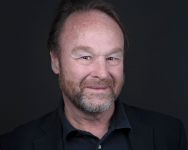 Duo Dickinson, FAIA
Graduating from Cornell in 1977, Duo Dickinson opened his own architectural practice in 1987. His work has received more than 30 awards and he is a Fellow in the American Institute of Architects. Twenty to thirty percent of his ongoing work is dedicated to pro bono or at-cost work for not-for-profits, totaling over 75 projects for over 30 organizations over the last 30 years.
His design work has been published in more than 70 publications, he is the architecture writer for Connecticut Hearst Media Corp. and a staff feature writer for The Common Edge Collaborative and Mockingbird Ministries. He is a regular contributor to Arch Daily and has written for Archinect and many other publications. His blog, Saved By Design has received over 100,000 hits in the last few years.
Dickinson has written eight books. His latest book, A Home Called New England (Amazon link), published by Pequot Globe was nominated for a 2018 CT Book Award and he is active in radio and media. He hosts the radio series "Home Page" on WPKN Radio.
Dickinson has taught at Yale College and Roger Williams University. He is now on the faculty of the Building Beauty program at the Sant'Anna Institute, Sorrento, Italy as well as co-chair of their American Advisor Board and is teaching at the University of Hartford.
He has served on numerous design juries and has lectured at numerous universities, associations and groups. Dickinson sits on five not-for-profit boards and was inducted into the Madison Sports Hall of Fame in 2018.